9-11-2011 Ten Years -
**Written: Sunday, September 11th, 2011. Published: Monday, September 12, 2011**
Pieces from the WTC site, at the Police Hall of Fame and Museum, FL.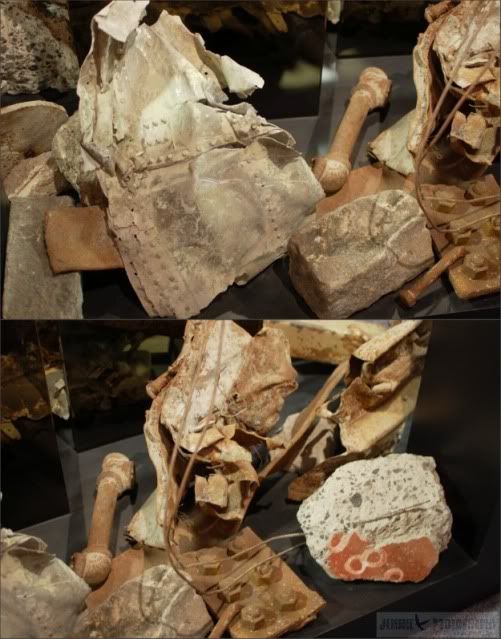 ~~~~~~~~~~
As a writer, in a way :), it was very hard for me this past week, because I was bombarded on every side every time I got on the internet. Actually, it's been going on since late August. Perhaps you know what I'm talking about - maybe you've noticed too. My home page just so happens to be Yahoo, and way back in August, they started their "9-11 Remembered" page, and an article showed up, a new one for every 12 hours, it seemed.
The first time, I thought, "ooh goodness. I need to read this", and so I did. I didn't realize it would be going on for a few weeks. I'm not gonna lie - it has gotten increasingly harder as this anniversary has come up ... for me to not make a big deal out of it.
Now before you explode, let me explain.
9-11 is a big deal every year for me, and I remember it every year, by writing, or taking pictures, or spending time journaling .... it is something I will never forget or get over, or stop praying for those families. But .... to have it coming at you from every side every day when you are working around on the computer .... it was exhausting. It was getting more than exhausting, it was dredging up all the emotions and everything that normally I only have to go through JUST on the day of 9-11. Instead, I was getting preview after preview and having to push past my emotions every day leading up it.
Practically every one of my favorite pastors and teachers had several articles on it.
There are sermons I have bookmarked, and quite a few articles, I've got the special American songs stuck in my head, and the unwanted memories of the 9-11 TV specials that forever ring in my ears around the anniversaries. The words I wrote in my journal following the first time I saw the footage scroll through my mind unbidden. There is new footage, and new interviews, and new releases of things we haven't heard yet. There are memorial unveilings and special words and Biblical sermons on how to look at it all from all different angles.
It is heart-wrenching to relive it every year, not that I willingly dive into the pain of it all, but it seems, because it is such a permanent part of the American's heart, that I would be thrust into it, and work through it every year.
Earlier in the week, I told Tricia "I can't believe it has been 10 years, it seems like yesterday. I know exactly where I was, and exactly when we heard. I know it sounds horrible, but I just can't wait until it's over. Yes, it's been 10 years, but it's just another year. It's hard every year."
aaaaand then she knocked me back into place and reminded me how hard it must be on those families to have to deal with it every single day. So true.
It's not like it doesn't still hit me every time I look at the clock and it reads "9:11", that I don't think of that day. It's impossible not to. I remember the first year, I got tears of shock in my eyes every time I saw that.
So many memories. Maybe too much. But there's nothing I can do about that.
~~~~~~~~~~
Standing underneath the flag, in honor and memory, grieving for all we lost that day.
~~~~~~~~~~
When finally this morning, September 11th, 2011 came .... I had driven myself into that crevice of the Rock of Ages that would not be moved by how anyone interpreted the attacks other than being allowed by God's hand. To deny that God was in control is to say that He is not sovereign.
Either He is God. Or He is not. There is no middle ground. And He is.
I got up and watched the ceremony at the WTC Memorial streaming live. I put my hand over my heart and whispered along to our National Anthem. I watched until I had to peel myself away to ready for church.
I got in the car and started to drive to church, when I neared the entrance of our subdivision, I faltered, and slowed down. There were signs on both sides "2,977 flags, one for every person lost on 9-11", and there, lining the road on one side, were tiny American flags, stuck into the ground, fluttering in the breeze as far as I could see.
All these weeks I hadn't cried, and I had been fine, and right then and there - I lost it.
Tears came easy, so easy the rest of the morning. I cried off and on through the whole church service, more on that later today .... it was overwhelming to try to fathom, and the memories came and stayed with me. Unwanted, but also muffled by the praise that rose from our voices to the Lord Who ordains all in His just and perfect wisdom.
*shakes head* Amazing, Lord. How have we lived through all this? Even, so Lord Jesus come!
~~~~~~~~~~~
I know this is so long. You probably won't ever read it all. :)
But I wanted to share, and writing it out is the best way I know how. That and pictures. So this evening I drove out to take pictures of the little flags, and sadly drove up to the entrance to see that the kind neighborhood committee was rejoicing in that one last sign. ;) I pulled up and rolled down my window, seeing that one of the men was nearing where I was.
I thanked him, and told him how special it was and how appreciative I was that they had done that, adding on that I saw them going to church this morning, and then drove by after church all the way down to where they ended. He looked so pleased, and when the others noticed that I was talking to him, they locked eyes with me as well. I thanked the entire group ... again, repeating the words, and expressing my thanks from my heart.
They said they were so glad, and I pulled away, that American spirit cradling me like a blanket.
So, I still wanted some flag pictures, so I headed down to the Veterans Memorial, pulling up as the sun started to spill out of the clouds and the wind was whipping up as a storm moved through. I walked towards the water, and halted as I saw our flag at half-mast.
Then I moved on, taking pictures and videotaping. I even walked out on the pier and watched the sun set, and saw a manatee swim by. :) But the water was so so rough and choppy. It seemed angry. As if it was our fault that our dear flag was at half mast. The water was spitting up little fountains and smacking the posts and planks, and the wind was pulling at the pier. Between the two of those elements, the pier was creaking and groaning. It sounded like it was moaning. Other than the whipping wind, and the moaning pier and the smacking waves, it was quiet. No seagulls calling. No people talking. No music across the water. It was just very somber.
I stayed awhile, and I prayed some, and then I left. 10 years will go by fast again.
I made a video with the footage and pictures. I wanted it to be special, and I think it is. :)
Here is what I wrote this morning on Facebook, and what I'd like to close with here:
"Matthew 24:31 "And He shall send His angels with a great sound of a trumpet, and they shall gather together His elect from the four winds, from one end of heaven to the other." ~
Lord, please put Eternity into the hearts of the people here on 9-11, let them come to You for the precious Comfort of being Children of the Promise. For You shall be glorified in all the Earth. Comfort, Ye, Your people. Amen."
I can sum up 10 years in 3 words - God is gracious.
It was a terrible, tragic day, that Tuesday morning: filled with horror, pain and suffering. Words seem to not even be able to describe the shock our nation felt in the minutes, hours, days, even months and years afterwards. It stuns us to our core, let it also drive us to our knees before the One who sustains our every breath in life. As Americans - let us live honorable lives.
I remember.
~ Jean Marie ~
Please feel free to share your 9-11 stories in the comments below.