A gift -
photo taken September 10th, on their 5th week anniversary. :) at Barberville.
Barberville: The Courtin' Stompin' Grounds.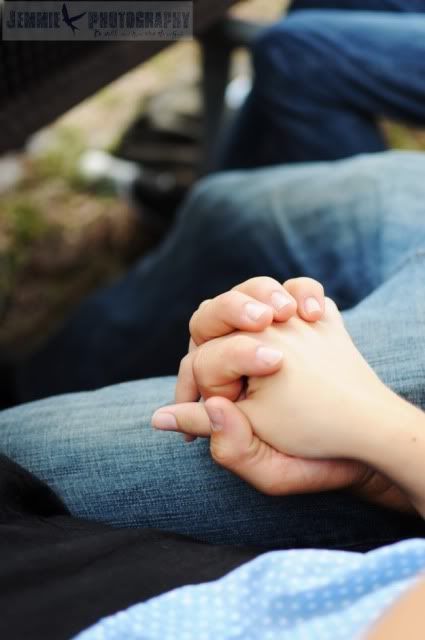 They are getting married -
and I get to be right there, standing there with my best friend, watching her get married.
Yes. I'm a bridesmaid. :)
This is the part where if you were me, you would faint or freak out or run around the house screaming in joy. Or do the happy dance for 3 minutes every 5 minutes for the next week every time you think about any conversation that starts with "Ben", "EmilyCase" or "Wedding.".
So I didn't faint. And since it was night, actually, at 1am, I didn't run around screaming either. Buuut I did freak out, and I did burst into tears. :)
So here's the story that I wrote out, so I'd have it on my memory file just like it happened. :) I typed it all up a few minutes after I finished talking to EmilyCase, when I still had tears in my eyes. :)
~~~~~~~~~~~~~
"Skyping with EmilyCase on August 9th, 2011 at around 1am -
Mrs Case walks in ... EmilyCase starts smiling very sweetly, and my heart goes skippity-skip .... "I have a question to ask you. :) Actually, it's a request." And she smiles.
And I try to break the moment in case it's not what I think she might say. I say "I have the sniffles. *sniffs to prove the point* ". She laughs, "I think you might have the sniffles more after I ask you ........ Will you be a bridesmaid in my wedding?"
I am overwhelmed instantly, and in the second after she says "bridesmaid", I put my hands over my face and burst into tears. I totally lose it.
I could hear her and Mrs. Case going "Awwww!", and as my shoulders shake and I try to pull it together as EmilyCase breaks in the silence with a "is that a yes?". :) I pull my hands down with tears streaming down my face and smile as hard as I can without making a sound, and I nod. I nod a yes. I cover my face and wipe at tears, and nod again. Firmly. A smile breaks out. :D
She is delighted, and so is Mrs. Case. haha.
I breathlessly choke out "I had been hoping you would want me to, but praying that God would not keep me thinking about it that you would, so I wouldn't be disappointed if you didn't ask!"! Haha .... and she laughed again, so sweet.
"This is the first time I've cried since you were engaged!!", I sniffle and wipe away the last of the streaming joyous tears .... "I would LOVE to. Thank you!!! That's so sweet of you!"
I am overwhelmed. Overwhelmed and overjoyed.
And I try to pull it together to choke out trembling words that it means so much, and I don't even remember if I correctly thanked her ... but I'm pretty sure bursting into tears says it all for me. :)
So completely precious.
I love her.
And God is so so kind."
~~~~~~~~~~~~~
Wow. I'm in joyful tears all over again. What a gift!
They are getting married, and I am honored to be a part of it. So so precious to me.
I really love her. :)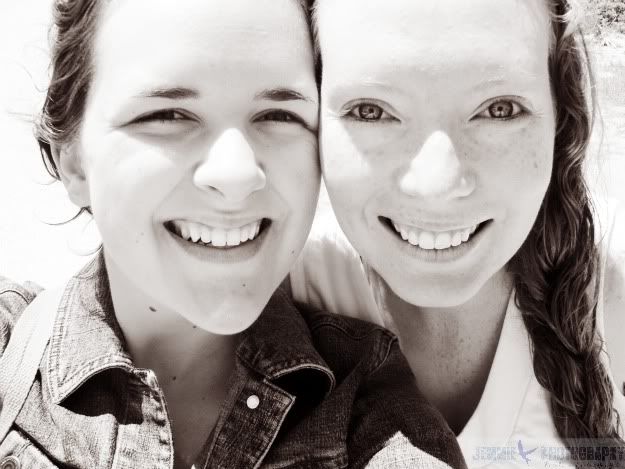 (taken April 2011. that one day after Barberville that was one of the best days of my life.)
Wanna' hear something funny? So, somewhere in that conversation, I asked who the other bridesmaids were, and when she told me that Lauren was one of the other ones, I was like "Did you ask her yet?!", and she was like "yes, I asked her earlier", and so I said "What did she say!?", and of course - "she said yes. and that it was an honor....", and then EmilyCase told her that she was going to ask Jean later .... and apparently Lauren was like "She's going to cry.".
HAha. She hit the nail right on the head with that one. ;) I love that she knows me so well.
And when a little later, Mama walked in to see why on earth I was skyping, well, at 1am, she wasn't so surprised when she saw it was the Bride to Be. haha. Sooo much leniency. I told Mama, and she was just soooo happy for me. I told her matter of factly: "I cried.", and my Mama was like "aaaaww!" and got all teary eyed. It was sooo sweeeet. *happy sigh* She knows I don't normally cry at really happy news. :) I usually run around screaming. hahaha. :)
So that's the story. The really sweet gift of EmilyCase to me. I'm so blessed. :)
In case bursting into tears didn't quite explain enough, EmilyCase - thank you. :D
*scrunched noses* I love you so much.
The RedHeaded Bridesmaid,
~ Jean Marie ~
Oh, and if you are amazed that I kept this under wraps this whole time ... yes. Do be amazed. Because I didn't mention it to barely anyone in .... 5 weeks or something. :D Finally, yesterday, I was like "EmilyCase, do I get to blog this? or are you going to...", leaving out the part that I might implode if I don't just get it out there sometime soon. ;) hahaaha. She's like "sure!". :D
THE WEDDING IS IN JUST 66 days AND YES I AM SOO EXCITED!!!!! :D