Ormond Beach Dance -
Our dear friends the Sparlings mischeviously and magnanimously put together a dance night with their church in Ormond Beach with the Jackson Creek Band and Roy Moye as the caller. Aka: The best dance band and caller EVER.
Ok, so maybe they did not plan it mischeviously. But it sounded so like them. ;)
It was on Labor Day, September 5th, and we all had such a lovely time. Thank you, Sparling Church!!!
I have 36 pictures in this post. I think I went cross-eyed about 5 times, just trying to figure out if I put the pictures in order and got all of them. Needless to say, it's gonna be LONG. ;) but nice. Here we go!
Driving there....of all scenes in the sky, my favorite is when the sun pours sunbeams down. Often, it gives me chills. Heaven's glories spilling out. Be near to us, Jesus.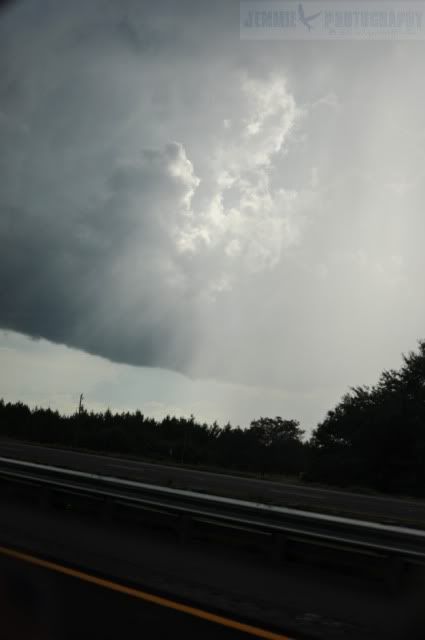 a picture to remember how I did my hair - as if I will be able to replicate it. *laugh*
As we broke out of the heavy rain, this greeted us, looking to the East. Promises of God.
Of course, Kimberly and I ran to the beach when we got there. Just to see our beloved sea. There must have been some good waves earlier, because we saw a lot of surfers leaving.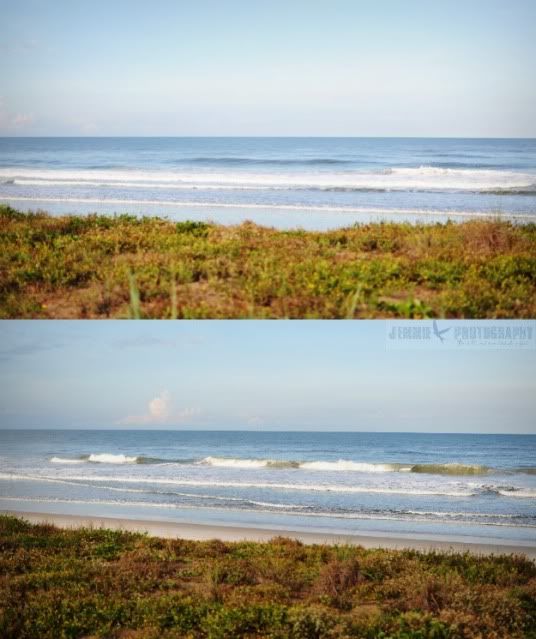 Walking back to the church from the ocean (it's just across the street).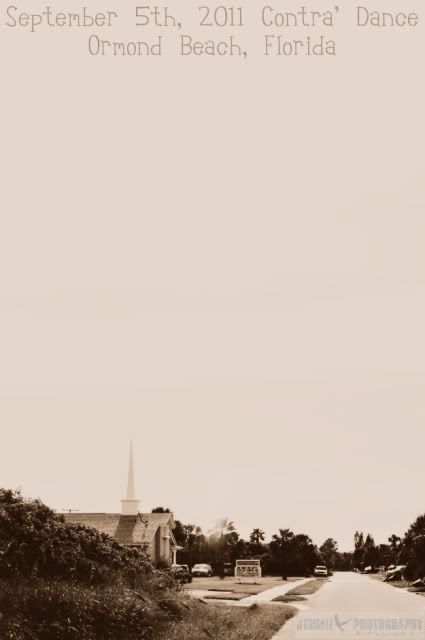 Okay. Small break. :D We had started dancing, and then at the beginning of the introduction of another dance, Ben and Emily walked in the door, hand in hand. A collective sigh rolled through the room, and then someone shrieked, and I figured "hey, if I'm not the first one, I might as well scream too." and so I did. I whooped, and a few others joined in. AHAHAHA. They stood there grinning and blushing, and my gosh, it should've been in a movie. HaHa. Then everyone clapped and cheered. HAHAa. It was so so great. :)
Then Mr. Sparling ran over to poor Mr. Moye, who had no idea what everyone was clapping for. :) He whispered in Mr. Moye's ear....but we were all being so loud, that I think he misunderstood...which is why he announced them as the newlyweds. After a jolt, I thought "they better not have!" HAHA. :) No worries. :) The wedding is in 71 days.
So we all went dancing, and I went a whole dance (8minutes) until I could hug her and Ben. See, it was the first time I saw them together. It was so wonderful. I'm so excited. (Understatement of the year. *snicker*) Okay. back to the pictures. ;)
BWAAAH. ok. sorry.
Charles and EmilyCase. Yes. Can you spot the bling on her hand? ;D *giggle* I can.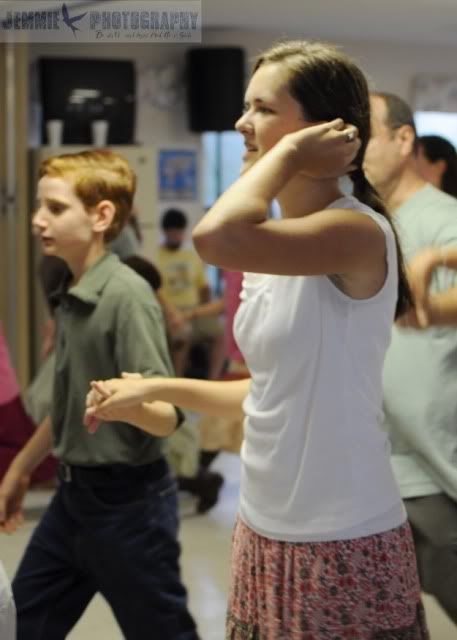 Remembering all the steps has got to be hard sometimes when you're just a wee lad. :)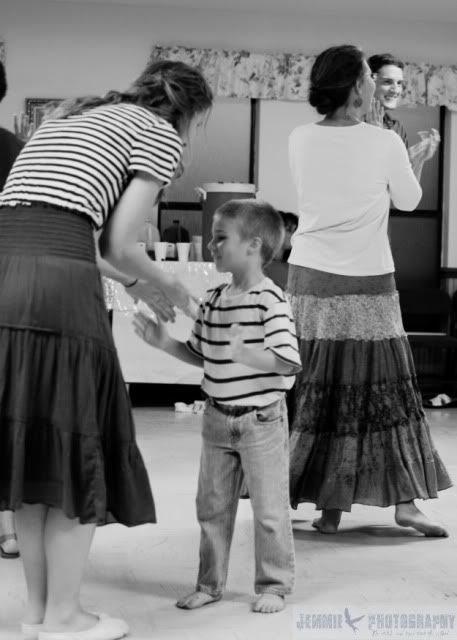 Okay. Break again. When I rushed over and hugged EmilyCase, I pressed my nose against hers and we stood there in giddy joy. I laughed out loud "You are here with Ben! You get to DANCE with Ben!!!!" and she giggled with me "I KNOW!"! Our noses crinkled and we held on to each other's arms in fierce excitement. :) She's so precious. I love the sisterhood we have. ;)
I was right next to her sitting down, and Ben was next to her on the other side. He found his way to be in the picture with his love. :) I love her smile. ;)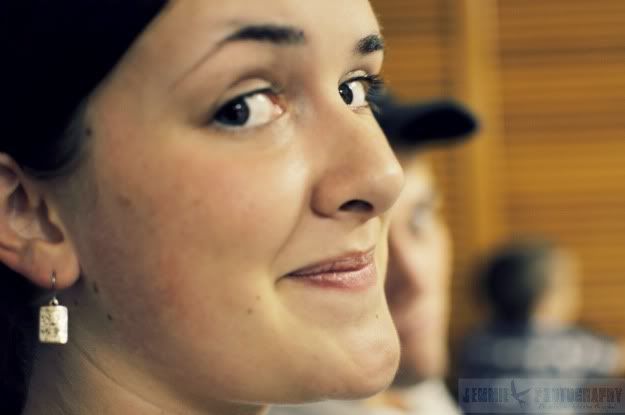 EmilyCase took these next three - I was somewhere. Official! First person to take pictures with my d90 other than my family! Woot! :)
Daddy and Kimberly waltzing.
LtoR: BroNathan waltzing with Becs, Gabi and Abi, and Dad with Kim. :)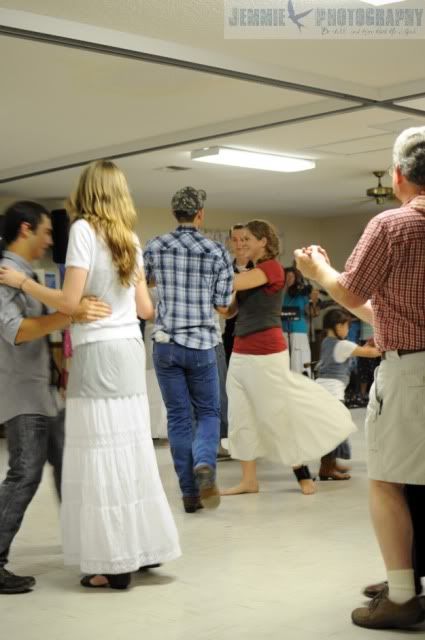 Yeah. Matthew Morse tends to put all our waltzing to shame. Thanks a lot Matt. And Anna tends to look graceful when she dances....so let's just say they showed us all up. ;)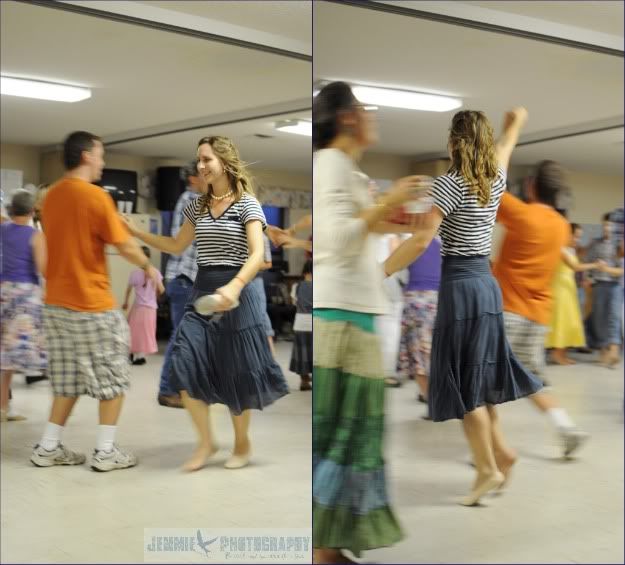 Ohmygoodness. This was so cute. Luke wanted to take a picture of Provvy (his best friend), and Mrs. Burnsed needed to hold the camera steady for him. It was ADORABLE though. :)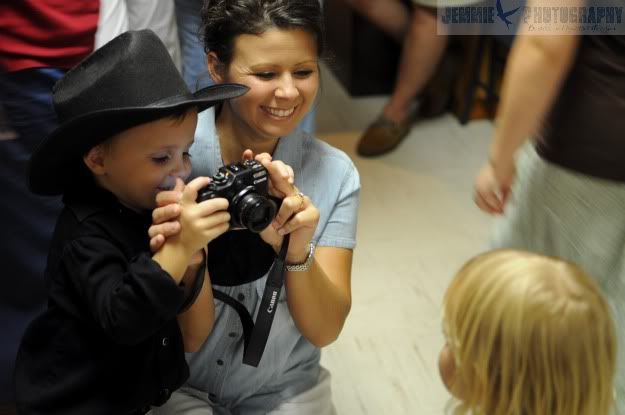 Aaron entertains us all by eating cake AND balancing a fedora on his head while looking dubiously at the rest of us.
Waltzing can scarcely be any cuter when it's with two little cowgirls.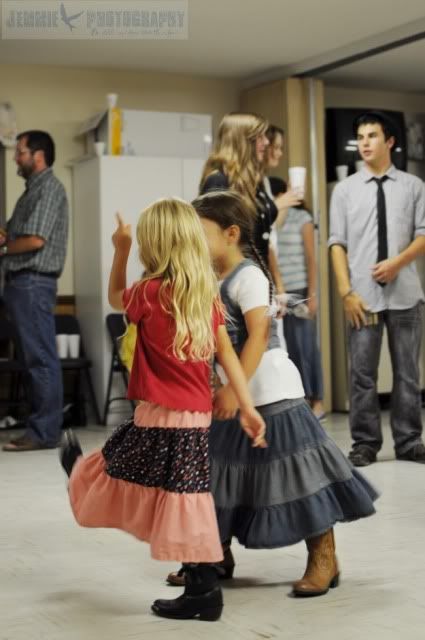 Sharing funny stories ....
The Broom Dance ... all the ladies in a line ...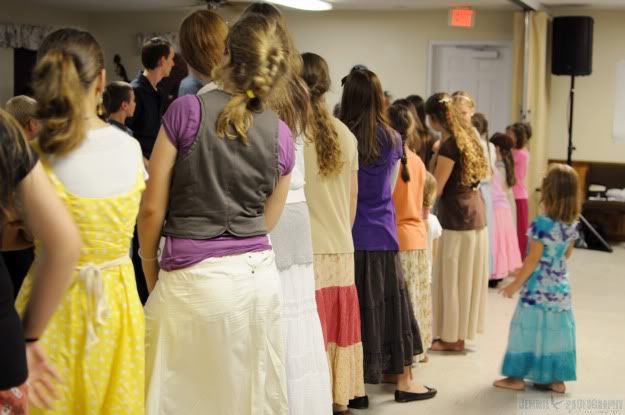 Mr. Moye - our favorite caller who has the patience of a saint. We love him. :)
The Lassies and Lads.
That Golfing Buddy of mine - Aaron.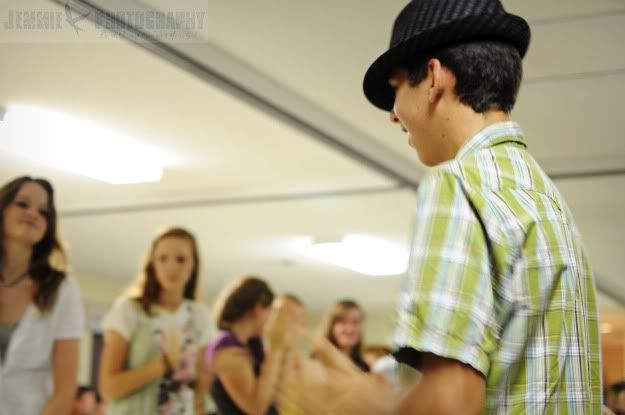 Part of the Jackson Creek Band - Mrs. and Mr. Waller, and Mrs. Morse.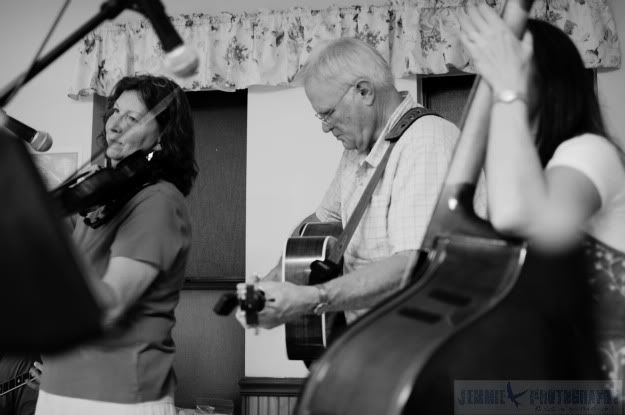 Gotta love all the little cowboys. Brason and Boaz (future little bro-in-law's to EmilyCase), and little sister-in-law's in the background, Provvy and Beri.
HAH! I did get a picture of Will! Yes, he's tall. And beautiful Bethany. She looks like she stepped out of Little House on the Prairie. I love it. :)
Favorite! Little Cowboy Luke in total dance concentration. :) Jeff called him a little Garth Brooks. HAhaha. He's quite the little swaggering chap.
and Provvy. :) in all her sweetness. 20 years - wedding bells? :)
Poor Luke got accidentally knocked down, and came back bawling, but calmed down quite a bit when his best friend showed up with some ice for him. Provvy LOVES ice, but when Luke turned it down, holding onto his cell phone, she shrugged a little and ate the ice. :)
Mrs. Brower appeared to check on Luke in his mama's lap. :) I think Luke was the most upset that it happened in front of Provvy and that his hat got knocked off. ;) haha.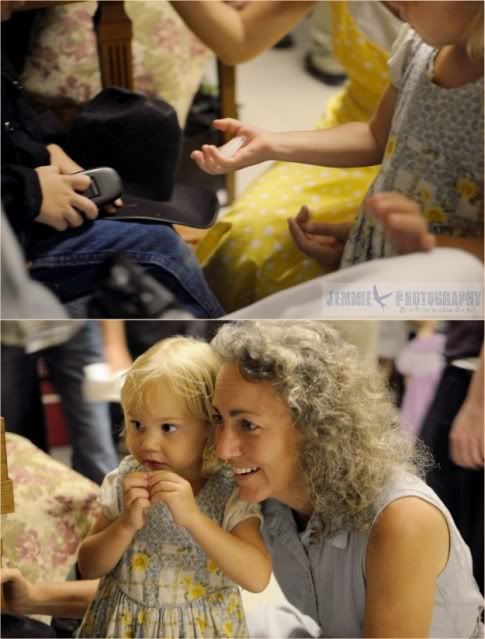 Ashlynn's feet -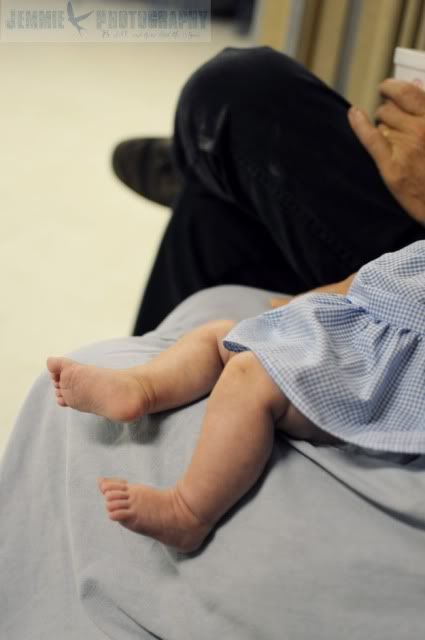 Sweet Little Bit and her cheeky smile.
Baby Ashlynn gets a bottle and thoroughly enjoys the music. :)
Curly haired little one watching the swirling, stomping commotion.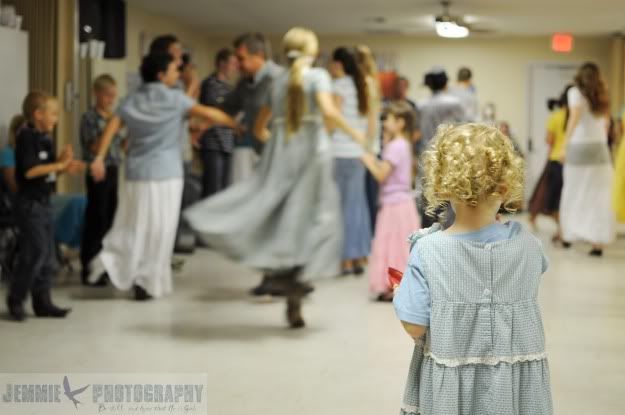 Little Bit was determined to press down every single valve on the organ. HAHAAH.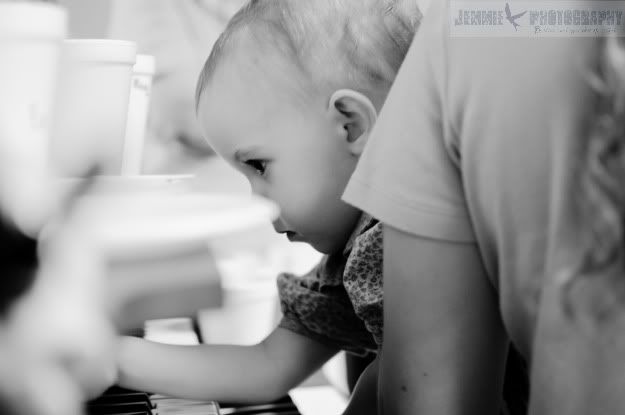 Clapping to the beat -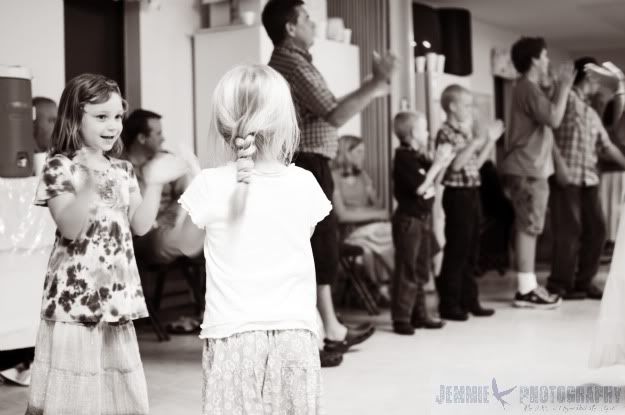 Momma Case left to see if she could help out Mrs. Brower with Ashlynn, and I followed her, hoping to get some Ashlynn time. :) And I did! I'd loved seeing Ashlynn for the first time, since so many prayers had been sent up to our loving Heavenly Father for her.
Clearly, she was at home smiling for Momma Case, and completely happy. :) What a beautiful, precious gift of God she is! I was utterly overjoyed to snap some pictures of her joy. :)
Smiles ....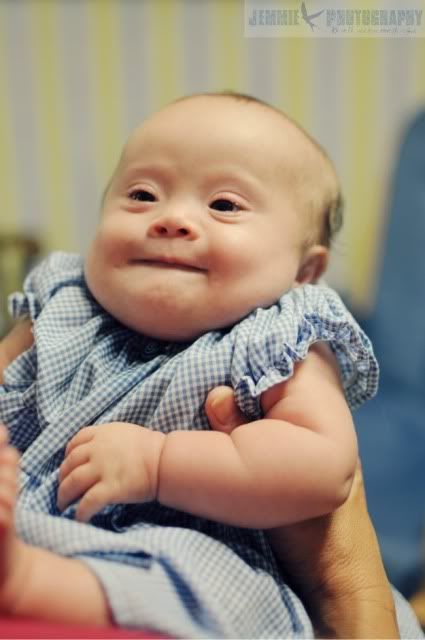 Beautiful baby feet.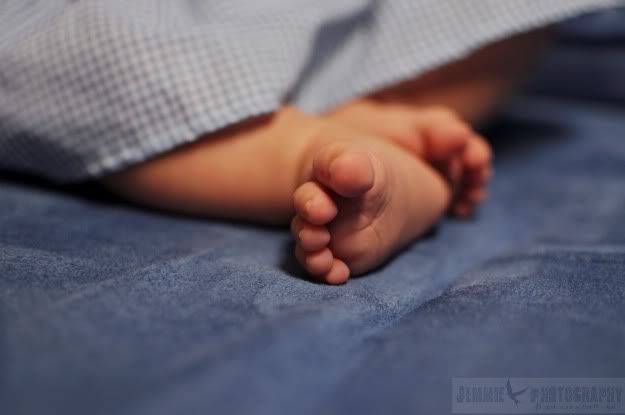 This one is so amazing to me. Ashlynn has a 5 inch scar on her chest, its pinking and smoothing, healing beautifully, and she is growing! At 6 months, she's small, but what a fighter! Here's the size of my hand and her foot .... God has sustained and lifted up her little family, and they love her so so much. Please continue in your prayers for her growth and health! :)
One last one - a giggling baby girl. Doesn't get much better than that. :)
Whew! That was a lot of pictures. :)
I'm putting the two videos in a separate post, below this one, so you can view them there. I videotaped EmilyCase and Ben's first waltz, so that Lauren, Tricia and Adie, who couldn't be there, could see. And you all, of course. :) And a video of Luke and Provvy, and some of Ashlynn. :)
Oh, and we finished off the evening with walking over to the beach, us gang of children and teens and adults (and several dads, haha), and walking on Ormond Beach in the dark. With half a moon lighting up the rolling and crashing waves, and the soft breeze blowing, it was gorgeous.
Hahha. At one time, I was walking with Abi, and I was getting wet! I sort of whined at her "Are you splasheeng meeee?!", and she was like "No! Are you splasheeng ME?", and we turned and Gabi was running between us. Thanks a lot. hahaha. :)
Then we sat on the wooden bridge between the road and the beach there on the dunes, and Gabi strummed the ukelele and we tried to break out into song, but the dad's came and got us. :)
After we left, I was STARVING. Like - my head hurts and I'm achy, because I just danced for 2 hours and I burned off 6 meals in calories. So Dad graciously let us go to Steak 'N Shake for some late dinner for the ride home. :) He's so nice to us. And yes. It tasted so so good.
All in all - we had such a wonderful, laughter filled evening. Thank you, Sparlings!
With love,
~ Jean Marie ~