The Secret Project revealed! -
So what did
THIS
,
THIS
,
THIS
,
THIS
, and
THIS
have to do with anything? :D What did they build up to be? And WHAT does it have to do with THE SECRET? the secret!!!
The mystery!
Actually, I'll tell you who knew all along. Besides my family, that is. And Cameron. :)
THIS is who knew.
She knew the secret, and she kept it for me!
Muwahhaha!!
I know. She's downright pretty, ain't she?
*lookit that, I said "ain't!", Momma's gonna have somethin to say 'bout that, but I'm writin' this real real small so she can't read it! *hee hee!!*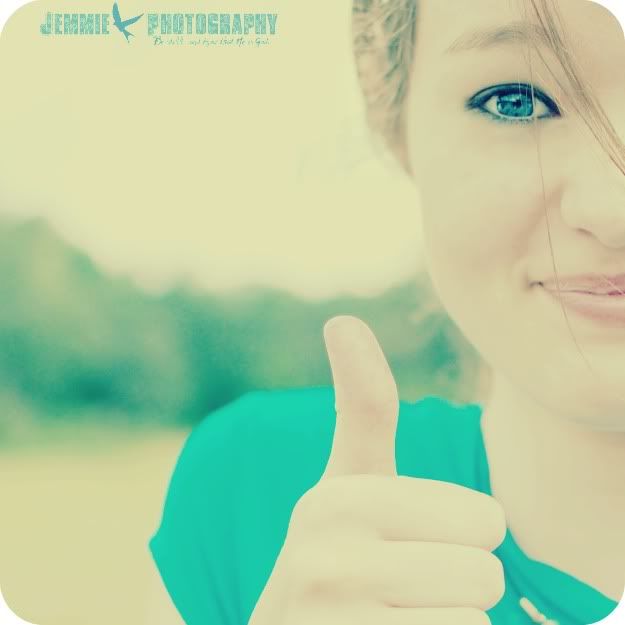 Did you SEE what I did with that picture? It's SQUARE. I've been dying forever to try to find the perfect time to introduce my "pretend polaroids" to my blog, and viola. In love. It doesn't help that this is the cutest "vote yes to blueberries" and the adorableness of Becs picture. :)
So the SECRET. is really a GIFT. from myself. to ME. ;) hahaha. Yes, yes, it's true!!
and HERE is what the secret is: my secret surprise birthday present to myself.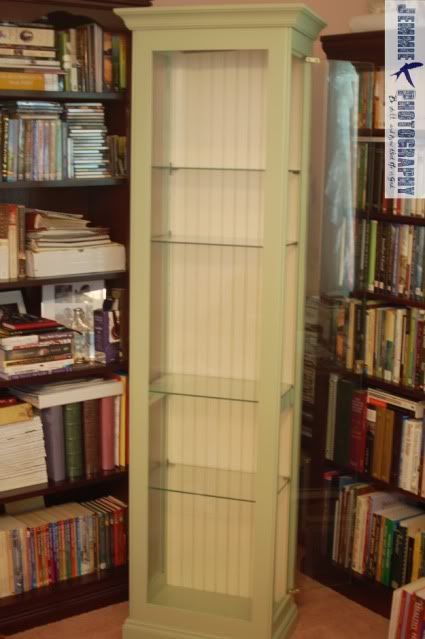 It's a gorgeous light green solid wood curio cabinet!!
The door opens on the side, so that's the reflection you see on the right. :)
I want to tell you the story about it. :) A couple of weeks ago, our favorite furniture store run by a Christian family and awesome people was closing out, due to retiring. And newer- non-awesome-and non-USA stuff was moving in, along with the new owners. *rolls eyes* SO. Our family went over to see about finding some wonderful things before they went invisible. *blink* I mean, before they were sold.
Momma found some lovely plates that we hung in the kitchen, and I had seen this cabinet that I was dying to show Dad how gorgeous it was. I'd been looking for a curio cabinet for little things ever since I was ... I don't know, 10? So. A long time...well Daddy saw it, said it was lovely, but overpriced. :( It was a quality piece made in Virginia, USA. Well, without realizing it, since a few days earlier, I had been inwardly planning about all the things I was going to put in it, and where it was going to go, etc. Fully planning to buy it myself, for myself. Needless to say, I was very disappointed.
More than I thought I would be! In fact, I went home and cried for a half hour, and cried later that night .... I hadn't realized how much it meant that I could fill it up with things of my grandmother's that I had. Things I hadn't seen for 8 years .... I was sooo sad about it, but trusted Dad that he knew prices and quality and furniture much better than I did. :)
Well Dad went online and looked other cabinets, how much it would cost to ship it, the prices, etc, and when he realized that this was quite a good cost, actually, he changed his mind. :) I was happy with the price, and since I was buying it, I was all for it. I left for 3 days with John and Audra to work FPEA, and fully expected it to be in the house when I returned. I came home, and it wasn't. My heart sank. I thought - "oh no. Someone bought it!". But they hadn't .....
And so we bought it. Or rather, I bought it. :) I'm pretty sensible about what I need vs. what I want, but the fact that this had three of my favorite things just made me fall in love with it. A. Its color. It's this light green that screams "The South" to me. I adore - adore the color. It's what caught my eye in the first place. B. It has paneling on the back, which makes it old-fashioned and plantation looking. C. It has a light inside and glass shelves.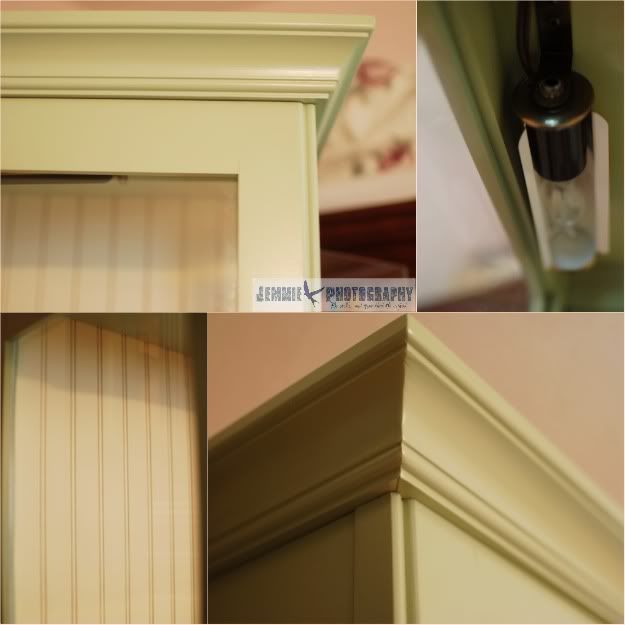 The light -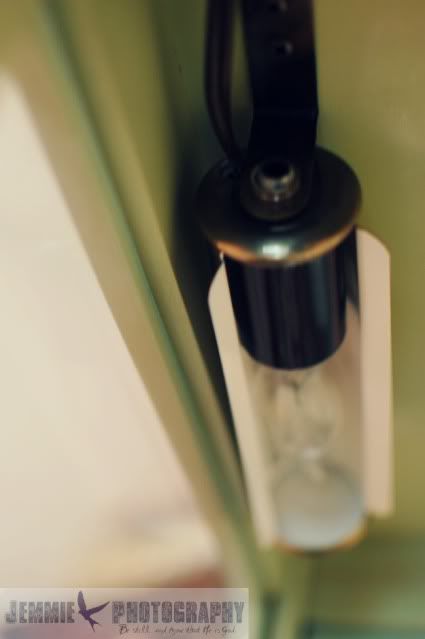 The paneling and glass shelves -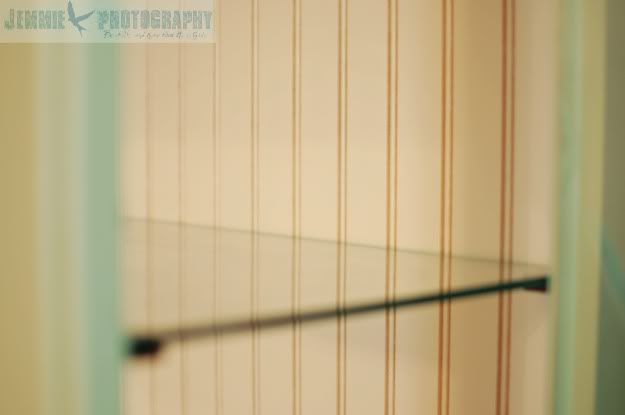 aaaaand the boxes and boxes of memories and keepsakes and legacy
That first night that I had been very disappointed originally about not getting it, I remember being very teary in bed that night and realizing that it wasn't necessarily the fact that I didn't get the cabinet (very little of it, in fact!), but more that I had been dreaming of having my Grandmother and Grandfather's things out that had been packed away for 8 years, and then not being able to do it. The loss squeezed my chest into hurt and hurt into tears.
When I unpacked all those boxes, it was what Godly grief looks like after 8 years. Some tears, some sweet longing, lots and lots and lots of memories, and lots of joy. As I unwrapped things that held memories and smells and senses of touch that I'd missed, I could feel my heart re-breaking and re-mending every time I put a figure or vase or memento on those glass shelves.
Literally.
It's more than legacy and beautiful pieces .... its memories of Grandma's face in the mirror around which some of these pieces sat. It's Grandpa's desk with the treasures on it that held all the paper and his favorite pens that I would draw with, and the piano I would play the tune that holds all the memories if I only just close my eyes and go back. Back to when they held me in their arms and pressed kisses to my cheeks and said they loved me. Back when they were here.
So when you come see my curio cabinet - see LOVE in there. and see JOY in there!!! :) All filled with joy!!! (for those of you who have never seen my room, that's my bookshelf on the left, and my sister's on the right. :) We are a family that reads and loves books. :) )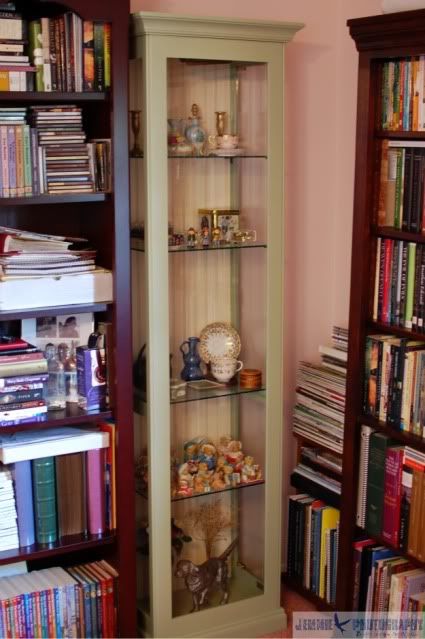 Remember
this little guy
? :D Here's where he'll stand for now, instead of being in a box. :) I played with these little people, (in fact, Kim has an identical set) when I was a little girl.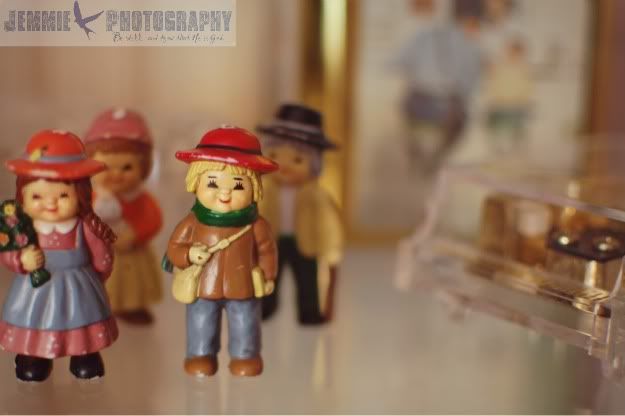 The little piano music box. I can go back 8, 10, 15 years, just by winding it up and letting myself remember.
A handmade blue glass pitcher from my grandparents house, and a teacup and saucer that I had packed away in my hope chest.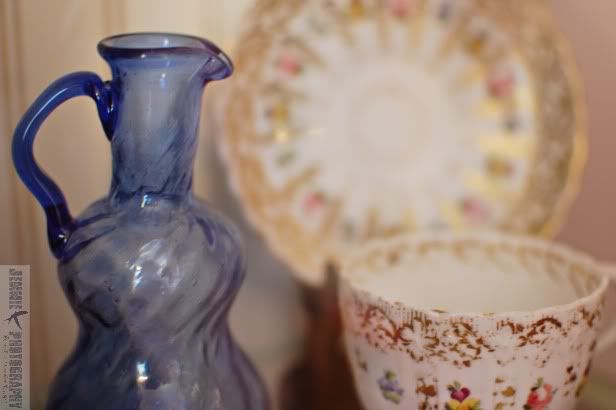 These were my Grandmother's....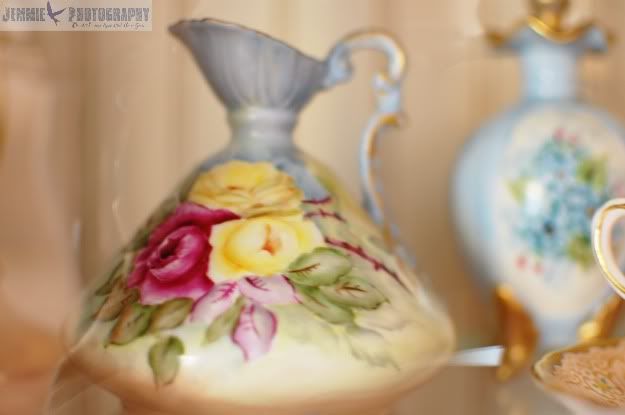 This beautiful teacup and saucer were also in my hope chest. It's tiny and I adore it, but I can't remember where on Earth it is from. :)
I always thought she looked like Martha Washington. She's a little bell.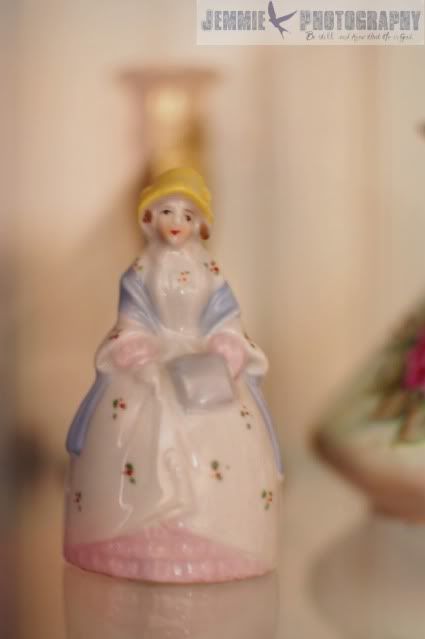 All my Cherished Teddies that I've collected over the years. :) SO fun having them all in one place now!! They've been scattered over 3 places in my room.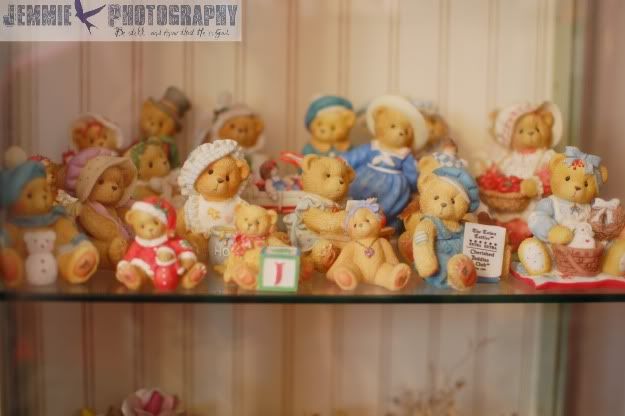 The best for last, maybe. :) Glass roses in a vase with my Grandmother's name etched on it, another vase with dried baby's breath in it, that I've saved from bouquets. That dog is from the 1960's at least, and since I can remember, since back when I was probably 4, I've played with it. It always was in the shelf between the twin beds at my Grandparents' house. At night, if I couldn't sleep, I would run my fingers along the grooves in the iron, romping it over my covers in its countless hunts for birds and coons, chasing bears away, leading the hunters around. I'd gaze at it in my droopy with sleep eyelids as I dozed off, and in the morning I would look at it, watching the sun stream in and glint off its coat. Of all the things I wanted unpacked, it was this dog. I ADORE this dog. I grinned and lifted it to my cheek when I unpacked it.
It was a little like coming home. Home to my second heart. The one I left in GA.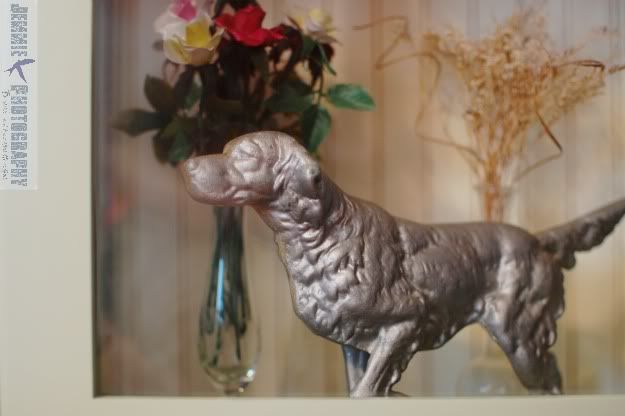 So you can maybe say this is the best birthday present to me. :) Memories and joy and precious reminders of what life was with them. Childhood and growing up and dreams. Saying goodbyes and letting go, and having the best grandparents in the world. Unwrapping gifts of memories and putting them out where I can see them more often is so joyous to me!!! :) I love it.
When I got the cabinet, I was sooo excited, I danced around with Lucy Mae saying "Happy Birthday to meeeee!!!" Hahaha. :D Thank you, Mom and Dad for letting me get it!!
There's lots more in the cabinet, but you will just have to come and see it in person ... ;D
Tomorrow I turn 23. :) *faints* Don't worry. I shall recover as soon as I have some Tapioca Pudding. ;)
With much much love, quite a few smiles, and a joyous heart,
On the last night I will be 22, I can say -
"The Lord has been gracious and faithful!! He has been Enough, He is my Father and Lord,
Holy is He, and perfect are His ways, in His timing and through His glory all things will be made beautiful.
From our ashes, beauty will rise."
~ Jean Marie ~
"The Lord, Your God is with you,
He is mighty to save,
He will take great delight in you,
He will quiet you with His love.
He will rejoice over you with singing, He will rejoice over you with His song,
He will rejoice over you with singing, He will rejoice over you with His song! Yeah.
And through the night, (in your darkest hour)
When you are tired (and you've lost all hope)
He will hold you tight.
He will rejoice over you with singing, He will rejoice over you with His song,
He will rejoice over you with singing, He will rejoice over you with His song!"
~ Trevor Morgan ~
"The Lord your God in your midst, The Mighty One, will save;
He will rejoice over you with gladness,
He will quiet you with His love,
He will rejoice over you with singing."
~ Zephaniah 3:17 ~