The Little Things Day 3 -
Hooray for Day 3!!
What a long day. My feet are aching, and so is my jaw - from either smiling or talking too much! ;) Daddy and I had a wonderful time together at the InfoComm Convention, aaaand we are headed back there in just 9 hrs. HAH. :) Tomorrow will be extra special because
Joseph H
. will be meeting us there ... I think Dad might be looking forward to being all "techy-talky" with someone who actually gives feedback other than "oooh." or "um. what?" or "wow!" like me. ;D Whatever the case may be, we are looking forward to tomorrow.
Should be great like today!
A few notes about the convention before you watch the video -
~ I did not get arrested. Thankfully. Even though "Photography is prohibited" a.v.e.r.b.o.d.y. (if you are confused, think Southern accent) is standing in front of some exhibit going "click" with their point and shoot or "bing" with their Iphone or taking photos with cameras twice my camera's size and dollar value .... so, I'm thinking tomorrow I'll be more brave, and take pics. ;) ~
~ I saw a man wearing purple corduroy jeans. PURPLE. JEANS. they were ugly, that's all I have to say. ~
~ I saw a man with dreads that were longer than my hair. WOW - long....and I saw two other guys with hair longer than mine!! What can I say, I was at a convention that caters to musicians! ~
~ A man who worked at the convention center waved me to go first and said "After you, Gorgeous!", I was rather...surprised, and replied with a quiet "oh thank you". hahahaha. ~
~ I met a man who lives in the town next to us, and discovered that when I learn that someone lives close to me, I immediately assume that person is awesome and my brain thinks and talks like we are old friends. This is strange, and sometimes .... alarming. It's how I roll, though. ;) ~
~ Dad and I were worn out from all the walking. This convention is HUGE. unbelievable. also, chocolate, candy and free stuff is everywhere, because if you go up to their table, they get to talk to you about your product, and then you get reeled in, and then they get to scan your badge to send you free stuff about their amazing product, and what they don't know is that there is no way I'm buying it. But I still appreciate the chocolate. and the friendliness ~
~ I pulled a muscle in my leg from 2 weeks ago on a beach trip getting out of a nasty rip, and today it gave me heck. I took painkillers, but they wore off way too soon. I ended up dragging my foot or limping the last 2 hours. No one looked at me weird, though, so yay me! :) ~
~ We drove through smoke on the way home, and it made my stomach queasy just thinking about fires. Please be praying for Mr. Case, Cody, and all our firefighters, and for RAIN. It really is so important .... we are way overdue for our wet season to start. ~
Ok! So here's Day 3!!! :D Enjoy the video -
aaaaand here's the secret photo from today. Even though I don't get to work on my project today or tomorrow, I still am posting pictures, because in my mind, I keep working on it. :)
Oooh! Secrets! Mysteries! Muawahahahaha!!!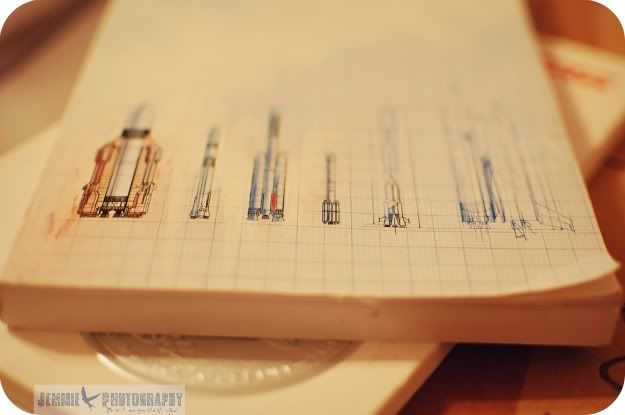 Hey, ya'll - just came up with a brilliant idea.
Let's all head over to
EmilyCase's latest blogpost - HERE
, and leave "Thank you!" comments to
Mr. Case
(who is "Mr. Command Central", so to speak of Firemen ((best way I can try to explain it)) and to
Cody
(who's a paramedic/fireman).
Kk?
They really deserve our thanks, even if you don't live in that county!
(leave some love for EmilyCase and Mrs. Case too! and to Tricia, Cody's wife!)
Plus, I think it would cheer up the Case family - living in smoke and watching ash in the air, and having fires come closer really just gets hard to live with day after day of that threat. :)
I know.
I love you all!!!
Hugs and kisses,
~ Jean Marie ~
To tell you
how recent one of these fires is
, the fire started on Monday and I drove through
Osteen, FL
last Sunday, when I went to Sanford. So from Monday to today, Wednesday, it has burned 1,000 acres, and this time - it has burned
homes
, cars, trailers and hunting camps. From the winds to the lightning from the thunderstorms, plus the extreme dryness and heat index of 100 degrees, the fire risk is almost as high as it can go.
Please keep the firefighters in prayer!
A quote on a fire in Osteen, FL from this
article -
~ "(This is a) firestorm", said Timber Weller, of the DOF.
Volusia County Sheriff Ben Johnson said he is more than concerned.
"You have fires in Flagler County, Pierson, and this one we had in Maytown. You have fires everywhere. We are very worried about it. We have a major issue." said Johnson. ~