The Little Things Day 2 -
*smiles*
Today, my friends ... today. WE HAD RAIN!!! Praise God, Who giveth the rain!! We had an afternoon of off and on rain, high winds, and lots and lots of lightning. *winces* Please be praying that the lightning didn't set off very many fires. Today's lightning was severe. But I don't want to diminish the joy over getting rain, we are very very thankful!!! :) It was wonderful hearing rain, real heavy rain and wind. I heard that Flagler got rain as well, but please just pray for a soaking week, with less lightning. :) I know
EmilyCase asked for prayer
for rain, please pray for their area specifically, and for Mr.Case who works so hard as a fireman. Thank you!!
So now to the secret photo hint, Day 2 of the Mystery Project - is he not so cute?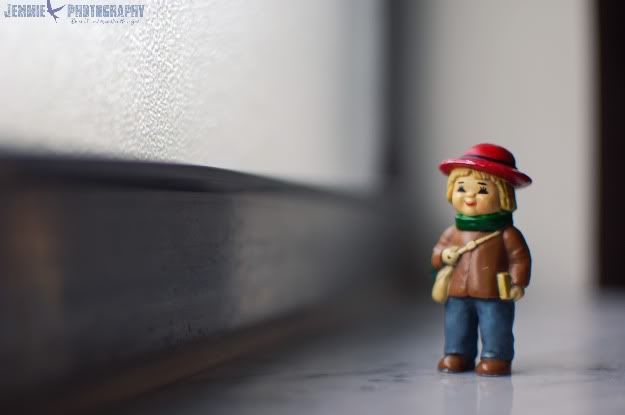 and then today's photos. I cannot tell you how FREE of myself I felt today. Does that make sense? I would go to take a picture, then laugh rather mischievously and purposefully take it in a way that I wouldn't take it otherwise. :) I found myself shooting everything today. Slicing carrots? take a picture. Lucy Mae? *clickclickclickclick* Bubbles? yes. Sucker? take it. I found myself humming and singing and walking around with new eyes ... I find that I like this more and more, and realize this is what it is supposed to be like - enjoyable!
It doesn't mean it can't be art too ... like the pic above, it's more artistic, and I ADORE IT, but I also would have never taken a picture of him had I not just been shooting un-ordinary things. :) I'm loving this so much ... I may never go back. ;)
So here's Day 2 of The Little Things Photo Project -
A few notes ....
I found out today that pitching pinecones into a trash barrel is NOT like pitching a softball into a waiting glove, and also that it is a lot harder to project where they are going to end up.
(this did not harm any animals or cars or humans, thankfully)
Also, have you ever wondered what pinecone sap tastes like? Oh, you have? Well, I know what it tastes like, and I will tell you. It tastes like ..... SAP.
Tomorrow and the next day I will be with mah Daddy at a Tech convention where I will wear a badge and appear to be smart in all things digital, computer, sound and needs electricity. I may or may not be able to take pictures, but please be assured if anyone tries to take my camera from me for illegal picture taking of not-yet-released products that I will cause a ruckus louder than when Carrie spotted that huge manta ray right above me when I dove through that wave at the beach. Aka: someone come bail me out of the CIA jail.
This problem may cause ... issues with the photo project for the next 2 days, but we shall see!! :D
Oh, and one more thing - here's
EmilyCase's Day 2
, which seems more productive than mine, but lacks the sappiness (I had to throw that pun in somewhere!) that mine does. HAHAhahaa!
With love from the Calvin & Hobbes fan that reflects occasionally in her writing -
and a love for all things water and rainy smelling -
~ Jean Marie ~
Wed.note:
Here's the scoop/article
- 12 fires started by lightning and our area got 1inch of rain from yesterday. *winces again* So. :) Please keep rain for us in your prayers, minus the lightning!