I:Heart:Pets -
Sunburned-face. Glorious April day. Lucy Mae at 6mo. old.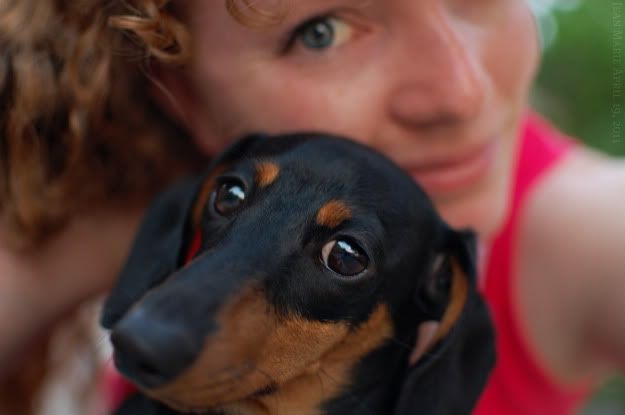 The last time I:heart:faces did a contest on pets, my dog, Mopsie had just died. I saw the contest and tried not to be hurt. I tried not to think about. I tried not to care. but I did.
I cried that night because I missed her so much, my little Pomeranian best friend.
I looked at some of the photo entries and then just made myself stop. Life hurt so much.
but then. :) God blessed me richly. On December 18th, 5 mo. of aching after Mopsie, we went to a home in our hometown, and looked at a crew of adorable, rumbling black and tan dachshund puppies, and one came running over and wanted into my lap, and didn't want to leave.
I sat there, trying not to sew my heart onto my sleeve, trying not to fall in love in case it wasn't the one, she tumbled off, she chewed on some things, she came running back. Up on my lap, up to kiss my face, down to rumble around on me, her little not yet 8wk. old self, then up to kiss me again. I held her up next to my cheek and she stilled. Then kissed my cheek.
and I was in love. No doubt. at all.
When we got in the car, her tiny tiny little body held up on my shoulder, tucked under my chin, and her little puppy squeaks letting me know that she wasn't sure about this whole car thing, my seatbelt on, and pulling away, I suddenly realized she was mine.
Tears filled my eyes and spilled down my face as I choked out my thanks to my Momma in the front seat, and as Lucy Mae whimpered a little, and snuggled closer, something healed that had been broken. And every day since, it's healed a little more. God has used her friendship and love to me to heal places that nothing else can touch. What a gift!
and now you are either sniffling or have left. ;)
I love you, my Lucy Mae!
~ Jean Marie ~
Enjoy the other AMAZING pet entries at
I:heart:faces
or enter yourself! thanks for visiting!