"Awaiting the Final Resurrection" -
Today I journaled (which I rarely do these days) and knew I would be blogging this. It was too much of God moving my heart not to. So this is all straight from my journal to my blog. It's a long read, but if you care to take a walk up to Calvary with me, then do so with a full heart, eyes filled with tears, and clasped hands in joy of Eastertide.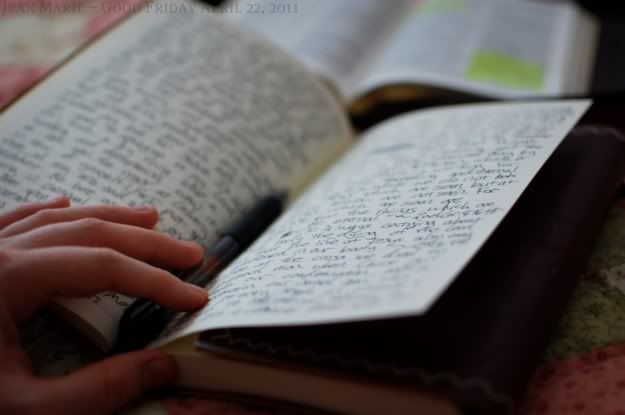 ~ Good Friday, April 22nd, 2011, 1:43pm ~
"So much of life is waiting. Waiting on God's lead and plan, waiting for the fulfillment of His promises, waiting for answers to prayer, waiting to see what He does with life, and mostly ... waiting for the Final Resurrection. Waiting for the restoration of the Saints.
As this week has neared Resurrection Sunday, the pressure has been building and building inside of me until a few minutes ago, sitting reading a book whose words alone give room for tears, and in the background words rising and falling in a conversation. The surrealness of the moment hit me so suddenly I blinked. I closed the book, set it aside, covered my face with my hands and began to weep. All that pressure .... and I just snapped. Grief turned to shaking sobs and sobs turned to whispered whimpers and turned to tears streaming down my face, dripping through my fingers and down the backs of my hands. And the veil seemed so thin right then - as if I could just say the word and the heavens would be opened to see all of Christ's glory and I could be there forever.
Awaiting the coming Resurrection - could it be the hardest wait? Tears continued to flow as I thought through the past year, for the first Easter Sunday without Mr. Gilchrist, Mr. Dale, for the second Easter Sunday for friends without their J., the sweet and dear babies this year who have gone on before their aching parents, or for the joy and mourning of last Easter Sunday, when Audra's due date came and went the day before, and Melody already risen dwelling with our Risen Lord. When my friend's siblings are dying. When I ache for the restoration and healing of those I love, and Jesus says "No.Wait and see the glories I will do. Wait." And so we wait.
And Lucy Mae hears me and cries at the door, aching to come inside, as I stand at Jesus' gate and cries to be comforted and close to the One I love, and so I let her in, and her kisses wash away the tear tracks on my face.
I think upon the last year and sorrow fills me as I realize how little I have loved God and how much I have loved

me

. In the quiet bedroom, sobs shake my chest as I realize these tears are for deep repentance for my sins. I had been so angry because God had taken and had not answered. He had given more grief than I expected and had not healed as I asked. He had done His perfect and holy will and blessed us for our good, and I had doubted because we were hurting and people were going to Heaven. So I repented, rocking back and forth, anxious in my grief and realization of how this has hindered my love for Jesus.
What a humbling and devastating view it is to look upon the cross at Calvary in view of yourself! For I put Him there, all my sins and shame and punishment He bore once and forever! Living in continual Easter-tide ... it has been upon my mind for weeks. Living constantly in the redemption and forgiveness of the cross, dying to the outward man and new life of the inward man, death to earthly life and life to Everlasting Life in Christ's death and resurrection. It is not enough for once a year - I must live continually before and in the shadow and spilled blood availed for me at Calvary and the earth-rending joy and Christ-given renewal at the risen Lord of Easter morning!"
2nd Cor. 4:16 (I wrote out vs.' 16-18 in my journal)
"Therefore we do not lose heart. Even though the outward man is perishing, yet the inward man is being renewed day by day."
~
Here I stopped, picked up my camera and headed outside. My mind was spinning, and I knew I would be blogging and needing that visual picture for myself of what I was writing down.
The outward man = fading away, dying to self, dead, dust.
The inward man = new, living, bursting forth out of the dusty shell, renewed again and again by Christ, pure, perfect, tender, alive.
I sat down on the scorched earth and dead grass of our lawn and dug a hole. Scraping my fingers into hot sand and dirt, blackening my palm to throw the dust into the air and past my camera.
The dust and dirt are blowing away ... so is the outward man, as God strips it away ...
Come and leave the dust of the outward man at the foot of Golgotha.
Look up and see the Lamb of God who taketh away the sins of the world.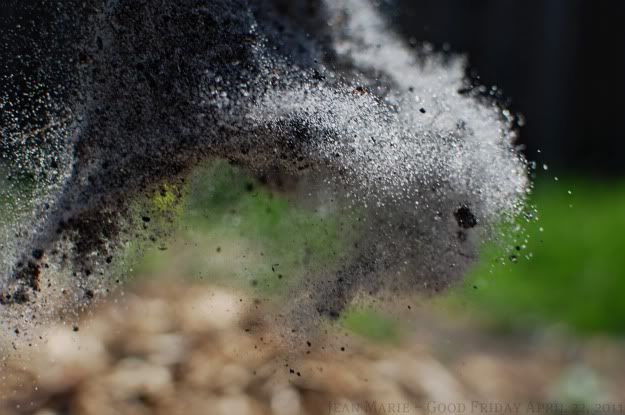 2nd Cor. 4:10 "always carrying about in the body the dying of the Lord Jesus, that the life of Jesus also may be manifested in our body."
"He was wounded for our transgressions, He was bruised for our iniquities;
the chastisement for our peace was upon him, and by His stripes we are healed."
Isaiah 54:5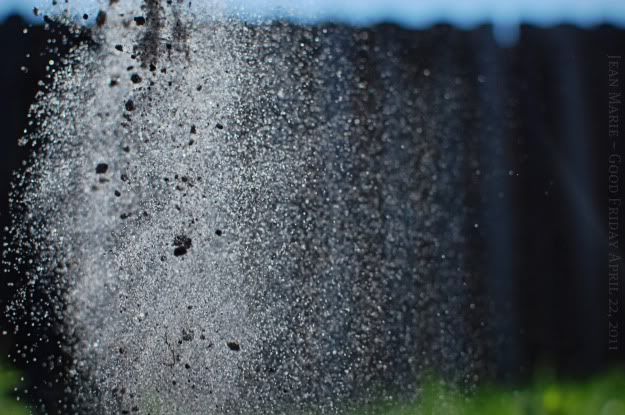 "Man of Sorrows", what a name, For the Son of God who came,
Ruined sinners to reclaim: Hallelujah! What a Savior!"
"Bearing shame and scoffing rude, In my place condemned He stood,
Sealed my pardon with His blood: Hallelujah! what a Savior!"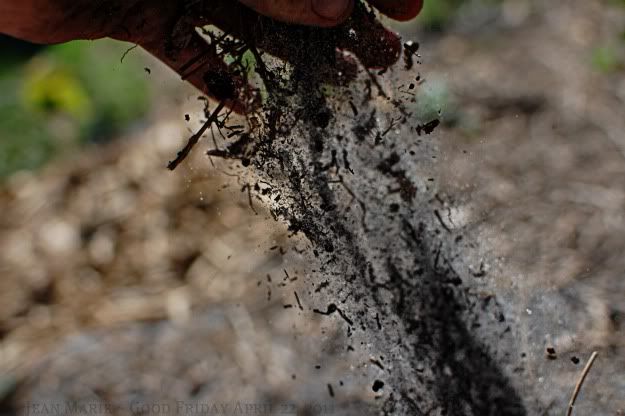 "So there at the cross we died to our outward man when Christ put to death our condemnation, and in Christ's resurrection our inward man was fulfilled to every length of promise and is renewed to life eternal, forever! And so Christ's payment upon the cross seals our adoption into a continual Easter-tide awaiting the resurrection in spirit of each of our souls when we die and the Final and True Easter morning and Resurrection when our bodies will be made new when Christ raises all the dead to make a new Heaven and a New Earth! And all this is true! Amazing! See 2nd. Cor. 5:1-8"
See the Amaryllis that bloom every Easter, they grow and grow inside, all covered up, and then BURST forth a few days around Good Friday and Easter.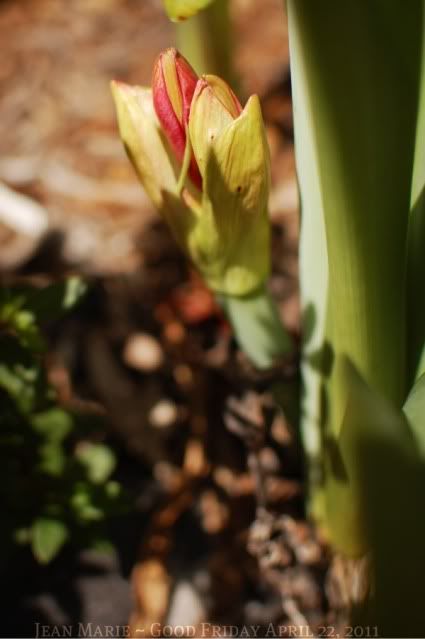 The inward man is being renewed day by day!! Christ indwelling, Emmanuel, God with us!
We are bursting forth from the dusty shell of the outward man into the brilliant tender newness of the righteousness of Christ, both imputed and also growing in the Spirit!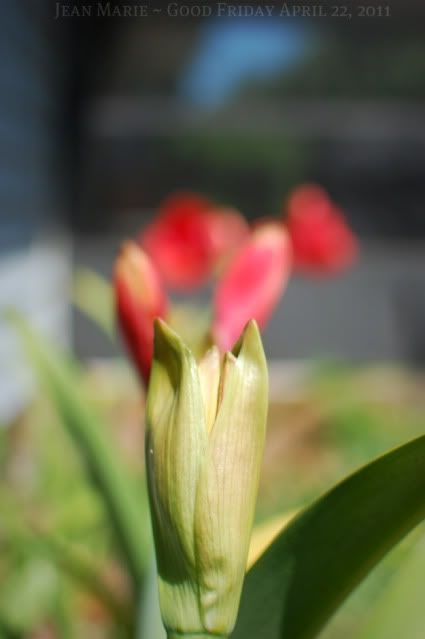 ~ Romans 6:4-9 ~
"Therefore we were buried with Him through baptism into death, that just as Christ was raised from the dead by the glory of the Father, even so we also should walk in newness of life.
For if we have been united together in the likeness of His death, certainly we also shall be in the likeness of His resurrection, knowing this, that our old man was crucified with Him, that the body of sin might be done away with, that we should no longer be slaves of sin.
For he who has died has been freed from sin. Now if we died with Christ, we believe that we shall also live with Him, knowing that Christ, having been raised from the dead, dies no more. Death no longer has dominion over Him."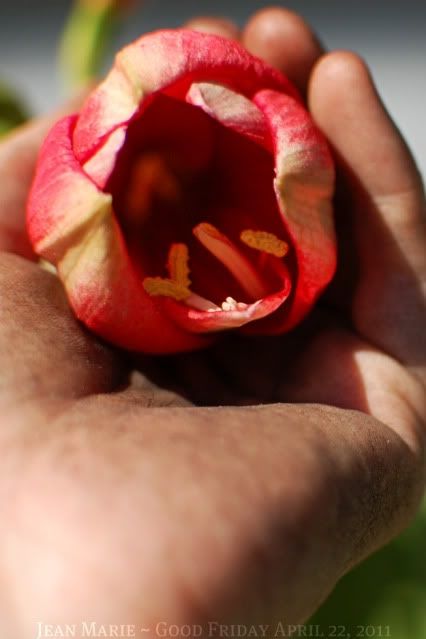 We can fully hold onto the inward man, grasping the hold more and more firmly as our outward man passes away, because we know that in Christ, we shall never die, nor shall we ever be separated from Him or His love for us. The inward man continues to break the shell of the outward man, pushing up and outward until that day when we see our Savior, and live forever with Him!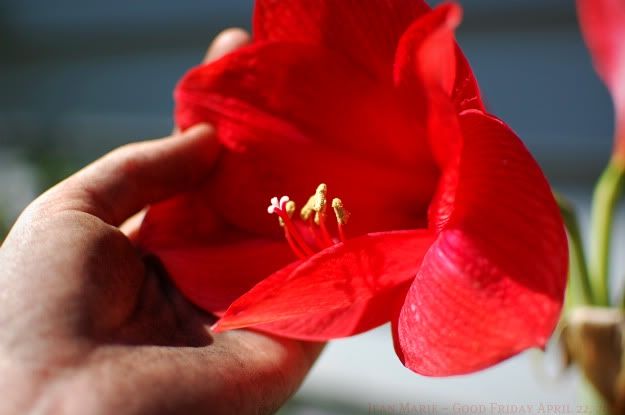 So back inside I went. Teary and dirty. Amazed that God made the Amaryllis to bloom exactly over the days that the Earth rent and shook when the Son of God died and rose again.
~
Back to the journal:
"And so we look out to the coming Easter Day of being with Jesus forever. For on Good Friday when we hear the ring of hammer against nail, and whip against flesh and see blood pouring out and dripping, streaming down, the Wellspring of Life flowing out for the redemption and price paid for His children. We weep and mourn at the thought of our sins that crucified our Lord. The Lamb led to the sacrifice and to the slaughter, obedient to His Father unto death.
"There is therefore now no condemnation to those who are in Christ Jesus." Romans 8:1 ~
"My sin, o the bliss of this glorious thought!
My sin, not in part, but the whole, is nailed to the cross, and I bear it no more,
Praise the Lord, Praise the Lord, O my soul!
It is well, with my soul. It is well, it is well with my soul! "
Samuel Rutherford -
"Fall down and make a surrender of those that are gone, and these that are yet alive, to Him. And for you, let Him have all; and wait for Himself, for He will come and will not tarry. Live by faith ... He cannot die whose ye are."
.... and so while we live in this continual Eastertide, we make a full surrender of those we love, we surrender our inward man to be renewed constantly by the waters from the Wellspring of Life, and we await the coming Resurrection Day of glory and triumph, life everlasting.
"O blessed is the soul whose hope hath a face looking straight out to that day"
~ Samuel Rutherford ~
"Guilty, vile and helpless we, Spotless Lamb of God was He,
Full atonement, can it be? Hallelujah! What a Savior!
Lifted up was He to die, "It is finished!" was His cry;
Now in heaven exalted high; Hallelujah! What a Savior!
When He comes, our glorious King, All His ransomed home to bring,
Then anew this song we'll sing, Hallelujah! What a Savior!"
Amen! Full atonement, yes it's true! God's Son shed His blood for me, to pay the price:
"Sealed my pardon with His blood!"! Look upon the Savior upon the cross and see the depths of His love for you, His treasured child He died to save. Can there be anything greater to revel in, than the deepest joy of knowing Christ has made us His, never to be separated by sin or death?"
"Behold! The Lamb of God, who taketh away the sin of the world!"
~ John 1:29 ~
Oh, to live always in this Easter-tide of joy!
~ Jean Marie ~