Anna Girl's 21st! -
AAAHHHHHH!!!! LOOOOOK!!!!!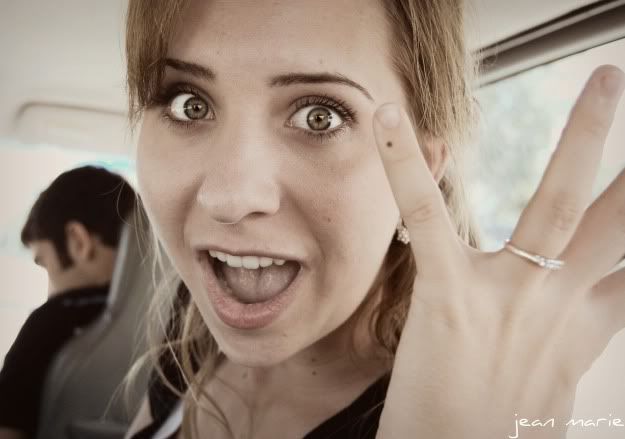 Ok. I'm sorry. I repent. (sort of) I just couldn't resist!!! :D HAhahaa!! She is NOT engaged.
She is not courting. She is not married. Stop freaking out. HAhaaha hahaha!!!
We staged that last year, while spending time up in Flagler Beach with the Hopes. :D
No. What this post is about is one tall, gorgeous, sweet woman named Anna Grace.
Because today is her 21st birthday upon this earth!! Wow!! :D
So you might have noticed that Gabe and Anna share a birthday. :) Thus the intention of having two blog posts in one day for two special people. Gabe's was a little easier to write, because I haven't known him as long ... Anna on the other hand ...
good gracious
. I don't know where to start! :) That's why I went and read
THIS
first ... last year's birthday post for her.
Go read!!
Oh! Oh! And read her hilarious thoughts on turning 21 over on her blog
HERE
. HAHAha!
Okay .... so Anna and I have been dear friends for about ... 8 or 9 years (not exactly sure),
and I was going to go all "Amazing Wonder Jean" and upload zillions of pictures, so I spent last
night looking at albums. There was this problem, though. I would be like "heyy!! look at that one, I can .... use ....oh." or "Wow. I ... wow. Did I even know what hair gel WAS?" and "ohmyword ... why did? .... WHY?" and "HAHAHA HAAAHAHA HAHAHAHA.......NO" and "why do we even still have that picture?" and "WHY did she look so much better than me?" and "Ummm. NO." and "We look .... horrid. And I remember thinking we looked ... awesome." and "This is WRONG. How come I can't find any perfect ones?"!!
.... and then I realized that the photos WERE perfect, because life was never perfect, it just got glossed over in memory of how dear she is to me, and all the years of how close the Krauses, Stones and Fambroughs were. (pause for teary effect) We got along famously and wonderfully and we lived life in imperfection. And then I also remembered that I had blogged the half-way decent and great ones last year, and so I stopped looking at albums and edited recent pictures instead.
Like this one. Emily Case, Anna Grace, Olivia and Emily Rae. (and her glasses)
Strawberry Festival Group Hug ... hey, I'm still in the picture, I'm in the glasses!! :D
I can speak for all of us when I say that we all love you so much it's kinda not funny, Anna.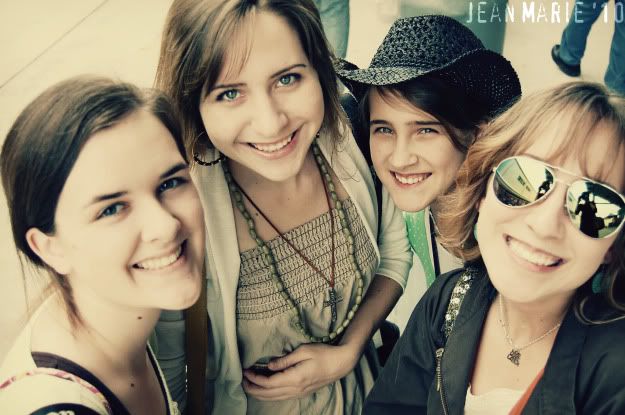 HAHAHA HAHA! Yep. That's Anna. I will have you know that this hysterical picture was taken AFTER the Josh Turner concert and this was their ... 3rd time or something on this insane ride. I promise Emily Case is not angry at me. Really. I will also have you know that when I saw this picture for the first time on my computer, I laughed so loud that I actually scared myself. :D
Okay. Enough of the pictures I might be sued for.
Instead ... a quote from last year that I mean even more now than last year! Incredible!
"Anna, you and I have been friends since at least 2002, I believe, and our friendship has gone through some times of being apart, and some rough waters and some of our deepest valleys. It has emerged even more precious than when it began, God has been so gracious to both of us! You have become an incredibly dear friend to me. Thank you so much for staying with it!"
Thank you so much for staying with it. For still being friends with me. Perhaps you don't know me ... but Anna has most likely had to put up with a lot from me. Make that...pretty likely. And sometimes, if I could steal a quote we say ... she probably sometimes would say "Me no likey.". We'd go around and around and end up crying and forgive each other and start back up. Relationships are not easy, but they are some of the most precious things God blesses us with.
Can I just sneak in here that she is SOOO beautiful!!? (it can get kind of annoying, actually)
Anna is precious to me.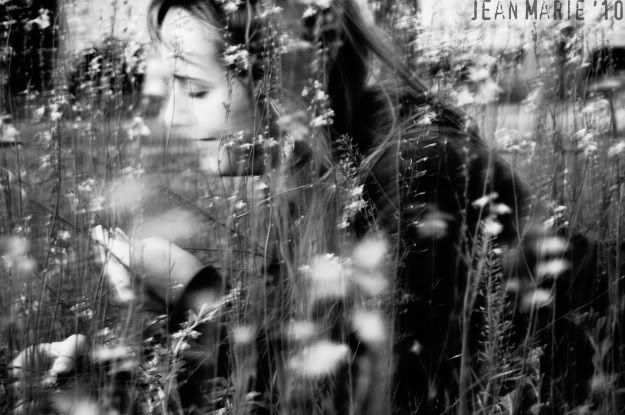 If it's at all possible, she has grown to mean more to me this year than even last year. By her 21st year, she is a pretty well loved person, think you not? :D Can I get an Amen? :D
This year ... we've had lots and lots of drives together. We've developed this (fun and maybe-not-great-for-parents) habit of driving home from the other person's house in the dark ... just the two of us, and once we hit the home stretch, where no one cares how fast we drive ... we go like ... 15 mph. We stretch it out for as long as we can. Because ... in the dark of the car, with no music on, we will say all the things we wanted to say during the day but didn't and know that we will explode if we can't tell them before we go to bed at night. This induces laughter and "I'm going to feel so stupid later for telling you this" quotes and quite a few tears and hugs. We drive into the driveway, turn off the car and the lights and sit and talk. and talk. and then when we fear the wrath of the parents, we say goodbye and the other person drives home. It's become one of my favorite things to do now. :)
Thank you Anna ... for sharing dreams and listening to mine.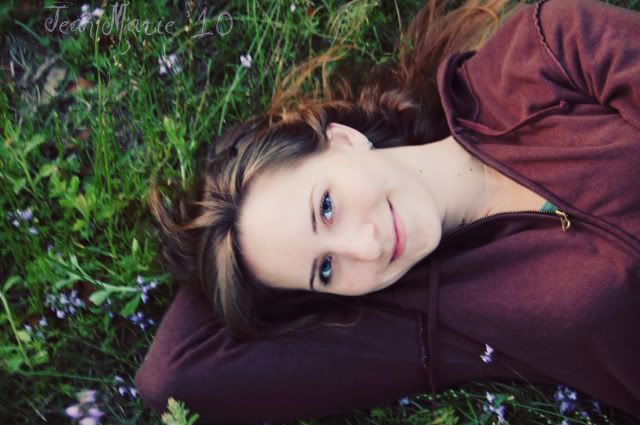 There have been lots of times this year when I've stopped by at the Stone's house, with no other reason than needing a really long and sweet hug from Anna, which sometimes would turn into a very very long and hard cry and a talk following that, and then I'd end up staying the rest of the day ... haha. :) Thank you, Stone family ... for loving me so much you didn't mind me being around ... a lot, and interrupting life. It means so much.
There have been times of anger, of hurt, of grief, of confusion and misunderstanding. I can't credit our friendship to either of us, because I know we have both prayed a lot this year, and that GOD is the One who keeps us friends and helps us through our trials, small and deep.
I praise our Lord!!
We have laughed and sobbed and talked and wept and teased and cared.
We had times we didn't know if we'd make it. We did. By the grace of our God ... and we ARE.
(2008)
We've watched movies and scared each other and took horrible pictures and used them as blackmail and sung as LOUD as we possibly could in our cars with our windows down and Country music blarin' on the radio, we've actually had arguments and been pretty frustrated and then we'd apologize, and realize how much we missed each other ... we've shoved each other into the sea and hit each other unintentionally with objects (sometimes it was intentional- HAHA!), we've e-mailed and chatted and called each other up on the phone, we've planned up events and gone on walks and bike rides and dressed up in crazy outfits and we got haircuts we regret (not by the other friend, haha!), and we've loved each other's families to death. :D
(pic credit to Miss Anna darling herself, just with my camera) :D April 2010
So yeah. I guess you might say that I like her. A lot. Or maybe even love her.
But that might be an understatement. Because I love her to the Hubble Bubble and back.
I love her MORE than the Hubble Bubble.
(which is saying a lot, all you non-NASA people) :D
In short. I love her. She is one of the dearest friends I have, or will ever have, end of story.
I can't wait to see how much we freak out when we turn 30. And 40. and 60. Oh my.
I can't wait to see what our husbands and kids look like (Lord willing), and what kind of houses we live in, and how many pets we have and the escapades we end up doing with our little childrens. I can't wait to see how God leads us to what we should do, and where He wants us.
I can't wait to see the kingdom of Heaven, where we both have people we love, waiting for us.
I can't wait, Anna!!! And here you were, kinda' sad about bein' old. Look what we've got to look forward to!!! Isn't it EXCITING? :D I'm excited you are 21, because now I'm not the only one. ;)
So let's run this race .... let's run it hard, down into the ground, the gritty, the dirty ...
and let's LOVE doin' it, with as much laughter and joy as you and Emily doin' a 3-legged race!!
Let's run the race and fight the good fight, and every so often, let's just lay down on the grass, listen to the wind blow over us, and I'll talk about how special it is to have a friend like you.
Happy 21st birthday, dearest Dianna.
With prayers and joy, hugs and tears, laughter and plenty of pictures,
~ Anne ~
Anna: "If you forget everything else in this life, remember: God is faithful.
He will uphold you by the right hand of His righteousness! He is sovereign."
"To everything there is a season, and a time to every purpose under the heaven ....
a time to weep, and a time to laugh; a time to mourn and a time to dance ....
He hath made everything beautiful in His time: also He hath set the world in their hearts
so that no man can find out the work that God maketh from the beginning to the end."
(Ecclesiastes 3: 1, 4, & 11) KJV