Two Noldens & a Jean -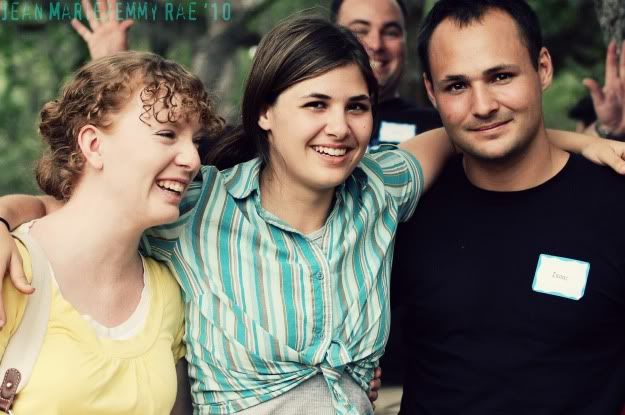 "Two Noldens and a Jean" (plus, a guy helping Emily S. frame the pic in the back) :)
Me, Molly N. and Isaac N. :D Fabulously dear friends in a short time -
Today I:
laughed a lot
swung on swings
played with kiddos
ate BBQ and fried chicken, and drank swate tae,
slathered on sunscreen
took pictures of egg tosses and kids doing 3 legged races
listened to Isaac play the gee-tar and sing
drank Coca-Cola
played on playgrounds
drank water
walked
watched a lot
hugged many people
kissed some cheeks and tickled some ribs
drove to Fort Christmas and back
got gas for the car and sang Country songs constantly
looked at arrowheads and thought about the Seminole Indians
wanted to buy some Gator Jerky and didn't
saw a dead coon and a dead buzzard (holla!)
watched a whole buncha' trucks unload their airboats
shrieked with joy while "flying" through the air on a swing
and finished out by .... I'm going to a FAIR with a BF and my Daddy!
I lived today. I loved today. and I'm a wee bit sunburned. :)
Love to you, Molly, and Isaac and Emily for the pic and
EVERYONE I spent time with today!! :D
~ Jean Marie ~