Sunday Reflections (6) -
Sunday Reflections Week 6!
(The cabin on Little Pigeon River, TN. My feet in the very cold May water.)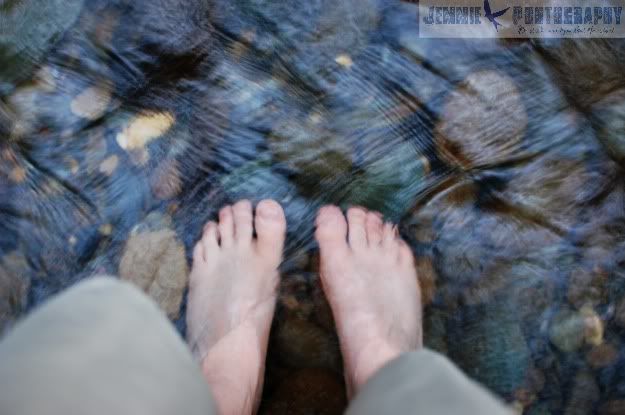 "All You Need" ~ Octavius Winslow
"Lift up your heads, ye poor, ye needy, ye disconsolate!
Lift up your heads and rejoice that Christ is all to you,
all you need in this vale of tears,
all you need in the deepest sorrow,
all you need under the heaviest affliction,
all you need in sickness,
all you will need in the hour of death
and in the day of judgment.
Yea, and Christ is in all, too.
He is in all your salvation;
He is in all your mercies;
He is in all your trials;
He is in all your consolations
and in all your afflictions.
What more can you want?
What more do you desire?"
"Through the Lord's mercies we are not consumed, because His compassions fail not.
They are new every morning; Great is Your faithfulness.
~ Lamentations 3:22-23 ~
"And my God shall supply all your need according to His riches in glory by Christ Jesus.
Now to our God and Father be glory forever and ever. Amen."
~ Philippians 4:19-20 ~
~~~~~~~~~~~~~~~~~~~~~~~~~~
An hour and a half later, I was trying and trying and trying not to blog again. I read something, and it struck my heart to the very tender part where all I have longs for Heaven. That place in me keeps growing bigger and bigger, and that makes me joyful, because that is where we will be forever with the Lord, and never leave for dusty grief or sorrow ever again. Amen! Joy!!!
"Sorrow is one of the things that are lent, not given.
A thing that is lent may be taken away;
a thing that is given is not taken away.
Joy is given;
sorrow is lent.
We are not our own,
we are bought with a price ...
(Our sorrow) is lent us for just a little while
that we may use it for eternal purposes.
Then it will be taken away and everlasting joy will be
our Father's gift to us,
and the Lord God will wipe away
all the tears from off all faces."
~ Amy Carmichael ~
Thinking about living forever and ever by the side of the One whose face I long to see fills me with peace. Heaven is Heaven because He is there. If we could grasp more fully that these few short days here on Earth are just the little sip of the river of LIFE that will be in Heaven and then the New Earth! We are some dying quickly and some dying slowly, but those of the Lord's will only separate from the Earth and loved ones here, but gain Eternal Life forever. Then one day we will all be reunited and caught up together for the best Thanksgiving and Wedding Feast, better than we could ever have imagined!!
These things are beautiful to ponder and to carve into our hearts.
and I think of these verses from John 16.
"Now Jesus knew that they desired to ask Him, and He said to them,
"Are you inquiring among yourselves about what I said,
'A little while, and you will not see Me; and again a little while, and
you will see Me'; and 'because I go to the Father'?"
Most assuredly, I say to you that you will weep and lament,
but the world will rejoice; and you will be sorrowful,
but your sorrow will be turned into joy.
Therefore now you have sorrow; but I will see you again
and your heart will rejoice, and your joy no one will take from you."
~ John 16: 19 - 20, & 22 ~
This is our joy! That He is indwelling with us here, and that ALL OUR SORROW WILL be turned into JOY. Our hearts will be rejoicing at the sight of Him waiting for us there!
And sorrow will never come again, and joy will never leave. Everlasting Joy - the Father's gift.
With sorrow and rejoicing and gladness for such a loving Father!
I hope and pray you are as blessed by this as I was. I pray for you all often!
~ Jean Marie ~