Fall Barberville '11 Day 2 -
Ya'll.
Sit back, relax and get ready for some mo' Barberville. ;) 'Cause this is the post for Day 2! :) So Day 2 was obviously Sunday, but I just went after church. Actually, Becs went with me, and our church schedules both ran about the same time, so I picked her up after church and then we came to my house (I'll bet ya'll are skipping this explanation) and I got all my camera stuff and we headed out on the road. Momma Foster had been her usual sweetness overkill self and packed us awesome PB&J sandwiches on buns and fall apples and it was SO GOOD. Thank you, Momma!!! We had Josh Turner and food and we were happy little clams. Or....girls. ;)
We got there about 2pm. Or so. Aaaand then I didn't take any pictures till the last hour, when I realized I hadn't been taking any pictures! What is UP with me? It's like I don't even realize I should be snapping away. I think it's so like home, that I've taken pictures of everything from the asphalt to the sand to the peacocks to the signs to ... well, that it is more like home and less like a place for pictures. Instead - people and fellowshipping fill that time. :) Which is wonderful too!
But I did take some in the last hour! (I hear you all breathing out sighs of relief) ;)
I actually took pictures of dancing! Yay me! Promenading ...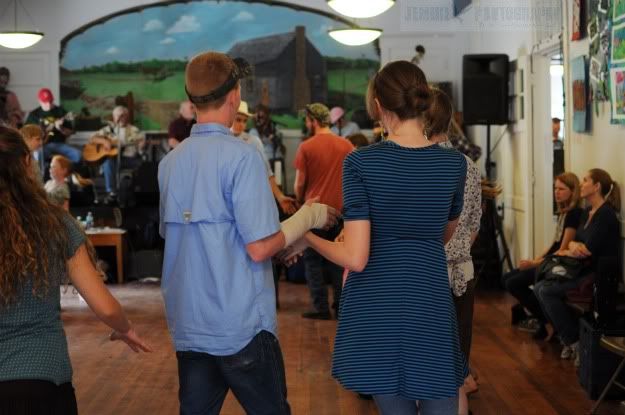 Everyone in with a shout! (equal parts barefeet and boots. love it.)
Everyone on the right in with a whirl!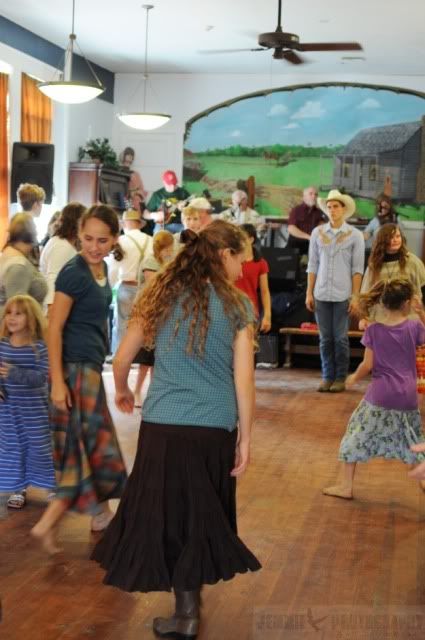 There's always a good bit of whirlin', twirlin' and swirlin'.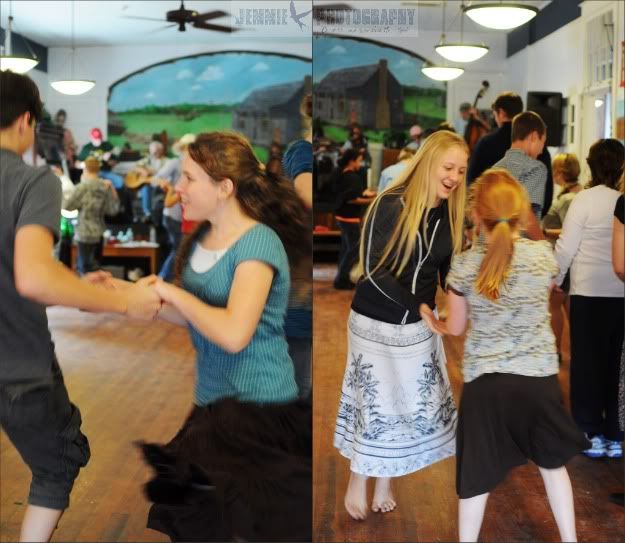 And it also gets a little tight and squishy sometimes. hahaha. so great.
$1 root beer at the end of the day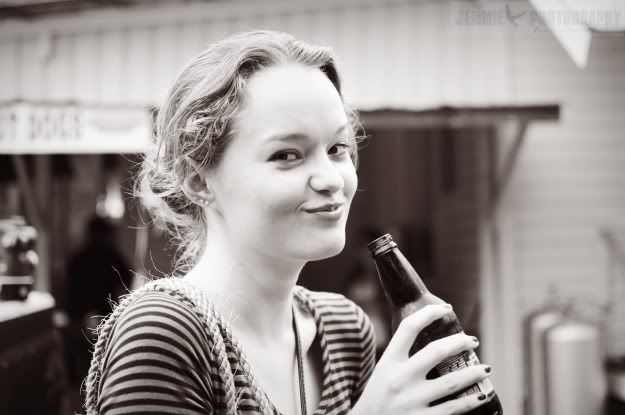 Becs & Zander - Happy Root Beer Buddies. no judging here. It's root beer. hahaha.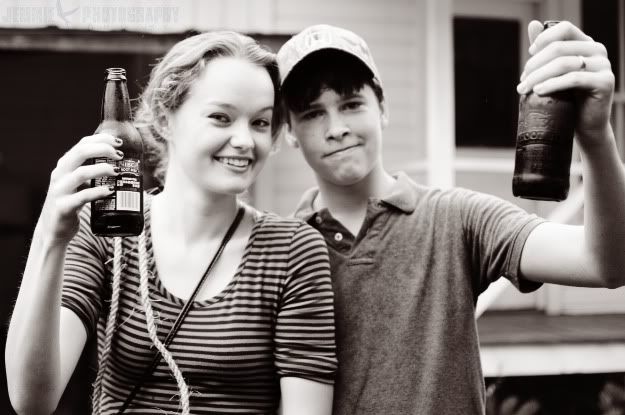 A free bracelet at the end of the day as well .... and my hand stamp.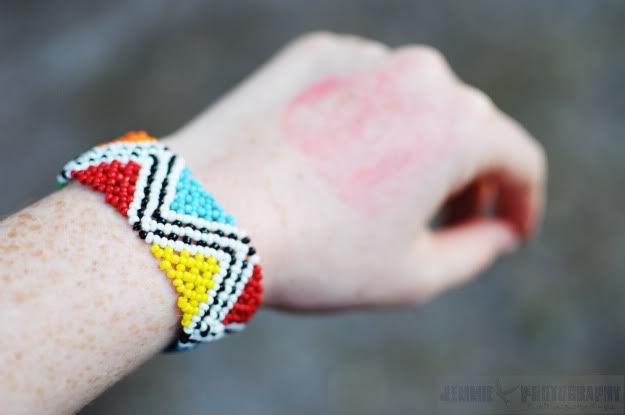 Florida does get cheery holly berries on the holly trees in the Autumn. Beautiful!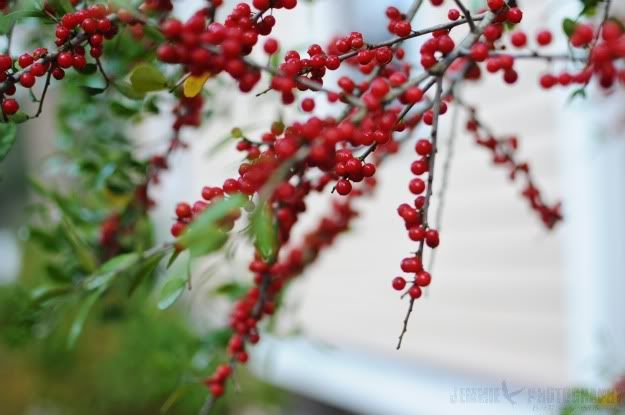 I still can't decide if I like this picture or not. I like the flower, though!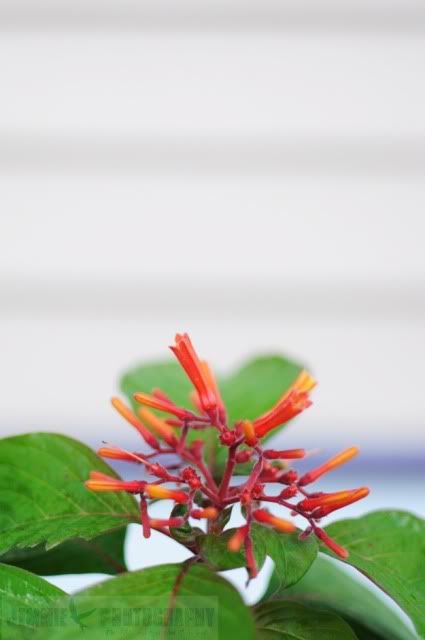 The old fire engine.
Firehouse .... with pots of aloe by it. This IS Florida, after all. ;)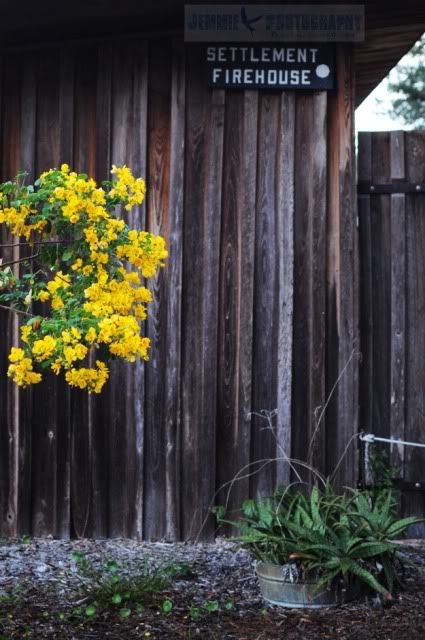 The still steamin' pot and gleaming embers from where dey was bawlin' de corn.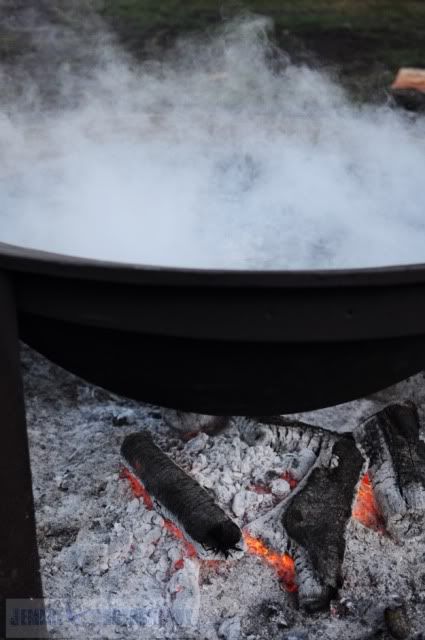 On the back of the Courtesy Cart - Becs is so lovely. I heart her.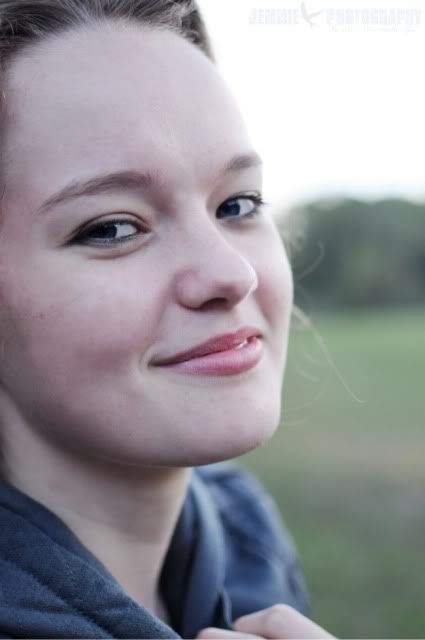 Zander and Becs got lengths of rope for helping a woman. Now that's a practical reward! ;)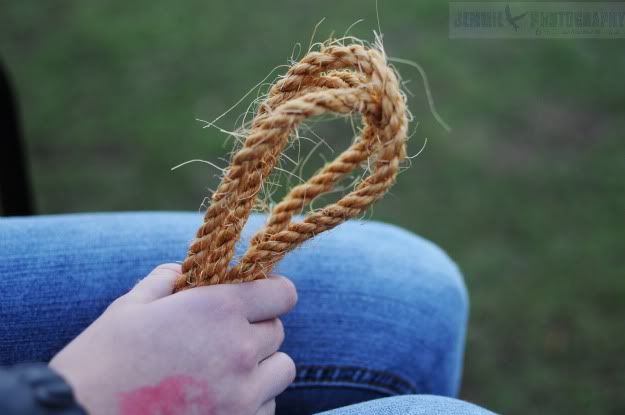 Out of focus, and I don't really care. It's us - Bodean and Bobby Jo. We're kind of out of focus a lot of times and God loves us no matter what. ;) Sweet grace from our Father in Heaven!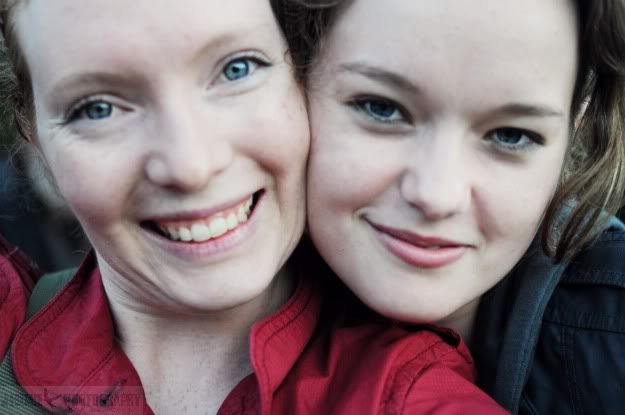 *snicker* So we were riding back with Tricia in the golf cart, and Tricia stopped to help Cody and the other volunteer firefighters and emergency personnel "barricade and decorate" Uncle John's truck. Becs and I sat rather forlornly in the cart, and then I piped up and asked Cody if we could help too, and he was like "Please do!", so we enthusiastically pitched in. ;)
(Uncle John is Mr. Case's brother.)
They pounded stakes all around his struck, and strung the left over Caution tape all around the stakes, with nothing actually touching the truck. ;) After all, it was Uncle John's TRUCK. We don't mess up people's trucks down heah in the South. You dead meat if you try.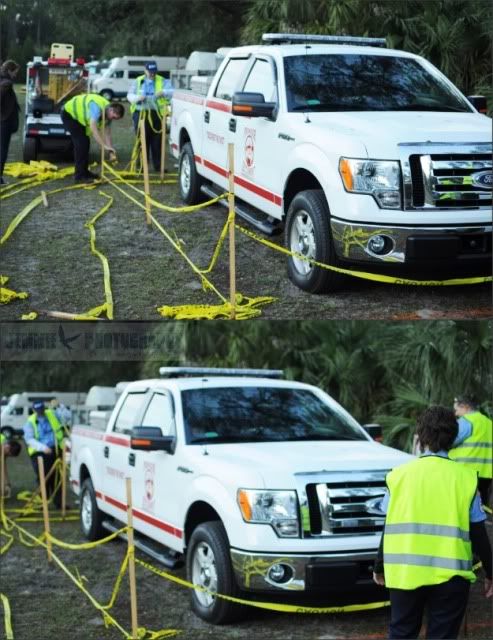 See the firefighter in the back, gleefully taking pictures on her cell phone? Yeah. There was A LOT of laughing, teasing, joking, and camaraderie, because apparently - they do something like this every year. Hahaha. So awesome. The Finished Product.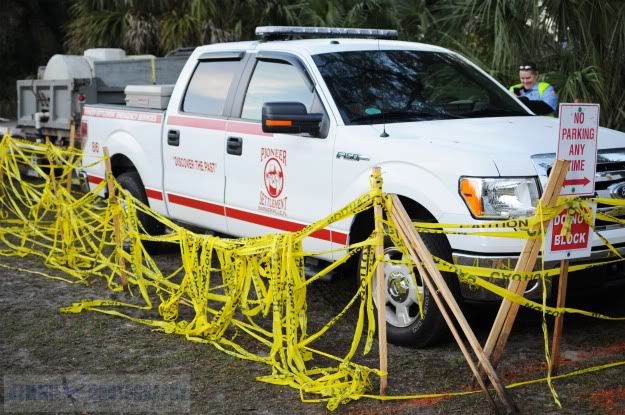 Cody there in the background, 2nd from left....surveying his idea, well pleased. ;) And then - we all skedaddled, because no one wanted to be caught, and then Cody mentioned that it looked like his Dash Cam was on in the truck, and our eyes got a little wide. hahaha!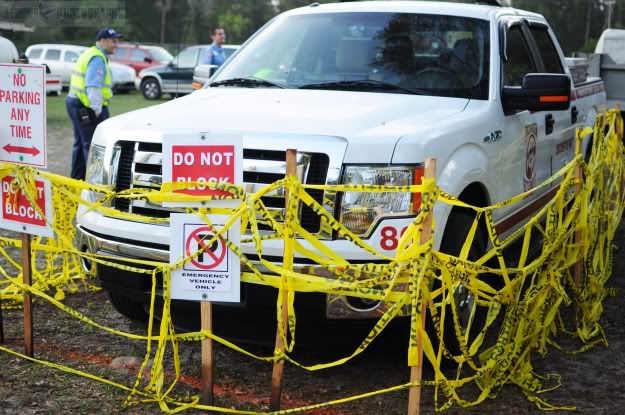 Back at the Bowen Spot - where Bradford and Mr. Bowen cooked up 1,400 burgers over 2 days for all the Barberville visitors, with Tori, Liz, Kath and Tricia running it all smoothly. Wow! Thanks ya'll so much!!! You are the best. :)
Here's Tori's rose that the Barberville Blacksmith made for her - amazing!!!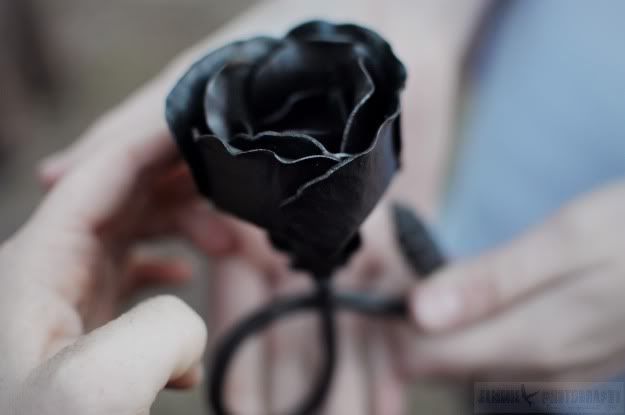 Such detail -
Tori with her rose - the perfect person to get such a gift. She's precious like that.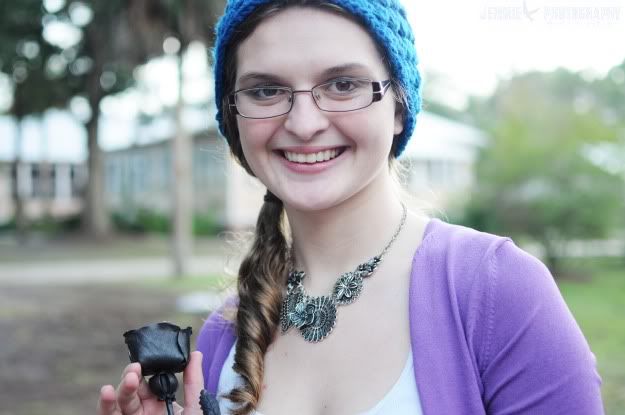 and like a normal photographer, I couldn't decide which I liked better, but the B&W had this amazing pop to it that I loved - so I'm sharing both. ;)
Boom, baby. Hipster rose. ;)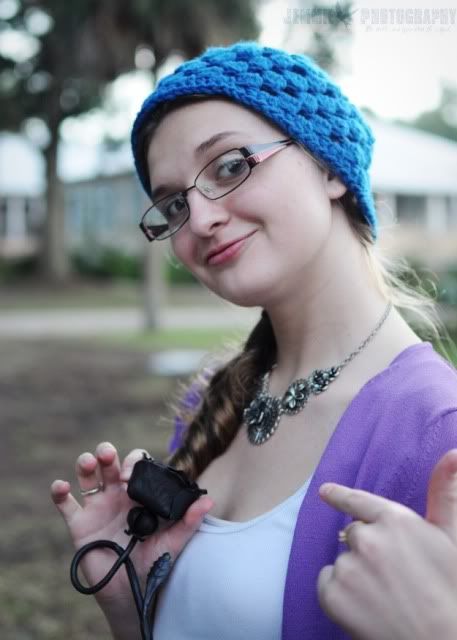 I couldn't help it, this begged to be in Sepia Antique. It just looked like an old shot. Elegant and sweet and I know, it's so crazy, but the Bowens seriously are knock out beautiful. hahaha. I love you Tori!!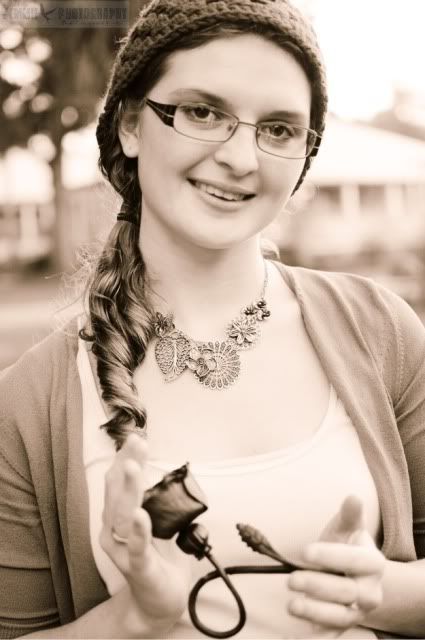 Completely unposed and hilarious and I just love it.
Liz, Jean, Kath, Becs, Tricia, and Tori. God has been so kind to give me such friends!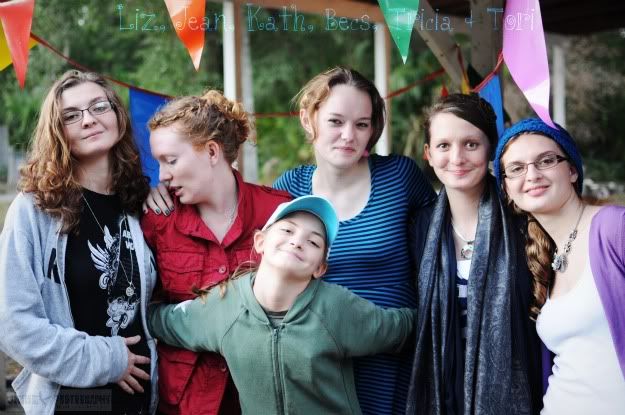 My favorite Tricia and Baby Case and I.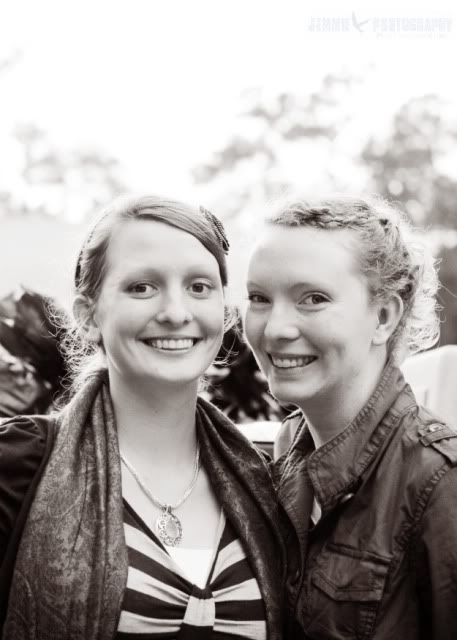 Kath had the camera. ;) Here's Jordan - the guy who made the rose! aaaand then burnt his hand pretty seriously - he had ice on it, but he looks in pretty good spirits for being in pain!
Had to get some shots with Kath. It's tradition now. :) Look - we switch faces! haha!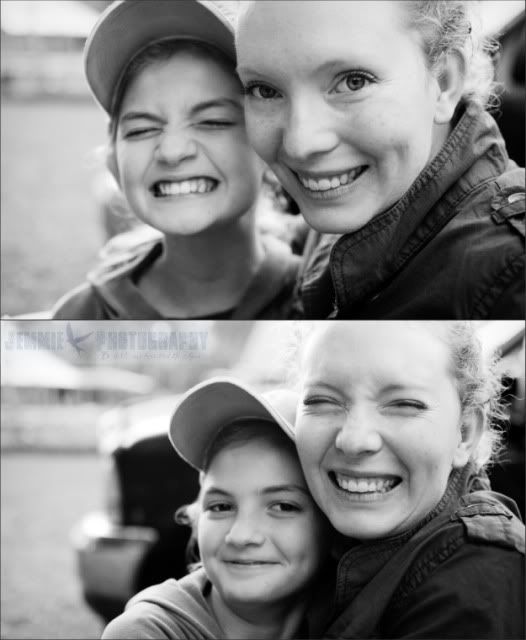 I drive the Courtesy Cart and decide I really need, ahem, want one.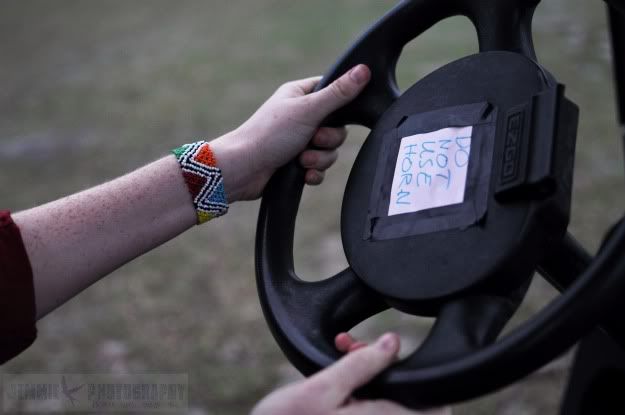 AND - here are two videos!! Whoop, whoop!!!! :)
Just ignore my voice in the singing part, please. I wasn't really paying attention. hah!
Oh and that is Aaron's typical response to me! ;D And
Shannon
- you make my heart glad. :)
My favorite. HAHAHa.
BTW, Bobby Jo - you are NOT a bad photographer, I was just kidding. ;) I love you!
Yet another wonderful Fall Barberville Jamboree.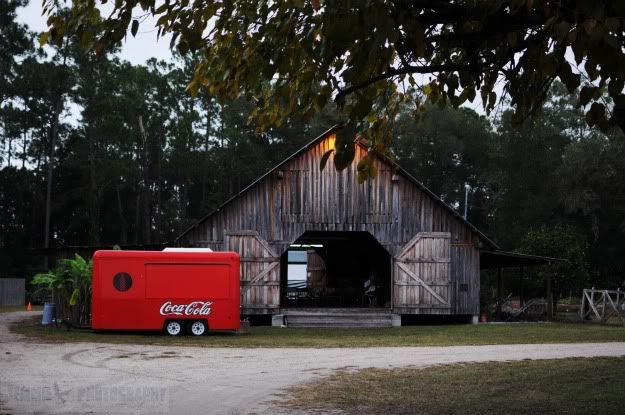 Goodnight Barberville. We love you, our Dancin', Singin', and Courtin' Stompin' Grounds.
Well. For some. ;) You held great memories yet again!! Can't wait until Christmas!!! ;)
There's Florida Christmas Remembered on December 10th from 9am-4pm! :)
It was great seeing so many of you all! Holly and MaKenna and their family came, aaand, I don't have a picture, but they were there!!! :)
Here's MaKenna's pictures
! And seeing so much of my "family" together makes me so very happy. :) Wonderful memories made ....
1 week from today, Emily and Ben will be married!!! :D
Love you all!!! Happy Weekend!
~ Jean Marie ~
P.S. Don't tell Uncle John it was us. haha