The sweetest joy -
Hey ya'll .... it has been blustery, freezing cold winter here, and yes, I still live in Florida. :) We've been blessed with very cold weather this December, and even though I know it's been lovely all of the 30 minutes I've probably spent in it, I've had to stay inside due to a bad cold/sinus infection, etc. (same cold I blogged about last week) Hah. :) So due to this late unpleasantness of health, I have not been blogging, or felt like blogging or doing anything.
Thus, the reason that these "Happy Felicitations" sent our dear friends' way comes 3 days late. So sorry, dear Bradford family! :) On the 12th of December was A. and I.'s 1st wedding anniversary!!! Goodness knows how much I've thought back to last year, and remembered it in SUCH fondness, it truly had to be one of the best vacations in a very very long while. I don't think I was stressed about really .... anything due to the vacation, which is quite rare, especially when it is for a wedding!! It was lovely .... as my crushed spirit was in need of some loving fellowship, kind hearts and sweet times and memories, and God blessed us with all.
How dearly we love the B. and L. families, and how dearly we wish we lived closer, so we could trundle back and forth in the cold to see each other and talk!! :)
Dearest Aaron and Ivis .... I think of you all almost constantly these days, and wish for more memories together, how sweet would that be!! I long to stand outside your door and sing the same verses to a song about 14 times late at night, or throw my arms around you, Ivis, in a hug. I long for laughing hysterically and smiling so hard my cheeks hurt, because anyone can see how much you and Aaron love, cherish and honor each other .... I long for all of that joyful sweetness of that day to just be replicated again somehow, in real life! Perhaps an anniversary party sometime? :) How fun and delightful would that be! Just to be with you all is enough.
I pray you fall in love with each other more and more every year, that God's precious grace would manifest itself into the daily grain of your lives, that you would give it as freely as you have been given it, and that the gospel would be forefront as you rise up, and as you lie down.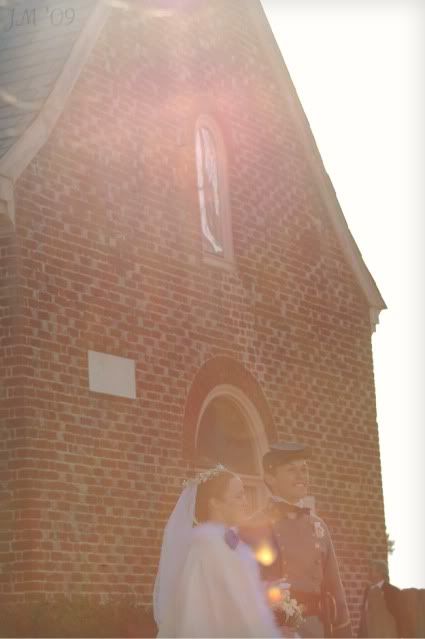 I pray God's deepest blessings and utterly richest mercies upon you both and all the children that will follow .... knowing you both will lead them to Jesus, Who leads us in Truth.
I pray so many things upon you both, Aaron and Ivis. I specifically pray for your wee babe, set to arrive in God's perfect timing, so thankful and OVER the moon ecstatic of a coming little one! (all those years of planning and playing dollies comes to fruition in a REAL baby! ;))
.... but mostly .... dearest dearest Ivis and Aaron .... I thank God upon every remembrance of you both, because that day stands so sweetly in my memory .... of the rare SIGHT and PERFECTION and ANSWER to so so many prayers offered to our Lord for a Godly husband for you, Ivis. That I was able to see the goodness of the Lord here on earth, in a prayer request answered above and beyond what we could have dreamed of, beyond what we knew to ask for, set in a day so filled with rejoicing and thankfulness of His will of glory upon you both.
The sweetest joy of knowing and seeing prayers answered more than perfectly. :)
We love you both so so much!! We hope to see you again soon!!!
With love and prayers and hugs and kisses and a few tears .... ;)
~ Jean Marie ~