In Expectation -
Last night I looked down our street at the winter dusk sky fading from sunset into night, and I felt with expectation not just Christmas .... but all the Christmas's to come.
Expectation ... there is so much of that in the Christmas season! Looking forward to surprise Christmas presents, getting together with loved ones and family members to celebrate, the Christmas Eve service, singing carols and hymns, Christmas morning, touring the neighborhood and seeing the lights and luminaries .... wondering in expectation what this Christmas and New Year will bring .... a time of HOPE and awaiting what is coming.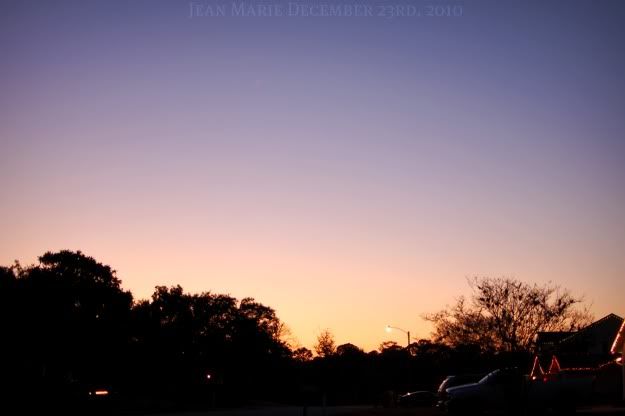 ~ My Sweet Life Under the Savior Christmas Letter to you all. From my heart to yours.
Thank you for reading and leaving comments and mostly, for loving me and visiting this place of contemplations and words and out-pourings of soul as God so gives.
With love, and Merry Christmas! Jean Marie ~
"Come, Thou long expected Jesus ...." Last night as I gazed at that winter sky, I felt the expectation of JOY and HOPE restored even as I considered another year gone, the waiting upon the Lord has still come through another year. Yes, I have wavered, but the Lord hath stood firm, and every Christmas, is not our hope so much more sweetly renewed by the gospel of our Sweet Lord in the lowly manger? We think of how long Israel waited for their Savior, even as we yearn with longing for Him to come again, in glory, to take us all to be with Him. We wait, God .... "come quickly, Lord Jesus!"
"Born to set thy people free". It grabs our hearts in such a big way that we cannot pass by the manger story without feeling the tingling of thankfulness and promise renewed within us! He was born to redeem us FOREVER, instead of condemnation upon our heads, we now bear His name instead! We are His people, He lived, died and rose again for us, to free us forever!
"From our fears and sins release us" I am the worst sinner I know. That's a CJ Mahaney quote that we use often in our household, but I am entirely not joking when I believe that I am "the chief of sinners" and how can we even think of how Christ knows our hearts better than we ever can? We long to be fully perfect and holy as He is, and await in expectation the day when we are forever released from sin and its consequences and the fear of our actions and also every fear that we have in our hearts! They will one day BE GONE, and we will know, just as we also are known by God the Father. Every fear of loss, pain, failure, injustice, doubt, worth .... all will fade into nothingness before the throne of the Most High!
"Let us find our rest in Thee" I have leaned more upon the "rest" of the Lord this past year than any other time in my life. I have been physically, mentally, emotionally completely taxed over and beyond the limit, and there have been nights when I knew rest would not happen, and there have been mornings when I knew rest had not come, and yet .... God was always there. Whether I was weary and giving up, whether I was exhausted beyond emotions and beyond even what my mind could even try to understand .... God always gives comfort back to the broken prayers of the grieving child. "Rest" took on more than the physical sense when Christ came to bring peace to His people .... rest in His goodness, rest in His love, rest in His reign. He is able to keep us from falling, whether we sleep or not, He will provide for His children!
"Israel's Strength and Consolation" This line jumps out at me the most. I've needed strength I didn't have to live out my life and to serve others. I've relied upon the Giver of strength who is the most powerful and mighty One to allow me to walk by His side, and I've fallen into the endless depths of His grace and consolation when every other comfort failed, when no one else understood. He is fully able to take every wound we have, and cover it with the quiet "I am God and I am holy.". He is "a man of sorrows, well acquainted with grief", and His consolation to the people He loves so very well will never run dry, because it has been bought with the blood of the Perfect Holy Child, God's own Son. His strength is made perfect in our weakness .... in all our valleys, He is there with more mercies than we could dream of!
"Hope of all the Earth Thou art" As the news floods in day after day after day, we look around at our world, and we say "what happened?", we sit in front of our computer screens and sob for Christian brothers and sisters who have lost more than houses and everything they own, but families, friends, and freedom .... we wonder when and where it will all end. Praise GOD that our HOPE has not and never will lie in anything that man could or will EVER do! For our God has overcome this world, and He reigns now, and we will one day see Him reigning visibly!! He is our HOPE because He has already paid for it all, and rules over all!! He is our HOPE because He will not allow one of His children to slip through His fingers, and has planned out every day, every event, every king, every weather for now and forever. He is fully in control and will never leave us or forsake us!
"Dear Desire of every nation"
When I think of gathering with the Saints in Heaven, I think of families of Sudan, orphans from Russia and China, babies who have only known God as their Father, I see jubilant dancing of African tribes, singing their hearts out, I think of holding hands with South Americans, Indians and Europeans, and hugging all those people with names on our Missionary prayer lists. I dream of listening to the stories fly of how The Redeemer of all the Nations saved their county, their country, their nation, their land, their tribe. Christ is the desire and hope for every nation upon our planet .... let us pray for our brethren. One day we will be a part of the millions upon billions upon endless scores and legions of people in His courts, and the most beautiful sight we shall be to our Jesus, His name upon every one of our foreheads.
The nations will all one day kneel and praise the Savior of His people, who came to save them!!
"Joy of every longing heart" We ache and long for what God has promised and how He shall redeem our ashes into beauty. We long to see Him Whom We have believed. We long for those who now live in the Heavenly City. We long for everything to be made right, and for understanding in the deepest losses we have. But even in that longing we have joy. We have JOY because Christ has made us forever His! John Piper says "and in the place of fear, Jesus puts joy. Joyless faith in Jesus is a contradiction in terms .... Paul says "rejoice always and again I will say rejoice!". Always? Yes. Not without tears of grief and pain. But still joyful ... it is not wrong to cry (weep with those who weep), but there is a joy rooted in God's rule of love that is never overcome in God's children." He is

o

ur JOY because He is the

source

of our joy!
"Born Thy people to deliver" He came to save His people from their sins! Does it amaze you that the Son of God came to our desperate, dusty, dark earth to be born of peasants into a stable in a little town, to grow up, to live and to die for you? "Thou who wast rich, beyond all telling, all for love's sake, becamest poor". And who are we that we should be saved? Who are we that the King of Kings should stoop so low to live His life for us and die upon a cross for our redemption? We were nothing, and He made us Children of God!!
"Born a Child and yet a King"
"
Infant holy, infant lowly, for His bed a cattle stall"... God became man, took on human form, the Word became flesh and dwelt among us .... the angels proclaimed His birth with singing and rejoicing and the shepherds stared in awe of the Christ Child - the Savior! Amazement and wonder fill me when I consider God Most High as a tiny little baby and yet Sovereign Lord over the Universe .... He who made the heavens and the earth took on human life for us. For you! For me!
"Born to reign in us forever"
He did not come to just save us, He came to dwell with us, in us, forever, the Holy Spirit indwelling. Emmanuel, God with us. He came so that we might be forever with us, always .... even when we do not trust that He is with us, guiding our paths, or when we turn to our feelings about whether or not He is there, He always is. He never leaves His children, and He always will reign in the hearts of His people, now and forever!! One day we will SEE His throne and temple, and realize fully the extent of His reign in us and over us!
"Now Thy gracious kingdom bring"

As our hearts break for our fallen world that has rejected the Lord Jesus, we pray for His kingdom to come ... His will to be done, for His glory and the redeeming of His people! We long for His heavenly courts and we long for the understanding that will come when WE WILL SEE HIM and we will know, just as we also are known!!!
His kingdom of GRACE unmeasured, boundless, free.
As God's children, we long to see His kingdom here on earth, visibly, all over the earth, spread from shore to shore, His redeemed forever, and His will fully glorified in the hearts of His people! One day we SHALL SEE THAT, and Oh! the rejoicing there will be!!
"By Thine own eternal Spirit"
Through the work of Christ and through God's plan in His people, all of God's will shall be accomplished. Every single part of it. And not by any of man's doing, for man's glory, but every blot and period of it shall be FOR THE GLORY OF GOD. Nothing can thwart or stop His plan, nothing can stay the Lord's hand, nothing can catch Him by surprise and nothing can end His love for His people. We are bought with a price, once, for forever. By His Spirit, we live in the light of His glory, that became flesh that night in Bethlehem! Hope and prayers were brought to fruition the night Jesus was born!
"Rule in all our hearts alone"
God's rule is born of His desire for our praise and obedience to Him and His love for us as His children! His rule is far more gracious than we deserve, and His wrath has already been poured out upon Christ on the cross. One day those who have forsaken God as King will have His wrath poured upon them ... "O pity the nations, my God!". Our hearts must be filled with Him to be like Him. Life is not worth it, if we cannot live for His purposes and His glorious kingdom of mercy!!
Of His rule and of His kingdom there shall BE NO END, and every nation will one day bow and kneel before the Lord our Maker in worship!
"By Thine all sufficient merit" Christ was more than a Redeemer born as a baby, He was the only perfect Lamb Who would give His life for the sacrifice of God's beloved! He was all-sufficient because He was perfect, sinless, blameless, and pure. He was holy and righteous and a pleasing sacrifice to a just God! His merit was enough for ALL His people to be redeemed. He bought the pardon with His blood, and that fountain of redemption shall never be emptied until every single one of His children has been saved! Praise God for His mighty works!
"Raise us to Thy glorious throne!"
How sweet that day when WE SHALL SEE HIM, when we shall stand before His glorious throne and see spread out before us, time and history and future of the glorious plan and works of our King Jesus! We shall be with Him, and be like Him, perfect, blameless, holy, joyous, there will never be a day when we shall ever doubt or worry, we shall walk side by side with the Father that as of now we ache and long to see.
This has never been more driven home than the past 14 months. Many nights I gazed up at the clear skies and scores of stars and I cried out for the veil to be torn, so close it seemed to the throes of Heaven we could be. We yearn to see and to understand. We ache to throw our arms around our family members and friends who are in Heaven .... the loss cuts so deep at the holidays. I have dear friends who have family members struggling with cancer, family members who do not know God, friends and family whom we long for them to have their joy in salvation restored to them fully, we pray for healing and hope and restoration, and we pray for God's will to be done.
.... and we don't always like the way He answers. Never have I more questioned God than the past 14 months. I am writing in utter sincerity, and not because it is justified, because it is not....but to be completely honest, I tell you anyway. I have demanded a "why" and heard the deafening silence of God's holiness upon me. I have screamed in anger, sobbed in grief, begged for healing and despaired of His love for us. I prayed for more brokenness in Christ and He gave me loss. I didn't pray for loss. I didn't want more loss. And over and over God took away, and I was left broken and crushed. Wounded and limping through the Valley's rocky path. In my despair and confusion and anger I cried out to my Father, and in the depths of my sorrow .... He was with me. It is so beautiful to me that our Father can take every emotion and question I throw at Him, and in a few words calm my disquieted soul.
For He is God and He is holy.
Who can know the mind of the Lord and who can give Him counsel? No one can. Least of all me! :) His plan, spread out in perfect detail from before Time began, by our God who loves us more than we can imagine. And so we wait in expectation and joy .... because Christ will come again, in glory, and take us to live with Him forever! We wait upon God for today, for tomorrow, and for every trial and sorrow and valley we walk through, and every mountain we surge to the top of .... may Christ our Savior be praised for now and for always!! The end of the story has already been written, and it will be more beautiful than we could ever ever dream!
Come, Thou long expected Jesus ... raise us to Thy glorious throne!! Wring from our poor and weary and imperfect little souls the praise that is due Thy name, bring us to JOY in You, for You, our Dayspring from on High, our Redeemer and Friend, have made us Yours, and we shall never be separated from You!! Hallelujah, glory glory glory .... be forever and ever to our Lord and King, Who came down to dwell among us in Spirit and in Truth! Christ our Savior has been born, and is now exalted on the right hand of God, praise Him all ye, His beloved children!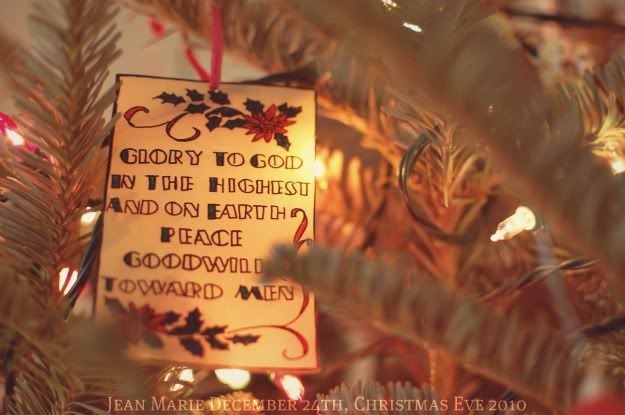 Merry Christmas to you all!!!
"Come, Thou long expected Jesus" was written by Charles Wesley.