Celebration -
Tonight was the Ligonier Christmas program, and our family was delighted to attend, as we have for many years, but this year was even more special because: A. We had missed it last year, B. We rode together with special friends, C. Because we had missed it, we had .... missed it. I had really really missed it. (yes, I know I just said that 3 times now) It always kicked off the Christmas season for me, and I couldn't wait.
I sat snuggled in my warm wool cape looking out at the sunset over the wetlands on our way to Sanford and wondered at the beauty of the setting sun and coming night. It is my very dear thought many a day that God gives such special peace and mercies at Sunrise, with grace new every morning, and at Sunset, the ending of a day with a spectacular array of colors. I find it renews my heart to walk down our street at sunset, realizing He will never change, and His mercies shall never end, and as the sun rises and sets, even beyond that is His faithfulness!!
The sunset tonight wasn't filled with extremely huge clouds and puffs and swirls everywhere, but looked like a piano crescendo, stretching from the left to the right, in a "v", with those circles and swirls to the top right ... pink and purple and orange. My picture cannot do justice. :)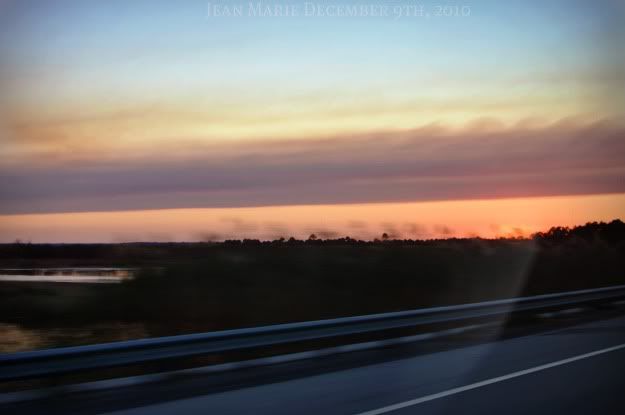 I sat quietly, watching the pink fade into cool night blue .... feeling calm come with it. Sunsets always calm me down, and I loved the night, and I loved the people in the truck with me, and I loved that it was cold and I loved that God is faithful to give us pretty reminders of His never-ending grace. :)
When we arrived, Dad told some friends in his usual enthusiastic way that holds the deep meaning behind what he says, in a response to how we were: "Ready to celebrate!".
I stood back and smiled, because all I could think was "... but I've already started". The drive over, that sunset upon the trees and wetlands, my praise had quietly welled up and spilled over into worship of the Jesus that loves us so much to have come to save His children.
We had such a beautiful-sweet time at the Ligonier Christmas ... listening to the swell of people sing with all their might along with a powerful pipe organ and instruments ... hearing the worship of us sound so mighty and thinking of the hosts and legions of angels and saints that sing on even now, along with us as we praise our King. It overwhelms me with the thought. For I have many dearly loved ones there in the Heavenly City .... and they hear and sing praise all day long as we did tonight. Only better ... because they sing and kneel before God Himself.
Unhidden! Unhindered! Unchained from this earth and sin! Unable to contain their joy!
When our family arrived home and we were saying goodbyes to our dear friends, I tilted my head back to look at the clear and crisp night sky, FULL of stars clearly seen with no sea haze (Sea Haze is normal for our night skies here. :)) and I could barely believe my eyes when I saw (no, it was NOT Santa. haha.) a HUGE meteor go streaking across the sky where I was looking, from my right it soared majestically over the midnight blue sky to my left, and I pointed and shrieked "Look LOOK!", but I was the only one who was able to view it. It was the biggest meteor I have seen in years ... it looked like a planet sized meteor, with a tail as if a painter was swishing white behind it, and sprinkling dusty glory behind it in sparkles of stars.
I was in total and complete awe. I hope it stays in my memory for a long time, it was so so beautiful! It was so very special. And after our friends had left, and the family went inside, I stood there with my neck tilted back and my cape hood pulled tight around my throat, and stared at the sky, in hopes to see another one .... I turned around and around and walked a little ways here, and a little ways back, and I stared at the sky in hopeful anticipation.
"Hark! Emmanuel, God with us! Come, thou long expected Jesus!" ... clips of songs ran through my head as I stared upward, praying for another one. The light slowly dawned on an analogy in my mind. Oh. If only I put as much trust in God thrusting meteors over my head for my joy and His glory as I did in what He will do with my life, and with everything He does that I don't like. Oh. One of those "oh." moments. :) Here I was standing, gazing up in total awe and wonder and expectation in HOPE of the One who controls the heavens and earth, and where, oh little girl, is thy faith? :)
there. a falling star streaked overhead with a small stream of white, a smaller one ... I breathed in awe "ohhh." And after I had stood there for a few more moments, in case God gave me another one to watch, I began to realize again .... that Christians don't believe in coincidences. Ahem. :) Because God puts the stars in the heavens and hangs the earth on nothing .... because He shot those two meteors over the night sky and drew my eyes upward to gaze at all, because He wanted me to see them and give Him glory, because He delights in delighting us with His creation and His might .... and all I could think about in breathless wonder .... was that He was celebrating too! God delights when His children praise Him ....
I couldn't shake the thought inside my heart that maybe God was celebrating tonight that we were celebrating Him. That He gave me even more to celebrate about tonight .... that as we celebrated the coming of His Son, they celebrate it daily in the halls of Heaven, and that we will all be celebrating it forever with the Christ Child become Savior of His people and our Lord forever.
... doesn't that absolutely just blow your mind?
It does mine. :)
To God be all the glory for now, for always, for forever,
for His indescribable gift of His Son, for the redemption of many,
to the praise of His glorious grace, Emmanuel ... God with us.
With love,
~ Jean Marie ~