His tight embrace -
I practically ran across the foyer and into the bathroom. It was empty. I was so thankful. I doubled over and tried not to cry. Someone else came in...."Jemmie?". I answered "yes". We both started to wash our hands and fix our hair...I looked at my hands and scrubbed away at something I couldn't see. I thought back minutes before, when I had hugged a beautifully pregnant friend, and spoken to her of congratulations, our prayers for her and her husband and baby, and our deep joy for them. It was sincere, but I had been holding back tears.
I started drying my hands, two, three sheets of paper towels, looking at my bangs, fixing my skirt ... looking at anything, anywhere other than meeting her eyes. We were still alone in the bathroom....and she quietly asked "Are you okay?". I thought about lying, but knew I couldn't. I couldn't look up, and I sort of laughed and said "Not really.". She asked me to tell her why ... I looked in the mirror, at my wide eyes, I looked down, I looked to the side, I blinked ... I told her "I don't want to cry and make you cry too!". She said it was okay.
I tried not to let the tears escape ... I tried to look at her. My eyes made it no further than her waist as I whispered the truth. "I can't stand seeing __ pregnant and then seeing you!!!" It might not have made sense, but she knew. One second was all it took for her to pull me into a tight hug, and as I sobbed in her arms, I tried not to let the tears fall on her dark green satin dress. For today was her sister's wedding day.
I tried to speak through the wrenching sobs as I felt her shake with emotion and cry, even as I knew that words weren't needed to explain ... we both mourned her loss. It felt so incredibly wrong to be so joyful for one, and so heartbroken for another. I stumbled my way into broken words "

It is

so hard

seeing you without "her"! I'm so sorry! I'm so so sorry!

" .... She choked out "

thank you

" with one tighter than tight hug that meant more than an embrace, and we broke apart to repair our eyes for unknowing people who were coming through the bathroom door.
It broke my heart all over again that day to see my dear friend without her rounded belly encasing her and her husband's precious little baby daughter. It broke my heart.
It hurt more than I thought it could hurt after 3 months, and today, it hurts more than I thought it could at almost 1 yr. (tomorrow). Grief struck deep into my heart and stayed there for a baby that I had met. I had met her at another wedding, I had rested my hand upon the thin stretch of skin between her little self and me, I had hugged her and smoothed her mama's belly. I had laughed and blinked back tears of joy. I had met her, and fallen in love with Baby M.
Then I was hugging her mama 3 months later, and there was no Baby M. in between. We didn't understand how God could take her, when they wanted her so much, loved her so much. We trusted the Lord we loved, but we wanted her back. They missed her and longed for her. That day I watched as Baby M's daddy talked with another daddy, knowing his heart must have been breaking watching that daddy hold his young child, and how I watched Baby M.'s mama talk with a mother-to-be, and feeling the ache that they weren't both with child, that only one was, and the stark reminder of how much God had taken away. I watched as pictures were taken, and the rose held by Baby M's mama brushed against the green satin that covered her belly, and just stared in the incomprehension that she was gone.
It was so so hard. I knew only God could heal this, and I knew it would take time. I remember praying for the Lord to be near to us, because I just didn't know how we could make it otherwise. And He was.
He was near to us constantly.
Later that afternoon, after the bride and groom had been virtually dumped upon with birdseed, and driven away to cheering and loving goodbyes, I slipped away to the nursery at the church to get out my little gift for my dear friend. I had stashed my purse and camera equipment in there so it wouldn't be lost. :) I looked for A. and asked if she would mind coming with me so I could give her something.
I had had the gift for a few months, and just could never send it in the mail. I couldn't bear not to give it to her in person. I wanted to be there to hug her and let her know how much it meant. How the gift had sat upon my hope chest for those months and I'd prayed over and over upon seeing it.
such a tiny little box. (that's a normal size envelope, for size reference)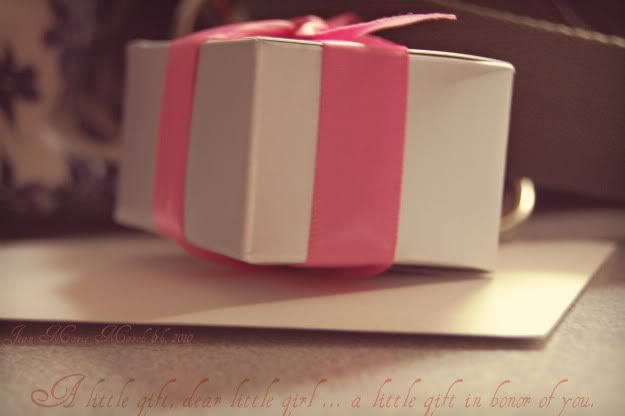 The nursery was dark, and we pulled two rocking chairs to face each other to sit in. I tried to explain as much as I could to her about who had made them, how she knew about Baby M., that I wanted them to be small because Baby M. was perfect just like she was. Because God had made her perfectly like she was. All 13 oz. of her. How I had planned on having them made before I knew gender, and how when Baby M. was born and went to be with Jesus, how I could not stand NOT to still have them made. They were for Baby M. For A. and J. I told her as much as I could without telling her what they were.
She slid off the ribbon, and opened up the little lid on that silver box. She pulled aside the thin white tissue paper, and lifted out one tiny pink baby bootie. Without even taking out the second one, and before I could see what she thought, she let me know. She leaned forward, and for the second time that day, pulled me into a tight embrace. I was caught off guard, so swiftly she had reached for me. :) There were again ... no words. The silence stretched past our sniffles and tears streaming down our cheeks.
And another teary whispered "thank you" that meant the world.
There in the dark, heads together, heaving sobs of sorrow, she cradled the two pink booties in her hands and told me she had wanted some, but no one had thought of it. And that she had a pink baby hat that matched the yarn color perfectly. I was blown away by the tender sweetness even in that moment of deep mourning.
Our Lord had known and was staying near. The One who cradles Melody in His arms was that day holding us in His as we wept, I am sure of it. How sweet the knowledge of His love.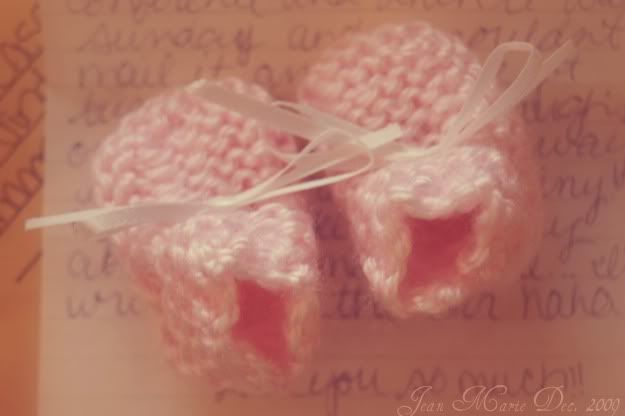 I told her how much I had ached to be there when she had M., how I couldn't because of other travel, but how I had sobbed and thought of every possible way to get there, but couldn't. And she told me words I'll never forget hearing, in a mother's pride ... "she was so beautiful."
Only 20wks. old, and Baby M. had changed their world. She was, and is, so so loved. She is so missed. She is ached and longed for. She lives with Jesus, who loves her the very best.
~~~~~~~~~~~~~~~~~~~~~~~
Dearest A. and J., I love you both so much.
Thank you for welcoming me to walk with you as close friends upon this earth.
This life is so short compared to the sweet eternity we will spend with our Lord Jesus,
I cannot wait to see you hand in hand one day, a family together again, with Baby M.
I rejoice and long and await with prayers the soon coming of Baby A. Your darling little son. I love him.
I hope you do not mind me sharing this very dear memory on my blog ...
From my heart to yours, with love and hugs and tears,
We will one day walk before the Lord in the land of the living,
Remembering the preciousness of your daughter, Melody.
~ Jean Marie ~
~ Psalm 116:1-2, 4-9, 15 ~
" (1)I love the Lord, because He has heard My voice and my supplications. (2)Because He has inclined His ear to me, therefore I will call upon Him as long as I live.
... I found trouble and sorrow.
(4) Then I called upon the name of the Lord; "O Lord, I implore You, deliver my soul!".
(5) Gracious is the Lord, and righteous; Yes, our God is merciful.
(6) The Lord preserves the simple; I was brought low, and He saved me.
(7) Return to your rest, O my soul, for the Lord has dealt bountifully with you.
(8) For You have delivered my soul from death, my eyes from tears, and my feet from falling.
(9) I will walk before the Lord in the land of the living.
(15) Precious in the sight of the Lord is the death of His saints. "