Lucy Mae -
Meet our family's early Christmas present .... a Dachshund puppy!!!!!! :)
I am above, over and beyond, completely ecstatic and IN LOVE with this precious little doggie.
A few stats on our littlest girl:
Her name: Lucy Mae. Lucy, after the Chronicles of Narnia, and Mae, for a Southern add to it, and an old-fashioned one as well, the name just fits her, and I love calling her by it!
How old: she will be 8 weeks on the 20th of December. :)
Breed: Black and tan Miniature Dachshund.
Size: TINY. she was the smallest in her litter, but apparently LOVED the owners' kind 180lb. Bull Mastiff. Aka: Loving and fearless. She currently fits in both my hands easily. :)
Food: She is eating tiny puppy chow and drinking water.
Sleeping: She's sleeping now on my lap, but she HOWLED all last night. ;) haha.
Date we got her: Friday, December 17th at around 2:30pm. :)
the very first picture of our baby!!!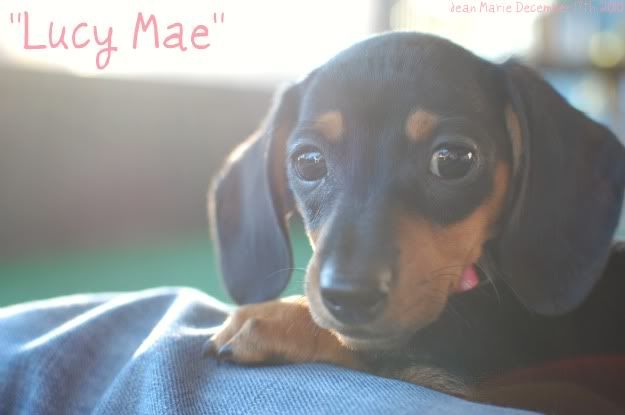 She is enraptured with the clicking of the camera. :D
How very tiny she is .... I am so in love with her!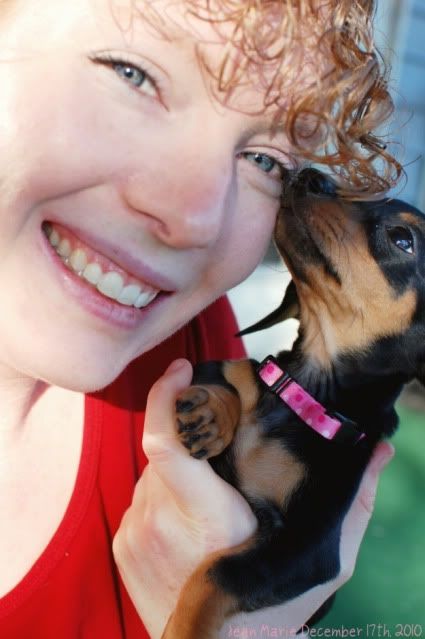 Ya'll may not know that I have been praying for a dog for Christmas, it was all I wanted .... and am overwhelmed that we have this new special evidence of joy in our lives ... I am SO thankful to my Mom and Dad for allowing us to get her!!!! And I come before the throne with Thanksgiving and praise to the Lord Who loves me so well. I look forward to growing older with her....
and I can't wait for you all to MEET HER!!! :D you will love her! :D
Merry Christmas from the Fambroughs to you all!!
With love,
~ Jean Marie and Lucy Mae ~