It will shatter -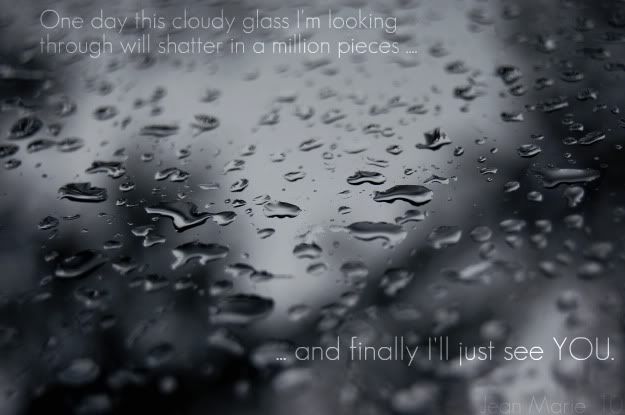 "God, I'm longing for the day to come, when this cloudy glass I'm looking through,
is shattered in a million pieces, and finally I can just SEE YOU.
God, You know I believe it's true, I know I will see You, but until the day I do ...
I will trust You! Trust You! Trust You, God I will!!
Even when I don't understand, even then I will say again:
You are my God, and I'll trust You!
And with every breath I take, and for every day that breaks,
I will trust You, I will trust You!
And when nothin' is makin' sense, even then I'll say again
- God, I trust You, I will trust You!
I know Your heart is good, I know Your love is strong,
and I know Your plans for me are much better than my own ....
So I will trust You, trust You, I trust You God, I will, even when I can't see the end ...."
~ "I will trust You" by Steven Curtis Chapman ~
This morning I woke up with a great desire to just write out these words on my blog.
There've been some hard days this week ... and while joy seeps into so much of it,
there have been many moments of tears ... and longing to SEE that cloudy glass SHATTER.
But we wait. We trust Him. He is faithful. What I wrote on Nov. 25th,'09 ...
"One day, that dark glass,
it will not just be clear, wiped clean with the blood of the Lamb,
it will be shattered,
the veil torn,
the stone removed,
the fog and mist cleared,
the curtain lifted ...
one day -
His face we'll see!!
How I long for that day, more than before."
The glass shattered ... and finally we can just see YOU, God.
Thank you, Father .... I can't wait. :)
~ Jean Marie ~