I remembered -
Today I was filled with a longing to be down at the Veterans Memorial, and when it changed from a longing to a desire that would not go away, I pulled back my hair, put on some makeup, :) tied some red/white/and blue ribbons in my hair, grabbed the camera and tripod, and drove there. I've learned not to ignore promptings from the photography part of my brain. :)
And even though I lost my lens cap today, I'm still grateful that I went - memories were made.
First, I stopped by one of our local cemeteries, because their flags are so gorgeous and took a quick shot. Even though this was not a Natnl' Cemetery, there are a lot of people buried here that served in the Civil War, WW1, WW2, and so on, and the flags were everywhere. I couldn't help stopping every so often, and reading what was etched in granite. Many many stones had verses from the Bible and their full rank and what war they fought in.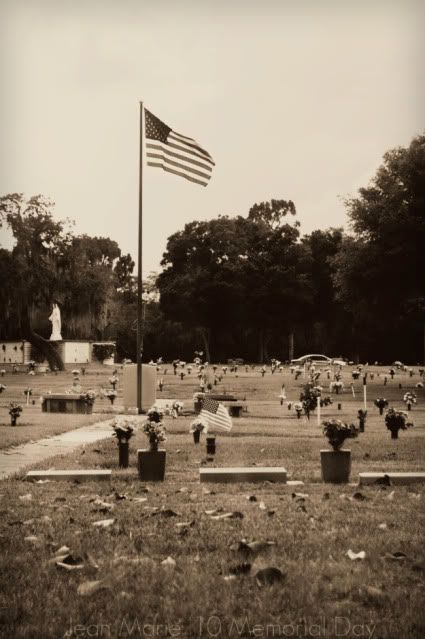 I wrote this on Facebook for this album, and I wanted to share it here:
"Some may have forgotten ... but I did not. Veterans, and those whose small flags wave across this yard ... you were not forgotten. I stopped, I knelt, I brushed away leaves and sand,
I stood in silence, I touched your names, I whispered, I remembered."
Then I drove to the Veterans Memorial, and as I usually post pictures of the water, I decided that you all needed to see some of the glory that is usually passed by, even though every time I visit, I brush my fingers across the plaques that mean the most to me ...
"To keep the faith with those who fought and those who died.
We the living will continue to strive for the security of our nation
and the preservation of the republic, and lasting peace for all mankind."
Old Glory at half-mast, with the POW flag underneath her, and surrounded by the flags of all the branches of our USA armed forces. The wind ... was ferocious. It snapped and clinked the lines for the flags against the masts ... it blew leaves frantically across the bricks ... it wreaked havoc into the water and made it so choppy that foam flew into the air, my hair was everywhere .... and it seemed fitting, that those flags should bear up ... with such pride, in such storm.
A precious good memorial ... for those that are not as easily remembered.
World War 2 plaque.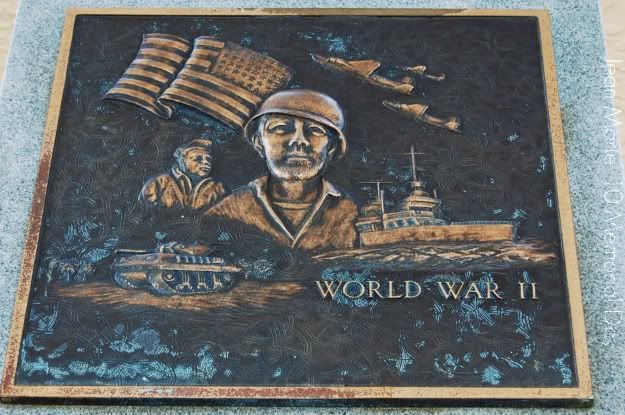 The World War 2 bricks ...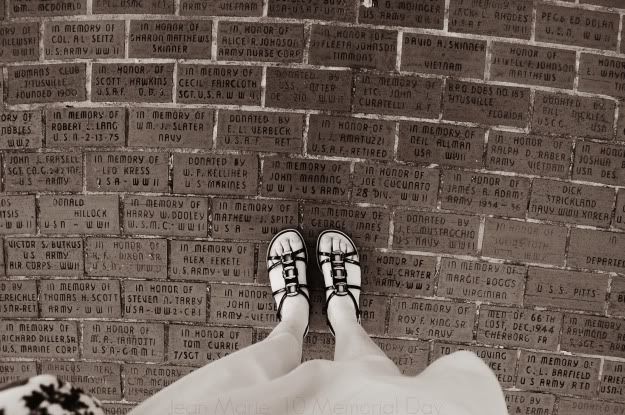 The Vietnam War plaque ... I love staring at the choppers and ships as if I could hear it all.
I remembered .... I know ... that freedom doesn't come free.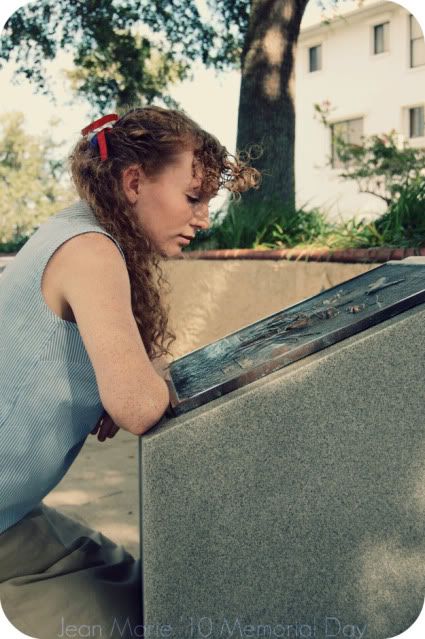 In Memory ... of the fallen ... "the very best of springtime".
To the fallen ... you will stand forever in my memory. I thank you.
~ Jean Marie ~