Avocado Egg Salad -
Y'all.
I found this recipe on Pinterest, and it sounded
so
good, I instantly printed off the recipe and got down to makin' it. And oh sweet heavens. It's so deliciously wonderful. :) Seriously. I'm eating it right now. And I'm wondering who was so GENIUS to think about putting Avocado with Egg Salad.
To you, sir or ma'am, I raise my Mason jar filled with apple juice in your direction. I thank you for the depths of my bowl filled with your recipe right now. I shake your hand enthusiastically, all the while proclaiming "
genius!!! absolute genius!!!
".
Okay. So down to the genius recipe. It's
Avocado Egg Salad
.
The recipe site is from
Skinnytaste.com
, and so I think that it might be
Miss Gina's
recipe, but I'm not sure, which is why I'm just going to tell you it's from
SkinnyTaste
. At any rate, if you ever read this, person who made it, THANK YOU AND ALL CREDIT IS DUE TO YOU, GENIUS PERSON.
haha.
I took a few pictures to show you how delicious and appetizing it looks, and how adorable little half avocado skins look like cups. :) See?
Avocado Egg Salad Boat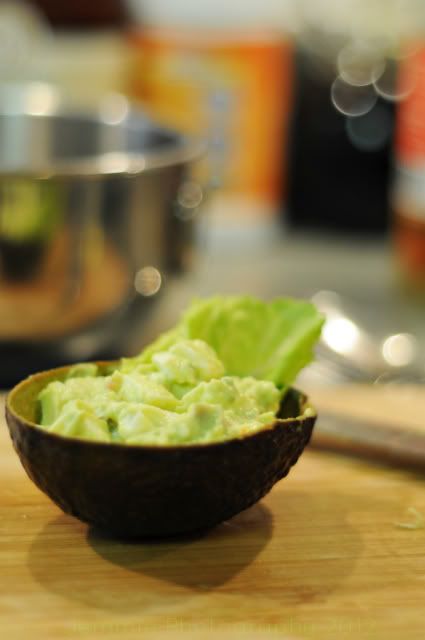 So, down to the recipe. If you want the original recipe that I based it off of, head on over to
SkinnyTaste.com
and just print it off and have at it! Make your own version, while you are at it. Because that's what I did. I didn't have all the ingredients so I made it differently,
(because I wanted to try and make it so I could eat it in under 20 minutes and not wait until tomorrow because it sounded so amazingly good and I was right)
.
Or you can just make my version, and pretend you are me, which means you listened to a sermon on Habakkuk while you made it, and also pretended you were Pioneer Woman while you took pictures of it. And if you were me, you had to go look up
Habakkuk
, because you were pretty sure that it had 3 k's in it, and not just 2, but blogger wouldn't tell you you were wrong, because it's
stupid
, it didn't know better.
Right. Down to the Jean Marie version.
I halved the recipe, but still used a whole avocado. :) heh.
Avocado Egg Salad
Recipe and credit: SkinnyTaste. Version alternate: Jean Marie style.
* 4 large hard-boiled eggs, chopped (9min. eggs)
* 1 medium Hass avocado, cut into 1 inch chunks
* 2 Tbsp. mayonnaise
* 3 tsp. lemon juice
* 1 Tbsp. finely chopped Vidalia onion
* 12 green olives (give or take), minced
* 1/2 tsp. salt
* 1 good shake White Pepper
1.
Separate the yolks and white after boiled, chop up whites (save for later).
2.
Mash up the yolks with a fork, adding in the mayo to get it creamy.
3.
Add rest of ingredients, and mash up really well. :)
4.
Add in the egg whites, and taste test. :) Keep taste testing for the next 2 minutes, then remind yourself that you need to serve it up and eat it for real now. haha.
~ The original recipe called for red wine vinegar, but I didn't have that, so I used lemon juice to add to the punch of the avocado, and I LOVED it. Likewise, I subbed onion for chives and white pepper for black. I really re-worked this one, so
read the original recipe
to understand what really goes on! :) ~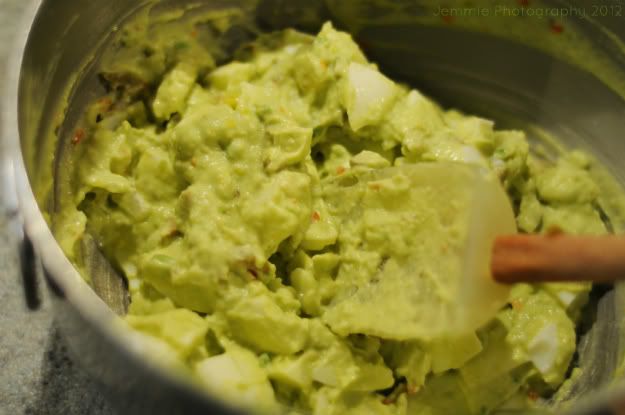 I can't help it. I think it's so cute.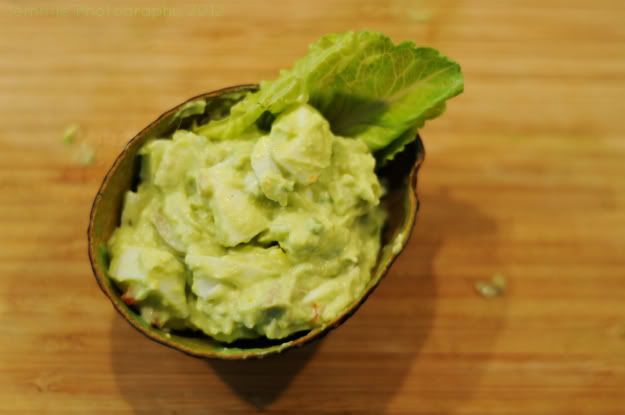 I put a huge helping (probably half the recipe) on some chopped romaine and drizzled just a little bit of Newman's Own Parmesan and Roasted Garlic dressing on it. It was SO GOOD. :D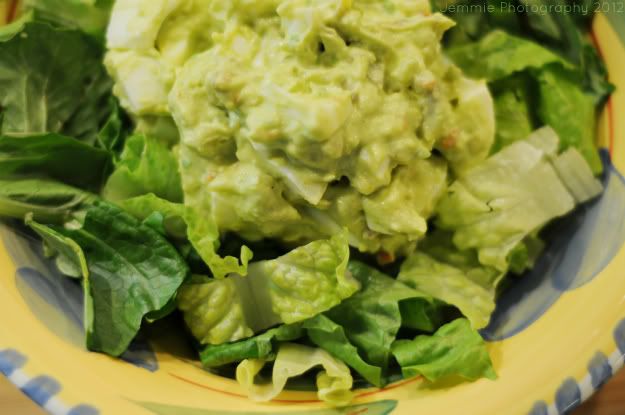 And that, y'all, is what you should try to make ASAP. As soon AND as Southern as possible. ;)
I love that it's so good for me too, and a high source of good fats and protein. :)
Much love, and a mouthful of this green genius salad...
~ Jean Marie ~
I just found out that Pioneer Woman also has this recipe, so now I'm reeealllly not sure who to give credit to. hahaha.
Here's hers
. :) Whatever the case may be - we all adore it. haha.