Just 8 days!
This evening(night of the 24th ;), we were honored to join the Case and Bowen ladies (and about 60 other ladies and girls) for a Bridal Shower for Tricia, and let me just say, I laughed so hard I think that I lost all my energy, because around 8pm, I just crashed. And then I got loopy and giggly. And then I crashed again. ;) Must have been all the cookie baking from earlier, and singing at the top of my lungs to the Beach Boys. ;D
It was such a joy to meet Tricia's side of the family that I had not met and spend time talking with them, and teasing them only slightly with all the Jean Marie Crazayness that comes with that. ;) I think they finally figured out why they know me from FB. ahahhaha. anyways.
Here's just a few pics, so that you can ooh and aww and I can go fall into bed. ;)
Ok. So top pic: Tricia's Mama: Mrs. Bowen, then Tricia (The Bride!) and Cody's Mama: Mrs. Case! Then on the bottom left is Victoria, Tricia's sister, and then the next 2 are laughing and getting the "kiss on cheek by Mama" pictures that are adorable and hilarious at the same time. ;)
May I please just say that if we all turn out like our Mama's in both looks and spirit and grace, then we will be very happy girls. Amen? Yes yes. They are gorgeous and we love our Mamas. :)
and then beautiful, special, sweet Tricia. I love her.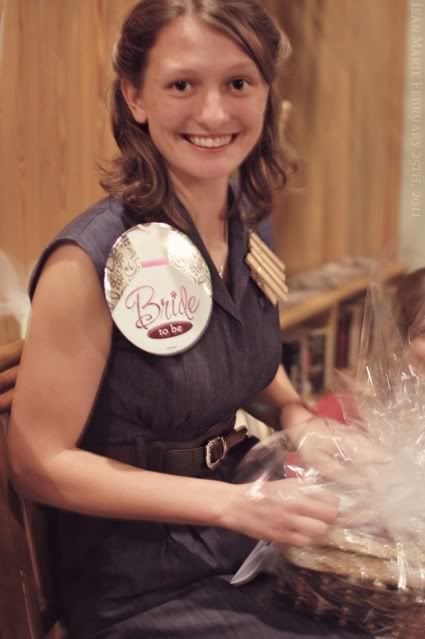 I mean. who doesn't? ;) SO SOOOO EXCITED for their marriage in just 8 days! and their life together.... I am so blessed by Tricia's friendship, and by the Case's. They are truly kindness and grace extended in Christ's name to us. They are just special people. :)
I love you all!!
~ Jean Marie ~
"For the Lord is great and greatly to be praised; He is to be feared above all gods.
For all the gods of the peoples are idols, But the Lord made the heavens.
Honor and majesty are before Him;
Strength and beauty are in His sanctuary."
Psalm 96:4-6