Go Discovery!!!
I always wake up on these special mornings and say "LAUNCH DAY!", because after years of living on the East Coast watching the shuttles rise in the air with the joy our family and extended family(NASA!) takes in them, the years have only increased that joy. Its like a birthday and Christmas and Barberville all rolled into 2 minutes of power and speed.
And today is Discovery's final voyage. I think I'm going to cry right now.
Discovery will be the first shuttle to retire from the NASA fleet.
Discovery and her crew launch today at 4:50pm!
because the ONLY thing better than watching it live? is watching it on
NASA T
V.
In fact, we often sit here at the last minute, getting all giddy about it, listening to the chatter and steam, and then screech outside and run to the street and call out to the neighbors, and then....there it is. One of the most beautiful sights in my lifetime. *starts getting teary eyed*
Hoo-boy. Teary already. haha. Man, I'm going to miss this.
Anyways.
If you plan on watching it on NASA Tv, I highly-highly encourage you to get on a little early and listen to all that wonderful chatter and make sure that your connection works well. And if you don't have the connection....GET ONE. they often have downloads from right there, so get the newer download or whatever you need. Okay? Okay! 'Cause unless you are demanded elsewhere, and I mean like ordered or something....you have to watch this.
And that is the end of my tirade. Maybe.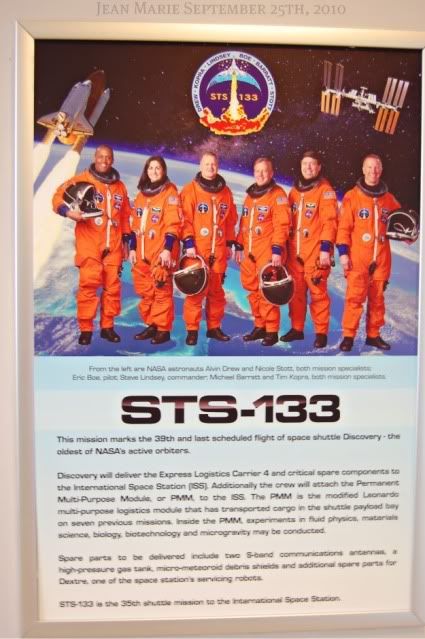 Discovery has logged more hours in space than any other of the orbiters, and has carried more astronauts as well! This is her 39th mission to space! She also was the first shuttle to take us back into space after 2 tragedies, the Challenger and the Columbia. So even though she doesn't hold my heart like Atlantis, and I never got so close to her that I could breath onto her sides and stroke her wings like Endeavor, she is still very special. Special to NASA.
I remember crying the day she flew after Columbia ... tears streamed down my face, and stood in the eyes of my Daddy as we watched her roar upwards, the visible proof that we go on, and come back safely, we roar on into the future, and trust the Almighty hand of God to bring them home. The clapping and cheering and "Godspeed Discovery" 's seemed to ring out from the neighbors especially loud that day. And it was fitting. We had much to rejoice over!
It would take me 5 or 10 books to describe the life I've had watching this all from my front yard ... it has been a blessed life, and I'm so thankful. So Discovery and STS-133 crew, we pray God's blessings upon you as you soar into the heavens of our Lord, into quiet space, and we ask His firm and loving hand to bring you back safely to us. We pray He reveals His creation to you that you may see it with new eyes, the eyes believing of the Creator God. And we pray a successful and joyful mission for you all.
Godspeed Discovery!!! We love you.
With joy,
~ Jean Marie ~
a few quick facts about Discovery to amaze you... ;) (pre-STS-133)
Total miles traveled: 142, 917, 535 miles.
Total orbits: 5, 628
Total days in orbit: 351 (8,441 hours, 50 minutes, 41 seconds)
Total flights: 38
Total crew members: 246
Mir dockings: 1 / International Space Station dockings: 12.