A smirk-smile-face -
I wasn't going to enter the I:heart:faces challenge this week ... but it's been a tough couple of days, and I thought I'd scroll through some of my pictures to see if I could find one ....
and I was quite cheered up just looking at the photo I'd found ... mostly because it makes me giggle. So here ... have a giggle on me, about my dear friend's smirk-smile-face. ;)
I'm a firm believer in telling the stories behind pictures, because after all, that's why I shoot in the first place. So there we were. In the heart of Africa. It was desperately hot, and the only reason she looks like she isn't fainting is because we were under a wood tower roof and had just had some cold water from a local vendor. My friend, Becs (in the pic) was scanning the African plains with the ancient binoculars that were so heated by the sun that they literally seemed to scorch your hands when you attempted to swing it around. She was getting a closer view of the giraffes.
She saw a baby and squealed, and I said "Becs!!! SMILE!!", and she regally turned and threw a complete smug look over her shoulder as if to say "these are MY binoculars, and you can't have them!!"! The look was totally unexpected, and while I laughed hysterically, she continued to peruse the plains through her binoculars until the money ran out. :) GREAT memory.
I just LOVE her expression, I LOVE the binoculars, the jungle, the bamboo, the sunglasses, the 103 degree sunshine, the arched eyebrow, her lifted shoulder, the leg up on top of the stand, the 25 cent sign, and pretty much everything. So that's my entry. :)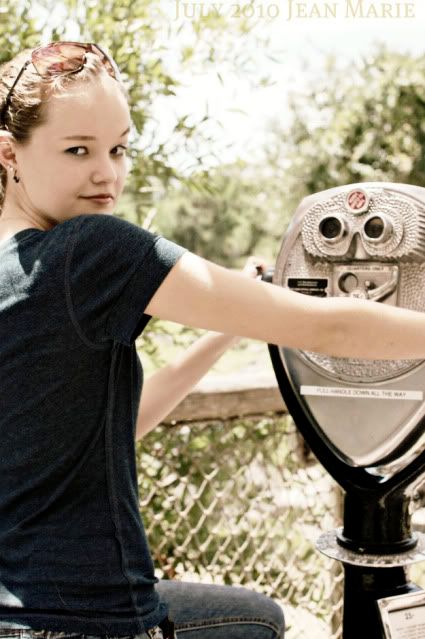 Ok, and we weren't in Africa. I won't lie. We were in Florida. But it was 103 degree sunshine, and we WERE doing everything else. Just at the Zoo. :D The giraffes were adorable.
"Laughter is good medicine for the heart",
as well as a blessing from the Lord!
I love you, Becs, my dearest Cupcake Smasha'.
~ Jean Marie ~
Enter or just peruse all the great shots by clicking the camera! :)