Big Band love -
Ya'll may know that I love Big Band Music. If you don't know that, then clearly you have not discussed the 40's, the 50's, WW2 or anything else from that era with me, because anyone who even TOUCHES on the subject, I start gushing about how much I adore the music.
True story. Ask my friends. They know.
So my dad recently found out that 2 of his co-workers play in a band that plays big band (that was confusing to read) and they were having a concert downtown! So my dad got tickets and we invited some friends and had a lovely, lovely time. :) I almost cried several times, I was so happy. The crowd was mostly (85%) older couples, like in their 60's-80's .... and some younger couples as well, and they had a dance floor set up ... and they could dance.
Good golly gracious. It definitely went down on my "Do Someday List": learn to swing dance. Oh my word. I need a brother to practice with. hahaha. :) WOW.
It was a great night!! The Hopes drove down from Flagler, and Jeff from Palm Toast (heh ehehehh heh), I mean. Palm Coast. *cough* and then after the concert, we all met back at our house and had dessert and played a few games and talked (of course) haha. :D
Not only did they play some of my favorite songs ever like: "In the Mood", "
Moonlight Serenade
" (I got tears in my eyes for this one), "Chattanooga Choo Choo", "
Sing, sing, sing
", "At Last", and lots of others, but I had never heard Big Band LIVE. Oohhh, how wonderful it was! :) It was special just sitting there listening, and feeling like you were there in the 40's.
Oh! Turns out, we were also on the radio, streaming live, so we had an announcer and we clapped and cheered and whistled our approval at the end of each song! :)
The "Swing Low" Big Band.
Before the concert started, Lauren and I knew that the sunset was spilling gorgeous light averwhere (everywhere), so we headed out with our cameras ... 'twas beautiful.
And before she confiscated my camera and made me stand still for her (auugh), I got a few shots of her. :D So now you know the real story. hahaha. :)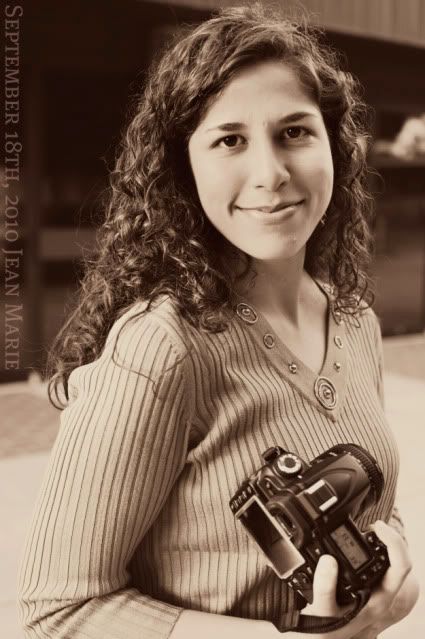 Yeah.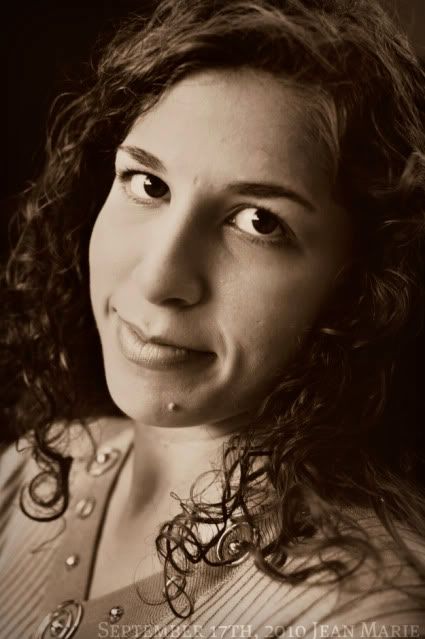 I love these next 3 shots. "HAH! Camera war!"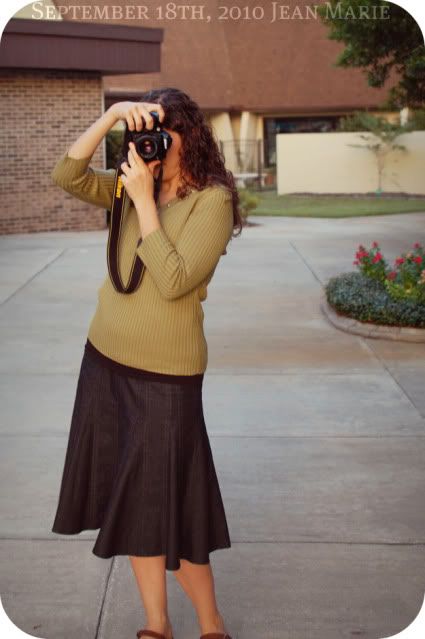 "Okay, wow. Great. That was easy. *click*"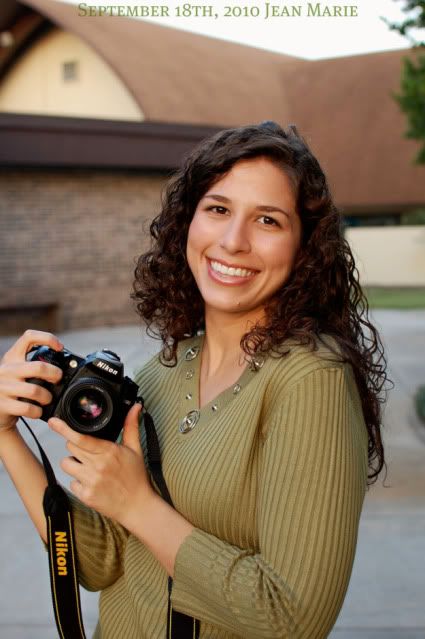 "AAAH!! The gorgeous sun upon her hair!!" My favorite photo of the night. How I love it. She was walking towards me, so there's the motion, the sun was spilling everywhere, and her smile is so cute ... I just love her!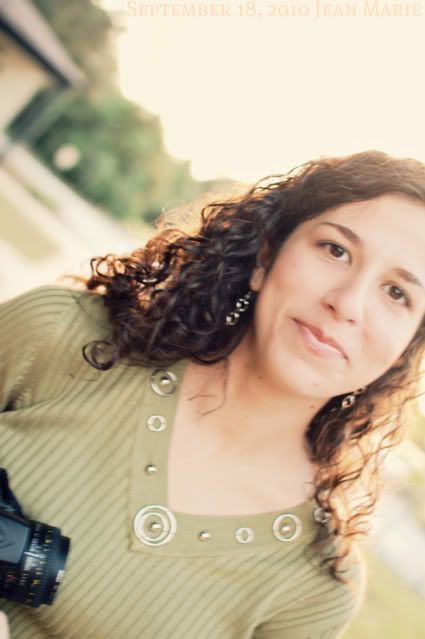 Us. We were smiling. We were happy. We were giggling.
Back at the house, Lauren plays her gorgeous rendition of "Star of the County Down", and I try not to be melancholy, she plays it so well ... hahaah. :)
Like Father, like Son. I laughed when I saw this picture, they are doing the exact same pose, unconsciously, just with different directions. hahaha.... :)
Lauren had the camera. And here's me. The card shark. hahaha. not. But really, I love that dress. I haven't owned many yellow things in my lifetime, but that's a favorite. :)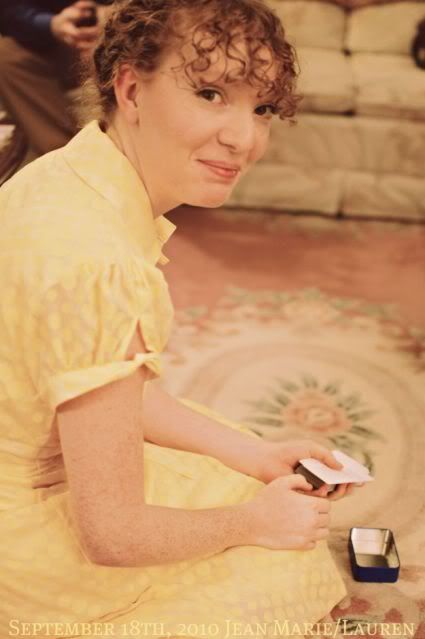 Kimberly, myself, Jeff, Lauren and Joseph all played "Qwitch" and "Pit", and I was overjoyed, since NO ONE will EVER play Pit with me. :D hahaha....it was great!!! I had so much fun!
LtoR: Jeff, me, Kim, Joseph. Photo credit: Lauren!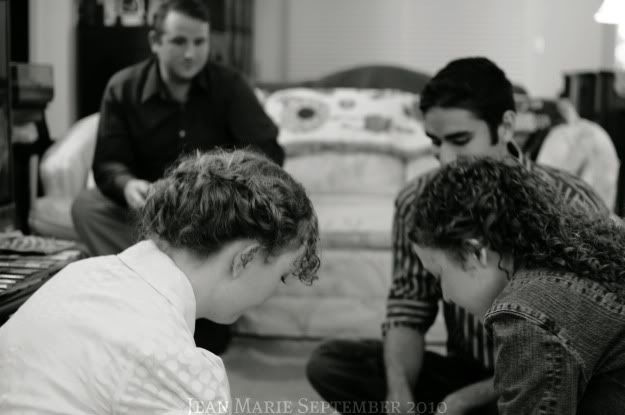 Her joyful laugh. I love it. :D How can you NOT laugh along?
"Qwitch: The Game for Gangstas". You better believe it, yo. Some serious stuff goes down, when we start flippin' those cards everywhere......alright. So I'm going to feel guilty if I don't tell you that it's not a violent game. However. The first time I played it, I found I couldn't add, subtract, go forwards and backwards in the alphabet all at once, and I cried. Literally. in tears. at a friend's house. Hahaha. For the first game "un-named person", just sat there and said "6...7? D, E? up or DOWN? E ... D .... G!! NO!", as my sister won. *again*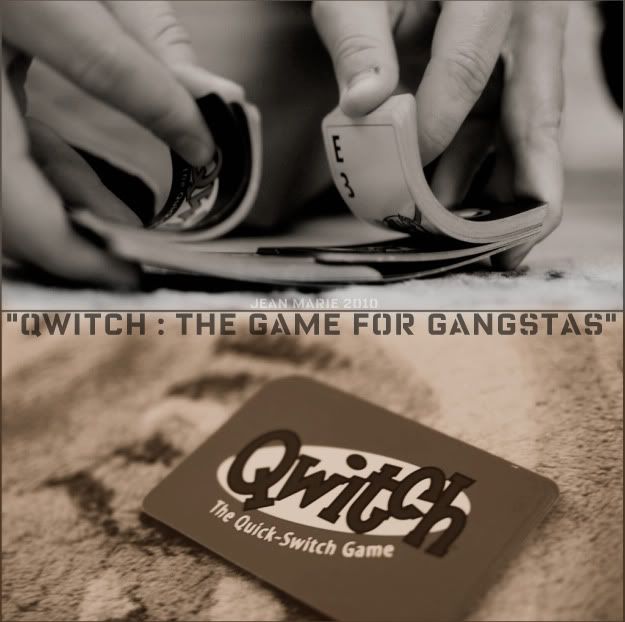 Boom Baby. The Proof.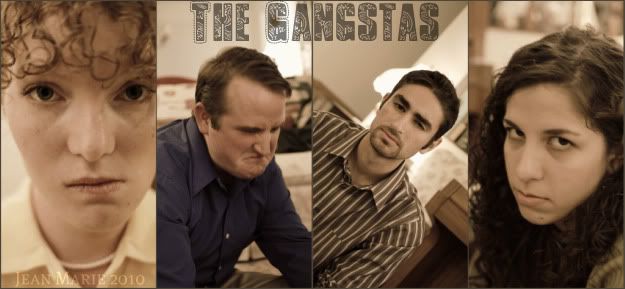 I think Joseph and Lauren are the only two that have gangsta' card faces that work. I look like I was punched in the jaw, and it broke, and Jeff looks like a sore loser. (sorry Jeff) If it makes anyone feel better .... I laughed hysterically.
They all left at the sleepy hour of midnight, after rounds and rounds and rounds of hugs. We SO loved having them down, and spending time together ... we love you!!
(although posed, she was entirely serious) and how adorable is she? haha.
With much much love ....
~ Jean Marie ~