Lights Overhead -
"Over My Head" photo challenge!
So this week at I:heart:faces, the fun challenge is ... well, challenging! As I flipped through pictures to enter, I realized how few pictures I have of objects or things "over the heads" of the people I'm shooting! Either that, or their backs are turned ... :) This is what I LOVE about these challenges ... the next time I go out to shoot, I think "oooh!! let's try to put that in the picture!", and it's just so neat to go out with your "creative hat" all spiffed up in new ideas. :)
I got in the "photo entry mood" after I visited "A Corner Pillar" by Lauren, and saw her gorgeous sun-flare-sunshine-summer-filled picture entry .... whoooweee, Lauren!! Sweet!! Click on over and see what I mean .... now, isn't that most of our childhoods all wrapped up? At least our summer childhoods ... here in the South, water time is necessary and the best. :)
So I got in the mood .... and then I realized that I had one from just yesterday! It's not all "SUMMER!!" like Lauren's .... but there is something beautiful about it that I love. :)
Make that ... love - LOVE.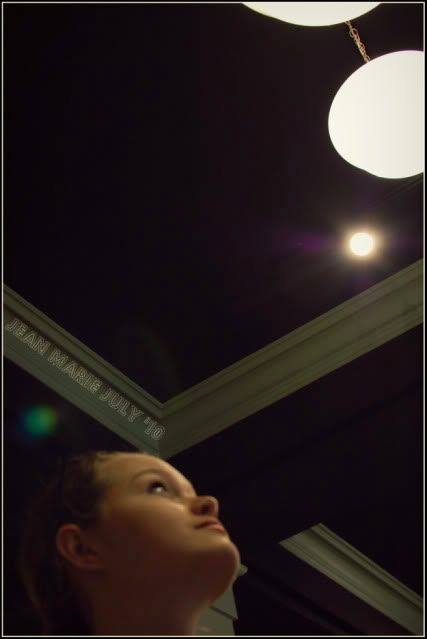 Yesterday, my Mumma and I hung out with sweet family friends of ours, and we were shopping in a Spice Store that was transformed out of an old building with gorgeous crown molding and high ceilings and lights hanging from chains like they did in the "old(er) times". :)
I gasped and pointed "Oh, Becca! Look at the lights! I love those!", and as she looked up, I pointed my camera to capture the light and her expression, and due to the way I pointed the camera, it treated the camera to a dark sensation of singling out only where the light hit!
Somehow when I gaze at this picture, I hear Glenn Miller playing "Moonlight Serenade", and imagine low lights and slow dancing on those 40's well-polished floors. Beautiful ballrooms and dressed up couples cherishing time on those Friday and Saturday nights, before the next challenging, work-filled and war time weeks would start back .... can you see that?
Mmmhmm....it's no secret to most of you that I love Glenn Miller, I just thought I'd share. :) Since the lights are hanging over Becca's head ... and so are the dreams in both our heads, since we had just visited a wedding dress store and touched some lovely gowns,*giggle* :) ....
this is my photo entry.
Thank you for allowing me to share. And no, we are not engaged or getting married. *yet* ;) I hope that this is alright that I add this too ... but you all must positively listen to it .... click below to listen to "Moonlight Serenade" on the YouTube video.
Mmhmmmm .... that's what dreams are made of.
With love,
~ Jean Marie ~