My Bittersweet Farewell -
"Though this first taste is bitter, there will be sweetness forever."
~ "SEE" by Steven Curtis Chapman ~
This is a post I wish I didn't have to write. It makes me gasp that I even have to think about what to say, how to spill out my heart to explain someone who meant so so much.
To remember the beautiful beginning of this story, we have to go back to 2009. September 2009, when I blogged a post on the upcoming wedding of Rebecca and Steven Loomis. I had blogged a picture of Rebecca hugging a very sweet friend and her babe at Beth TenDolle's wedding in April 2009.
You can see it here.
Of course, I thought nothing was up, other than I had captured a very tender moment.
and then October of 2009 came around, and with it, a very heartbreaking loss for my dearest friends, and my world shattered. All that I thought I knew went out the window. I had to re-learn every promise of God, every morning I got up, and every sleepless night.
So when I received a comment on my blog from this sweet woman named Mrs. Y, who wrote an essay :) of a comment about the goodness of the Lord in the depths of the deepest griefs and valleys, I was so blessed. She wrote in her comment that she was the woman in the photograph with the baby.
Who was dying. The baby was dying.
November of 2009 rolled around, and with it, the joyful
wedding of Rebecca and Steven
in Missouri. Since Mrs. Y's comment, we had e-mailed back and forth several times....very long, very honest, very broken e-mails from my side. :) She lovingly wrote back, encouraging me so much. The day before the wedding, a huge crowd filled the Serven house. :) And in the wonderful crowd was Mrs. Y. and Ethan.
Surrounded by people who wanted to talk to her and dote on Ethan....
"Mrs. Young? I'm Jean Marie." I was immediately pulled into a tight embrace. "Jean Marie" And yes, I was THIS close to bursting into tears. :) I was then introduced to Ethan. I have never fallen in love with an infant so fast in my life. I could not tear myself away from his side. What a precious little man.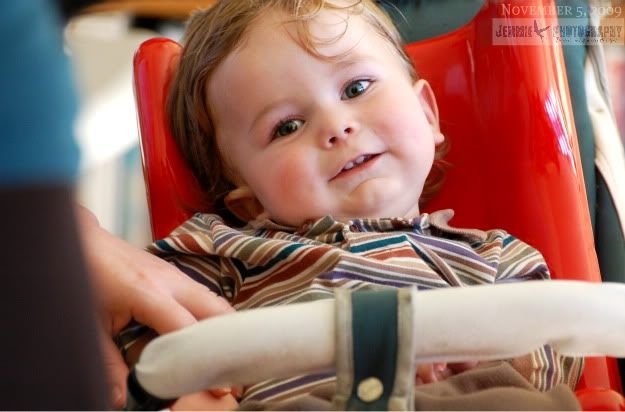 Wedding day came around and the reception did too. I found Mr. Young during a speaking part of the reception, standing and cradling Ethan in his arms to keep him comfy. I spent close to an hour talking quietly to Mr. Young and tickling Ethan's feet. Listening to his giggles, and smoothing back his so soft hair, and gazing at his beautiful smile. Holding his hand. Feeling that for that moment, Christ was bestowing blessing. Feeling blessed to be there.
From taking pictures, dancing and hugging everyone in sight, I was losing all my stored up joy very quickly, and when Rebecca and Steven drove away as man and wife .... all the cheers and laughing children couldn't hold my tears back. I stood there watching them drive away, and remembered Beth's wedding, when I had held someone else who had felt the change and had been sobbing. ;) I stared at that car leaving and felt the finality of yet another part of life, and the tears were streaming from my eyes, down my cheeks, when an arm pulled me into an embrace.
She hugged me tightly from behind as I sobbed. She knew why I was crying, and as I broke out my choppy explanation through heaving gasps of air, I wondered about the end of it. "It feels like the end! But it's not! but it feels like the end...how do I do this?". She told me it wasn't, even if it felt like it, and as our e-mails often turned into, she talked about God making it all right. It wasn't the end, it was the beginning of life, and Life Everlasting for those who had already gained the threshold of Heaven. She put joy back into that moment, with the surety that things would be right again, because God is perfectly good.
Words cannot describe the dearness of this woman.
She had two children already in Heaven, with Ethan dying of the same muscle disease, and he was regressing faster than the other two. She had openly spilled her grief and heart out to me in her e-mails, and I was drinking up every word she wrote, knowing that she wasn't writing all this because it sounded nice. Because it didn't. But because it was the Truth of God's Word, and because it had proven itself trustworthy in her valleys of grief, and it would in mine too.
I wonder how long I would have to live to have faith like hers. Maybe my whole lifetime.
I came home, and 5 days after the wedding, Ethan joined 2 of his siblings in the presence of our dearest Lord in Heaven. I grieved deeply, and poured all of my love for little Ethan into a blogpost for Mrs. Young.
You can read it here.
She wrote me an e-mail that took my breath away. I had hoped it would be a blessing, but I didn't know if God would use it in such a precious way. Her e-mails have been read and re-read, and re-read, and her encouragements have continued to pull me closer to the heart of God.
She has meant so much to so many people, I can't even tell you. She is the kind of gracious, loving, outpouring, tender woman that makes you want to be more. What she wrote me in one e-mail, has quite literally - been the sustaining quote that has kept this blog going. It has encouraged me to keep writing and pouring my heart out, that the God-honoring through the brokenness is beautiful in His sight.
I recently told a friend "Back in Nov. of 2009...it had been less than 5 weeks, and I was drowning in the grief of the Lord taking someone away for "no reason", and she (Mrs. Y.) was like a breathtaking rock the Lord swept me up against."
Such a dear, precious woman of God. A treasured sister in Christ.
She made such a huge huge impact on my life, in one of the deepest and hardest times of my life. Loving, was easy when it came to Mrs. Young, so was pouring out of her own self to others, and it was evident. Evident by how everyone loved her so dearly.
And now we come to July 2011. When I blogged a post about
What He can do
... rejoicing in Him that there is More, and that He does great things which we cannot comprehend. 6 days later, I received an e-mail from Mrs. Serven telling me that dear Mrs. Young had cancer, and would not be long for this Earth.
I gasped in shock as everything in me screamed "NO!!!!"!
I broke down sobbing in front of the computer and wept and wept and wept.
Our dearest Mrs. Young could not be dying. That couldn't be part of God's beautiful plan!
It couldn't be. But it was. And my heart shattered.
I immediately clicked over to my g-mail, and sat with my fingers resting on the keyboard, waiting to wake up, waiting to realize that it wasn't really true. But then it just was, and as tears ran down my face, I typed out a goodbye to a lady that changed my grief.
I don't think I have visually been so strongly bound in the tear between life here and life eternal. My lap held a blue baby boy blanket crochet project, prayers were being poured into it for the little boy to come, the expected son of my dear friends = LIFE., and my hands, trembling and typing out a goodbye to one of the dearest women I know, not knowing if she would ever have a chance to read it, and knowing this was my last "I love you", until = Life Eternal.
It was so shocking. So sudden. So so unexpected and heartbreaking.
Dear Mrs. Young died on Saturday, August 13th, 2011 at 4am in the morning.
I have no words. I miss her so much already. Today I tried to write her an e-mail four times, and realized she wouldn't be writing back. It is so surreal.
No more e-mails. No more hugs. No more talk of visits together. No more blog comments.
I read through her e-mails again, and am shocked at how much it would be if she wrote me now. What she said then, is what I needed to hear now. Shockingly beautiful.
My heart aches for her family left here. Her dear husband Scott, and their 3 children here: Gavin, Silas and Therese. My heart cries for their loss, and yet my heart rejoices that she has entered the Holy place of Heaven to see her 3 children there! Barac, Charisanne and Ethan .... and our dear Lord.
Such is the grief of the Christian heart - unbounded joy and heartbreaking sorrow!
It robs me of breath to think of living my life without knowing Mrs. Young is living hers here with us. But then I think that I only have perhaps 65 more years to wait for another hug....and then it will be life eternal and joyous, filled with all those we love, and no more goodbyes! :) I think 65 years will go by fast. And then Forever with the King of Kings. :)
~~~~~~~~~~~~
When I thought of writing this post, obviously, there was so much to say, and so much that I cannot even begin to express. How could I ever sum up a lady who blessed me and so many others so deeply? How can I write the depth of my gratitude for her friendship to me? I am overwhelmed with knowing that this is a small reminder of how much she meant.
Mr. Young, if you ever read this, please know that every word was meant with the deepest love from my heart, and that I am praying for you and Gavin, Silas and Therese, knowing that the God of all Comfort will embrace you all fully and lovingly.
I wanted to include the two pictures that I treasure of the embrace between Rebecca Loomis and Mrs. Young, with Ethan on her lap, and I want to share excerpts of my e-mail to Mrs. Young.
For my bittersweet farewell for now.
Such a beautiful, precious, beloved saint of Jesus.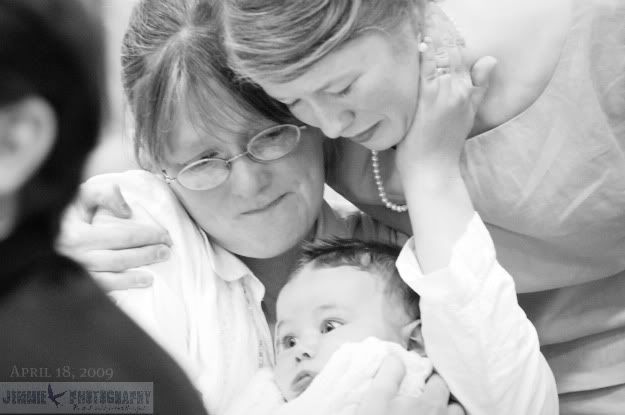 "Dearest Mrs. Young ....
I had to write and tell you I love you. I love you in that deep place, when someone so poured upon your soul that you left a special mark forever. You knew me in the days when my heart was completely torn to shreds over a loss, and you comforted me. I can still feel your hug around me as the wedding car pulled away. It meant so much then, and it means so much now!!!
I am completely angry that God is not choosing to heal you like those who love you would want. Of course I am angry. :) But I know that God will heal you in the way that you will never be sick again, one of the first things I thought of was Ethan. Running through the gates to see that smile and hear that giggle. Your Mother's love will have no bounds. :) I smile just thinking of it!!
..... I cannot put into words how very much you mean to me ... you blessed me so much in my desperate need of knowing God is faithful ... and He is. He is gracious. Whatever He ordains is right and good....
I know that God thought of you in the mercy places when He put you into my life. Thank you so much for being so open and willing to be His servant to others, to pour out your Ebenezer of sorrow to bless others in comfort. I want to be like that. I desire to bless others as you have to me.
Before the gates, He calls, and some of us are farther away than we would like, and some of us are running closer and closer ... where you will burst up on Heaven's glories to SEE the Savior you love. Glory!! Glory indeed!
My prayers will be upon you, and your precious family ... my dear friend.
The Lord pour out every mercy and grace upon you and your family....
I love you so so much. I will see you again SOON.
Long hugs, I love you....
~ Jean Marie ~
~ Here's something you wrote to me in November of 2009. :) Won't it be wonderful indeed!!! What Glory when we behold the Lamb of God!!!
~
From Mrs. Young:
"I am looking forward to the day we will be together again, by God's providence. Oh, won't it be wonderful in the City whose light is the Lord Himself!!!! I am content in this Blessed Hope....who is a divine Person and the Lover Extraordinaire of our souls.
"Oh the depths of the riches and wisdom and knowledge of God!
How unsearchable are His judgements and how inscrutable His ways!
For who has known the mind of the Lord, or who has been His counselor?
Or who has given a gift to Him that He might be repaid?
For from Him and through Him and to Him are all things.
To Him be the glory forever, Amen."
~ Romans 11:33 - 36 ~
~
Dearest Mrs. Young. I am missing you so much already. I wish you could send me one more e-mail, letting me know that you knew exactly what I meant, and how you loved reading it.
You will always hold a special place in my heart, and in all who knew you.
I love knowing that as you left this earth, you leapt to your feet and ran through the Gates of Glory in the wee morning, to hold your children again in the throngs of the redeemed children of God.
I love knowing that you are singing about the glories and the love of Jesus with joy forever and ever set upon your heart, and only Life Everlasting with all those you love (soon) for always.
Yes, God thought of you in the mercy places, when He put you in my life.
I love you.
That red-headed, curly-haired girl.
~ Jean Marie ~
"Oh Jesus, conquering the grave! Your precious blood has vowed to save!
Those who trust in You, will in Your mercy find, that it is not death to die."
~ Sovereign Grace Music ~
From the deep places in my heart, I ask for prayer for the dear Young family. Please be in prayer for them, the funeral is tomorrow evening, please ask the Lord to bring joy and comfort, peace and rest, and above all, His presence as they gather to say "goodbye for now". Thank you.