Look what He can do -
I couldn't wait to blog this. It only happened about 1 hour ago, but I couldn't wait to write it all down. I love love writing it all down and having it make sense and flow into a story.
But I also didn't want to blog it. Because I didn't want to "cover up" all the beautiful posts below. Is that silly? Am I the only one who thinks like that? It's not like a page is turned, the post is below it, and will still be in view. Just not the first view. And sometimes when I blog something from my heart right over something else from my heart that meant something totally different, people kind of go "whuuut? she's like a rollercoaster!!". Or at least, that's what my oversensitive self-conscious tells me until I tell it not to care. ;) Am I the only one? HAHAa. Please say I'm not the only one. Please. Leave me a comment and tell me it's not just me.
And please say that you like reading posts about what I discovered about my heart in the rain. And that you like looking at mediocre pictures that I take of light bokeh. And that you don't care that I can't write like a poet, you just like hearing my heart anyways. ;)
*tries to almost take it back, because I sound too honest*
Too late for it all, because my heart is steaming full ahead, and the wind that I felt calls me to write. Write and share the glory. Write!!
*Note: Italics in the post below are what my soul poured forth in those moments. Bold and Italics is Scripture. This isn't always how I blog, but it's true for this post. :) *
~
I wish you could have seen it. The thunderstorm blew in so fast, that in 5 minutes, we went from sunset evening to rolling, rumbling, swirling clouds of royal blue with winds that promised rain. Lucy Mae and I raced back inside to avoid being pelted with small sticks and pinecones, and then I pushed the button to raise the garage door. To watch in safety.
There wasn't any lightning, and I do love the wind. I love the glorious wind. It so often feels like the very breath of God filling all the air around me. So I threw safety aside, and stepped out onto the driveway. The wind was blustering through the trees, and lifted the hair away from my face, going in and around my whole self. Like it was emptying me of me, and filling me with itself.
I could look down our driveway, towards the North, where there were no dark rainclouds, but only the light light teal blue clouds that had been pushed ahead.
"Look what lies up ahead there. That is so beautiful."
I raised my head and tilted my face to the sky. Water started to spatter across the pavement, it began to drip onto my forehead, and slide down my cheek. The wind began to blow furiously, and the silence poured itself intensely into a pressure that comes right before all the rain comes down.
and in the silence and engulfing wind, my heart calls out -
"Is this what being next to You feels like?"
"Is this. Is this like what it is?"
I ran back inside the garage as the wind pulled apart the blue clouds and bumped them all together into different shapes, twirling inside each other, and smoothing out into lines of dark grey. With a pause and then a swoosh, the heavens opened and the rain came out.
"It is. Because You have created this. You have made this! You have made this thunderstorm, and made it to rain! You glory in this, and I marvel at this! Rejoicing in what you do, is glorying in You! Praising You is being close to You."
"But this is small. This is a lot of joy over a small rain. This is a small glimpse of how magnificent any rain or anything will be. This is joy in part, then it will be joy to the full!"
"There is MORE. More than all this little joy. This is a lot, but there is more!"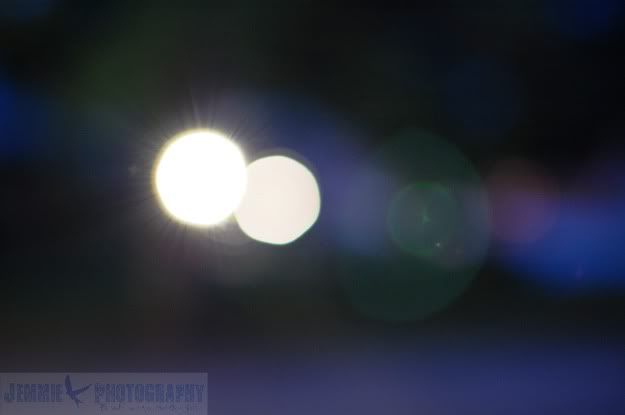 the bokeh of lanterns....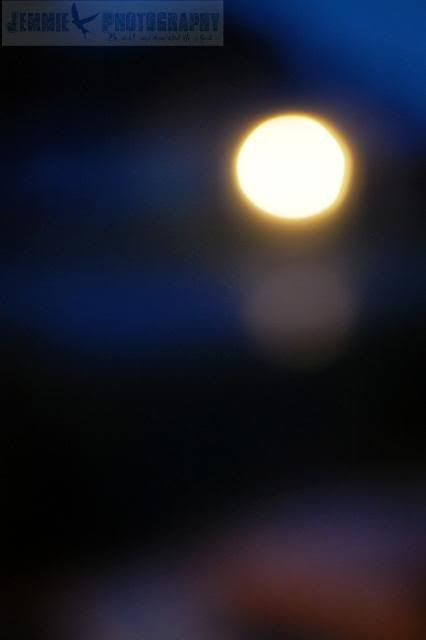 The smell of fresh water filled the air, pulling me into the presence of peace. No lightning, no thunder, no grumbling roar or bright illumination. But the neighbor's light that always glows so comfortingly in the darkness of night spilled across it all. Through the waving palmettos and elms, you could make out the wind. You could make out where light turned into dancing patterns through the drops of water on the pavement, turning into misty reflections.
Nothing but joy and excitement .... and my heart exulting -
"Look what He can do!!!! HE brings forth the wind and the rain!! "
Our own light turned the water streaming down into threads of silver -
My heart ached, thinking about those hurting tonight. A best friend of my best friend, losing her baby. The grief that is shared. The tears that are being shed. The raw pain.
The light across the way turning into a heart.
"Look, my soul. Look and remember this all."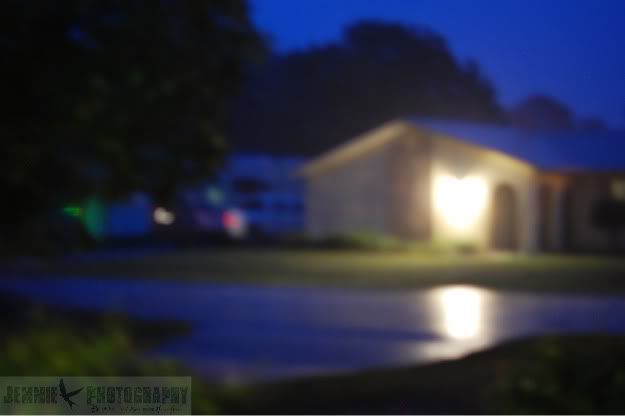 "Look what He gives and provides. Look what light does in the camera!"
The wind and streams of water begin to die down...there is a tangible shift in the air, as the front passes over, and the earth begins to sigh. The fresh wetness hangs in the softer breeze, and I creep close to the pitter pattering water that flows over the edge of the roof.
I cautiously hold one hand out, afraid to bring the camera too close.
I bring my heart out instead, and I pray as I leave the little moment of glorious grace.
"Please don't let me ever forget what this feels like. This ... being - close to You. Please let me always feel Your pleasure when I glory in the littlest things that You give for our joy."
"Please don't let me grow out of the knowledge that finding joy in You is like being right next to You. That's a joy I never want to lose, and I only want to gain more and more and more, until it is all fully realized in the Holy Place, where I will cast my crown before Your throne and kneel in exultation of pure. fulfilled. exulting. magnificent. overwhelming. realized. JOY."
Praying for those hurting tonight .... be still, my friends. God is at Thy side.
With so much love, and rejoicing in grace poured out daily upon me,
~ Jean Marie ~
"God thunders marvelously with His voice;
He does great things which we cannot comprehend.
For He says to the snow, 'Fall on the earth';
Likewise to the gentle rain and the heavy rain of His strength."
~ Job 37: 5-6 ~