5 things I'm thankful for -
Five things I am thankful for today:
1. Beautiful shade under an oak tree shared with an old friend. Dog-sitting is so great when the dog really loves to lay on your tummy in the shade and get head rubs and look cute. :) (I'm also really happy that a secret project I did today turned out well.) :)
2. The light underneath that tree was so gorgeously filtered at 3pm. The breeze was rustling the oak branches, and I couldn't believe the natural white light that lit up through my lens. I adore natural light like that. I also adore any summer breeze that lifts the heat from my face. :)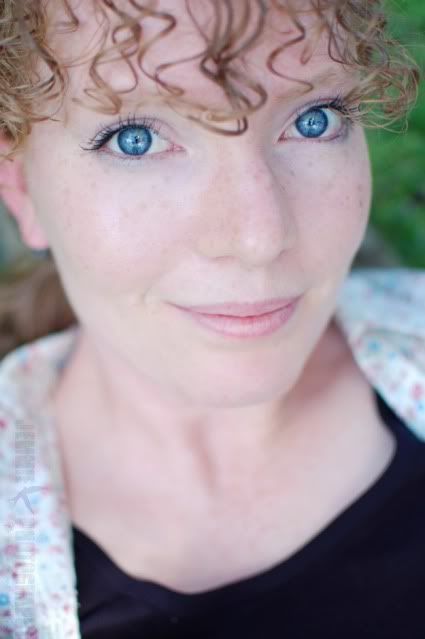 3. I'm thankful for the sun, and the way it makes beautiful color off my lens. I love how the most common shape I get out of sunflare is a square cross. Jesus, keep my heart on the cross.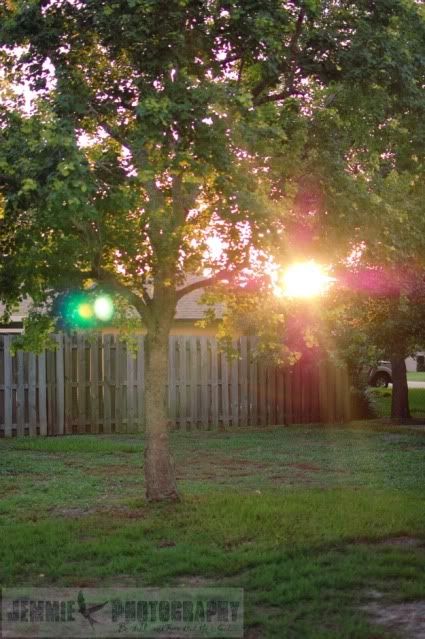 4. Pretty purple flowers. I don't think I've ever taken a picture of these before, even though we've had them around the house since I can remember.
5. Clouds. Clouds getting all glowy and yellow and pink, filling up with the sunset glory just fills my heart up as fast. I love Sunset Clouds, and I love the way they move and shape continually. One second you see a baby, then you see a wave, and then you just see cotton candy. :)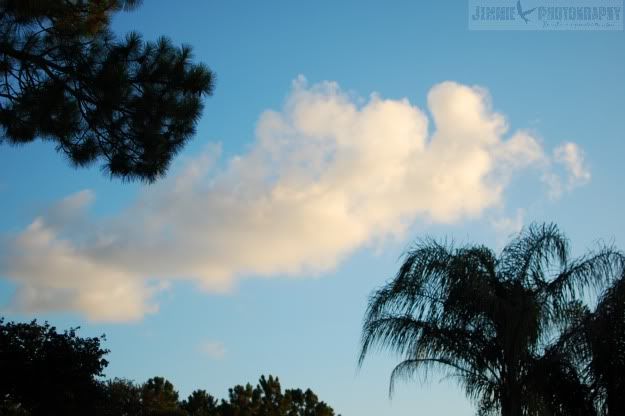 Clouds make me verra' verra' happeh.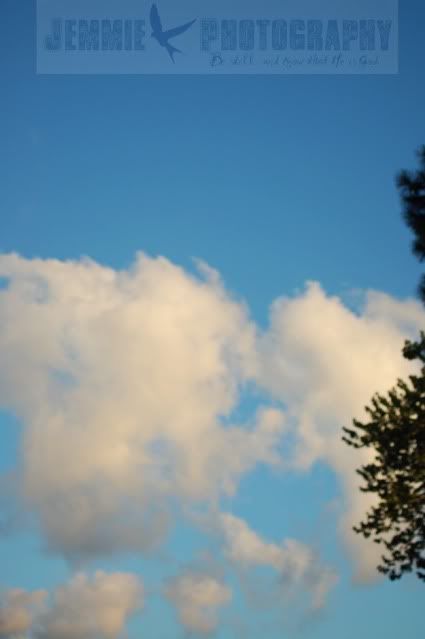 Can you see the beautiful Gibson style lady in this cloud? her face is so lovely! dainty.
and look at the sunset light. Summer sunset light has to be one of Earth's biggest glories. :)
I had so much fun with this one. :) Becs assures me that it's good to have an imagination like this....it's proof that we actually can dream of things, instead of just seeing boring clouds. :)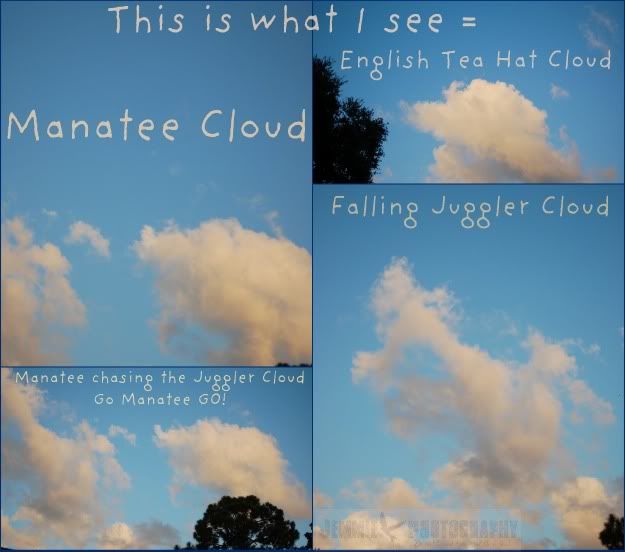 One thing I was not thankful for, and I don't think I will ever be. Skeeters. I have dubiously started calling myself Skeeter Bait. Thank God the Insecticide Man of All Wonderness is coming through tonight to kill them off. (and I can't believe I blogged a skeeter pic. NEH)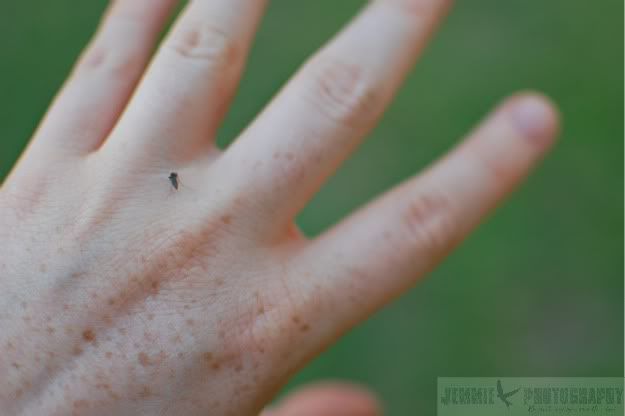 Some other precious parts of the day I was thankful for -
* Eating Steak 'N Shake in the car with my Momma, eyes brimming over with love for each other, bouncing around to "Little Bitty" Country song together, and being with her.
*That hilariously disgusting moment when the Greta (the dog I was babysitting), walked past a buzzing horsefly, and chomped it up off the sidewalk. My reaction? "EW. THAT IS NASTY. I AM NOT KISSING YOU ANYMORE." It crunched. and she ate it. and it was EW. But she looked so "queen of the jungle at my kill" that I had to laugh anyways.
* Driving home with alllll the windows down in my Mom's SUV. that's 5 of them. The wind blowing the Country out, Country-fying the rest of the cars....a favorite Josh Turner song on, my hand out the window, flying through the breeze. The way the sunlight spilled gold on everything, and the way my heart beat out "the kingdom of God. This counts forever." like it does in the special times.
* Waving to the neighbors with smiles and hello's.
* That blue heron that flew overhead so gracefully, reminding me that I'm blessed to live in the South. Reminding me that this is Home.
* The most excited and enraptured puppy running around in joy that I'm home after only an hour and a half. Now that is love. :)
* Listening to Mozart and Kate Rusby.
* Getting asked in Walgreens if the pictures I ordered were professional, because I would need a signed consent for them to be able to print them. :) Or did I take them? Yes, yes, I did. Then they had me fill out a form, saying that any more orders are my pictures, and I own them, and that if anyone comes in with pictures, that I can sue (basically). This only made me think of Lena Lamont from Singing in the Rain. "I KIN SUUUEEE....whaaa?" hahahhaha.
But it made me feel awesome and amazing to have them rave about my pictures, and when I told them a little backstory, the one lady put her hand on her heart and said that she almost cried just looking at the pictures. So professional, she said. :) It was sweet. :)
And that was my day .... its the little things that remind me how blessed I am. :)
How was your day? :) What did YOU see in the cloud pictures? :D Do tell.....
With love,
~ Jean Marie ~