Many Happy Returns -
To the birthday girl. :) In England ... sadly. If she lived here, I'd show up at her door with flowers and lots of hugs and screaming. Which I actually considered doing to her in England until I realized a last minute ticket was about $1,598 dollars. Or else I totally would have. ;D
But that kind of killed the mood.
So back to the birthday girl - our Miss. Sadie Beth. Who lives in England. In case you didn't know, and have never read anything on my blog and have never heard that she hates bawled peanuts. Boiled, that is. For those of you people that sadly don't live down heah. You didn't know that? What? oh. Maybe I never blogged that. When she took a mincing bite of bawled peanut, she looked like me after I tried an oyster for the first time. EW. It was HILARIOUS.
So she hates bawled peanuts, but I still can't help loving her. :) The Irish Tory beauty. ;) The Irish Tory beauty that loves visiting her Scotch-German Southern Rebel family in FL.
*nods head* Ooh YES.
and yes. Every 4th of July IS celebrated by me sending Sadie Beth an e-mail or during a chat asking her what their plans for the UK's National Day of Shame is. And also singing loudly about the Land of the FREE, and DUMP THE TEA IN THE HARBOR BOYS. and all sorts of friendly loving enemy chatter like that. *snicker* It's hilarious how we "fight" over it every year.
This is pretty much what goes down:
Me: "SADIE BETH! Happy Independence Day from Tyranny of England!! oh. sorry."
Sadie Beth: -.-
Me: "MUWAHAHAHAhahahaaa...."
Sadie Beth: "you know, it was only ONE WAR. you lost the other one."
Me: -.- "new. subject." ;)
~~~~~~~~~~~~~~~~~~~~
So - Today is Sadie Beth's 23rd birthday! :D WOOT! HAPPY BIRTHDAY SADIE BETH!!!
The day she turns as old as Lauren and I. I'm sure Lauren and I are ecstatic to have someone else join our ranks of ..... gracious ... oldness. *rolls eyes* As if 23 is old anymore. ;) And guess what? I remembered, all by myself this year. None of that reminding the night before like last year. What a heart attack. hahaaha.
~~~~~~~~~~~~~~~~~~~~
So I want to give all the links AHEAD of the post this time. Ready? Strap in, here we go -
So there you have it! Some splendid reading ahead of time. :)
(Pictures below all taken in November 2010, on Sadie Beth's last visit over the Big Pond.)
~~~~~~~~~~~~~~~~~~~~
Hello Sadie Beth!
Look at me. I remembered your birthday. Even though you reminded me like 4 x's in the past 2 weeks, I had it all written out on my calendar. YAY ME. Ok. I might be slightly more excited because of the Worst Friend Ever thing from last year. *cough* So yes. :)
Happy 23rd birthday to you!!! I'm so happy you are my age again. I love that. :)
I struggled a bit with trying to figure out what to say, because, I mean, I've written two completely different posts for your birthdays, and I wanted to do something equally different and fun, and guess what. All my ideas were pummeled flat by the rain. and the mosquito population that look at me and say "Gardenia Soap and Key Limes! GET HER".
That wasn't funny. *stop laughing*
So this is your post, m'dear. Lovingly side-tracked. Like me. ;D
I love you so so much.
And that's pretty much all I want to say. :) But I'll say a little more anyways.
Five things I love about you:
1. One of the biggest things I am so blessed by you, is how you listen to me. I know that's a little easier to think how wonderful it is, when we are always on g-chat, or e-mailing, instead of face-to-face, but when our prayer e-mails go back and forth and back and forth, I am so blessed.
When I hear something I think: "I have to tell Sadie Beth. She can pray." :) And you do, and you remind me that God is good. All the time. Even as we only see a tiny patch of life here. You probably know way waaaaay more about me than you need to, or want to. ;) Hahaha. But you take it all in stride, and thank me for sharing. You send hugs, and love all the time.
Thank you so so much for being so faithful, loyal, prayerful and love in action. :)
By the way, I love looking at your joyful smile and face in all my 203938 pictures that I don't know how to send to you, but will try because you are so wonderful. *breathes deeply*
My beautiful joyous sister and friend.
2. You actually WERE freaked out on our Wildlife drive through the refuge, and I didn't know how much until we pulled onto the main sand drive, and you kinda looked like you had just landed a plane with no engines working and a live bomb on board. I thought "huh. she was REALLY worried." Sorry, love. ;) But I LOVE those memories. The driving 15 mph, and the lynx that we saw, the roseate spoonbills and blue herons and how that sunset made the whole wide world seem perfect as it reflected off the water in a shimmering mirror.
I love how every time I talked about it being fine because we could just call the wildlife rangers, you looked at me and in so many words said "let's just drive faster". As we sand-drifted around on a built up bank in the middle of vast wetlands. *snicker*
It would have been the perfect initiation thing for some sort of club. Only problem was, this was your 3rd visit. And we already knew each other really well. But maybe not friendly enough where you wanted to spend the night in the Bullet with me in the middle of nowhere with no direct road out.
I'm sorry I didn't know how worried you were. Truly. Or else I really WOULD have talked more about the wetlands wonderful qualities and less about the wildlife and getting stuck. Sorry, dearest. ;D
and lookit. You look perfectly happeh and unsuspecting that the next 2.5 hours of your life would be driving around with me in the deepening dusky evening in Florida wetlands with poor cell phone reception. *shakes head* Oh, the niceties of innocence!!
and you are completely darling. so so soooo darling. (psst. and you look smarter than me!)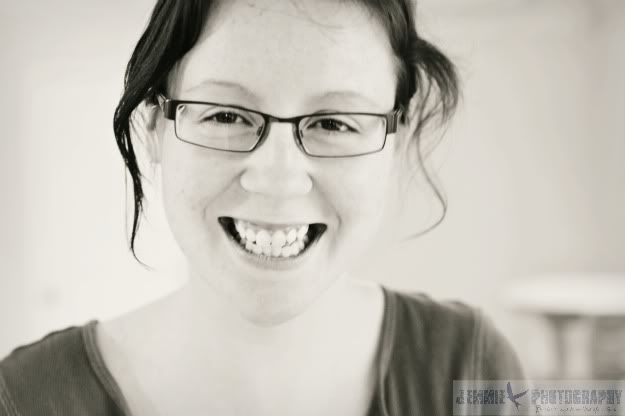 3. You call me "dahlin'" even though you can't pull off a Southern accent, and I talk in British, just to crack you up, because as you know - I can't pull that off either. ;)
You write me e-mails that crack me up so much, and think it is perfectly acceptable for us to whine to each other in e-mails as long as it doesn't get out to other people. Because if we are only complaining to the other person, it never really affects anyone else. Which is hilarious, and probably wrong, but we don't care - because we end up laughing at ourselves for being so "MEH".
And then the other person sends back an e-mail laughing at everything, and usually cheers the other person up that we don't know why were were whining in the first place. And that's how friends ought to be! And you are SO a best friend. Mmmhmm. You so are. :-)
I just love being with you.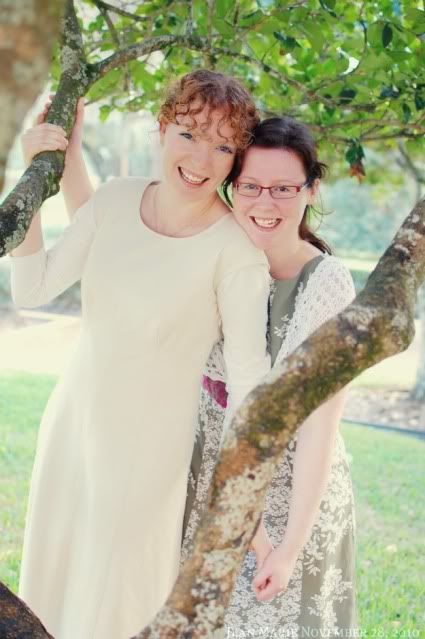 4. Your love for others. I do believe that this is one of the reasons our prayer e-mails fly back and forth so often. We both love deeply, and we desire to see God's mercies poured out in tangible ways upon our dear friends, and nations (Countries, whatever).
Your love for me has been, well - overwhelming at times. I simply don't know how to thank you for your friendship. I have written you long e-mails, and you can do nothing about it but write back and say you are praying, God knows and is Holy, and that you love me. You may not have known, but that's exactly what I needed to hear.
Your latest trip wasn't wonderful the whole time. It was too many reminders of loved ones I was missing crammed into a space that also held all the activities for your trip, and yeah. You saw me lose it more than once. I'm sorry I couldn't be as wonderful as you were to me. You were so patient and gracious with me, and you have been since I've known you. :)
There have been too many times that I've poured out my heart and you barely had a chance to say anything on chat about how you are. You are incredibly giving and sweet.
You leave comments on my blog, when I think no one else cares, and more than once, it has brought me to tears just knowing that someone understood and cared. Thank you. *hug*
5. I love that you are passionate, and share your dreams with me.I have exciting news for you! :) God's plans for us will be more and better than we could ever have dreamed!! Whether it is here and soon, or Soon with Him and ever and always at Home....He will provide and lead and His mercies will never run dry. His grace will never hit empty. Christ will always be enough!!
We are loved by God with an indescribable love. He will never stop loving us, and He is always here with us. We do not even know or cannot fathom the plans that He will lead us through, all the details He has planned out for us, perfectly, for our blessed good! He will always be faithful, He will always be Holy, He will always, always call us His own, and nothing can take us from Him.
One day we'll sit on the steps of the Home He's prepared for us, and whisper "Glory, glory." and think "We never knew JOY like this could exist!"! Let us grasp a little of that joy, and live, dance, and run with it!! Let us thrive on knowing that we are His.
We are loved, cherished, treasured, beloved daughters of the High King. :)
To God be the glory!
I love you so so much, my dearest friend, Sadie Beth.
Happy 23rd birthday. Many happy returns of the day to you!
You are a treasured sister to me. Big-long-Jean-Marie-hugs,
May the God of all comfort, mercy and grace bless you richly today and always,
filling you with His Spirit and filling your days with sweet communion with Him,
In the knowledge He loveth best,
~ Jean Marie ~


"So what kind of love could this be? That would trade Heaven's throne for a cross?
And to think that You still celebrate over finding just one who was lost!
And to know that You rejoice over us, the God of this whole universe!
It's a story that's too great for words!
And I am speechless, I'm astonished and amazed, I am silenced by Your wondrous grace!
You have saved me! You have raised me from the grave!
And I am speechless, in Your presence now, I'm astounded as I consider how
You have shown us, A love that leaves us speechless, we are speechless!
Oh, how great is the love the Father has lavished upon us!
That we should be called the sons and the daughters of God!"
P.S. Ya'll - Leave a Happy Birthday comment for her, if you'd like to! :)