"Smiles"-
One of my favorite girlies is the subject for my smile entry this week. :D I spent the afternoon today with her and her siblings, and in the middle of one of the most giggly and happily unruly soccer games in their backyard, she ran up to me and said "LOOK!"! The palms of her hands were covered in spare grass pieces and dirt, and she happily smeared them on my legs, as I pretended to shriek in horror. :D This only caused more laughter and giggling, and I was only happy to oblige as "Team A." lost yet another goal to "Team C." because I was hampered by an adorable child wrapped around my left leg.
It was such a wonderful afternoon with some of my favorite children ever. :) Little A. turns 4 years old this month, and seeing her run around in joy and laughter and craziness was so so sweet to see. I love little girlie A. and her whole precious family!! Thanks to A's Mama for letting me use this shot! :)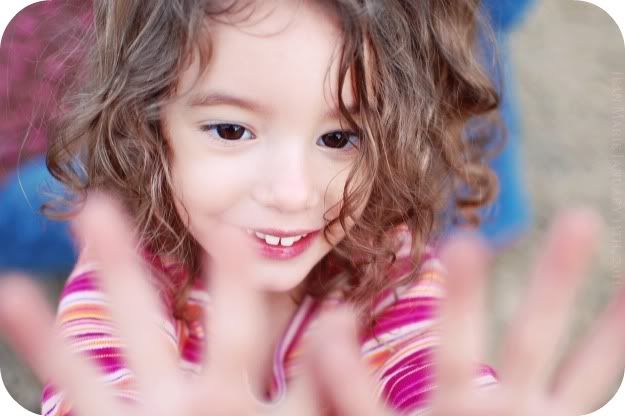 Hello to Jasmine Star, for being our guest judge! EEK! :D
Happy 2nd birthday to I:Heart:Faces!!
P.S. Oh, and yes. I did lose the soccer game. :) 25 goals to 17 goals. ;)