EmilyCase -
Yesterday was EmilyCase's 19th birthday. ;) But because it was Sunday, I had to wait until today. And because I was up late editing a few pictures and trying to figure out what to say, is why it's in the afternoon, and I'm just now getting around to blogging this. :)
Oh
EmilyCase
. Where do I start? I start by smiling so hard until I start laughing. And I don't even have to have a memory in mind. :) She's seriously one of the sweetest, nicest, most adorable friends I have. and
I have
sweet, nice and adorable friends. In short, I don't know a person who does not like EmilyCase, and that's the truth. :D
I have toooo many memories to write down. hahaha! But one of my favorite ones comes with a picture. It's from my 22nd birthday afternoon out with Gabe and EmilyCase. Just the 3 of us. Having an awesome time go-karting (my first!) and dinner (where EmilyC. flat out refused to eat squid to Gabe and I's sadness) and then ice cream and walking on Daytona Beach on one of the prettiest evenings of that month.
So there we were, walking the beach in the dark, eating the best ice cream ever. The moon reflecting off the water, and the boardwalk on our left with all its lights and music, and we keep finding things on the beach. You know, cups and broken sunglasses and bags. And then we are like "is that a jellyfish?", because there was something white billowing in a puffy way on the sand, and I walk over, and it turns out to be a shirt. A SHIRT.
We kind of stared at it and then looked at all the um ... tourists walking by, and looked back at the shirt, and Gabe says something about "SOME where. OUT THERE. is a GUY with NO SHIRT!", and we all broke up into hysterical laughter. It was hilarious. We laughed about if for at least 10 minutes, and people probably thought we were insane.
So we took a picture when we got back to the parking garage, and I wrote on it later, and we all got a kick out of it again ... it continues to be one of those awesome memories for us. :D
Gabe & EmilyCase, that night was SERIOUSLY one of the best nights of my life.
Thank you so much for it!!! :D
Hahhaahhahaha! I love my Train Mouse. It takes very little to cheer me up when I see that face. In fact, I will laugh so hard that it's impossible to keep a straight face for 5 minutes. :D
She can hold her patience when people are complaining about little things, and she really enjoys running a cash register and driving the golf cart for Barberville. ;) She's also gorgeous. Did I mention that?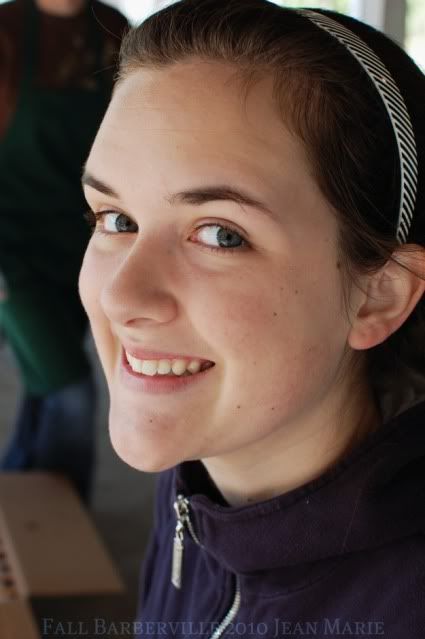 Tricia and EmilyCase. She's over the moon excited for Tricia and Cody getting married this year. And from what I know, she pretty much adores Tricia, they are like 2 peas in a pod. :)
She takes these AMAZING
amazing pictures
, and I just toddle along behind, trying my best to keep up with her and
Lauren
and all their shutter speeds and blingy cameras. ;) *giggles*
She looks like the most adorable thing ever in her winter cap and smiles for as many pics as I want to take. She tells me how to fix my manual outlook and tells me over and over how to fix my HTML for this blog. hahah. ;)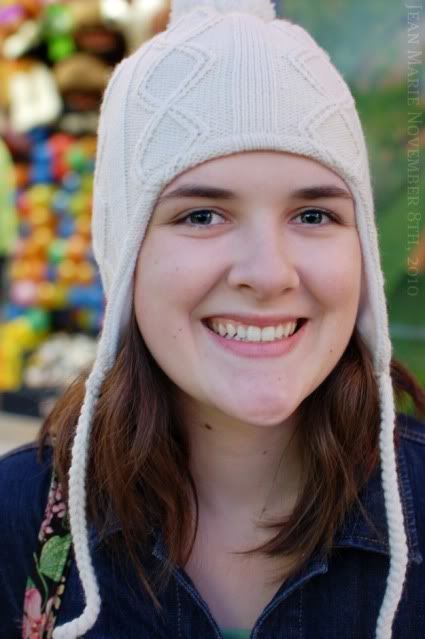 ... and she lets me tag along with her family to the fair and goes on the CATERPILLAR RIDE just because she loves me. And if she goes, then Tricia goes and then Cody goes. So there we were, standing in line. Cody: "man, this ride is gonna be awesome." (hear the sarcasm). Me: "YES! it IS! Muwaahahaha!" Cody: *silence*. Tricia: *punches Cody lightly in the side*. Cody: "Jean. Your ride is AWESOME." (totally sincere face) Me: "Thank you!!!" ;) hahhahhaha. And then I handed my camera to a FAIR WORKER and we all about died in shock. yeah. it was the adrenaline surges of stupidity or something. but look at that awesome picture. :)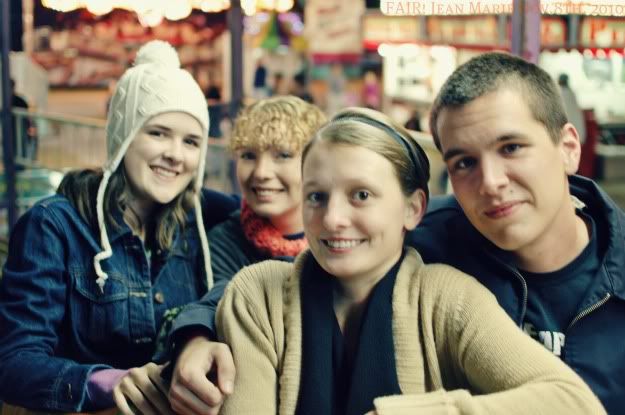 In short
... I really
really
really love this girl. She is one of my bestest friends. We've only fought once. and it was over a map. and she forgave me. I continually forget that she is 3 years younger than I, because she is so amazing at waaay too many things. She runs an
Etsy store
, crochets and takes pictures and blogs, and is a daughter and asister and loves her two kitties ....
She loves the Lord and goes to conferences and makes dresses, and watches movies that make us laugh hysterically and then quote them for months afterwards all over FB. ;)
She drives the double go-kart at the speed track and we sing "Danny Boy" at the top of our lungs until we can't breathe from yelling about where Gabe is trying to pass us....
.... and she's stubborn about eating things she doesn't want to eat.
~
Dearest EmilyCase -
Thank you so much for being the special friend you are to me. :) I tried all day to get this blogpost up, but kept getting frustrated because it all sounded so redundant. I mean, of course, you are sweet and stubborn about squid and adorable. We all know this. I guess I just wanted to remind you of it. I love you so so much, my dear friend. You have blessed me countless times over, through e-mails and phone calls and blogging, through FB messages and pictures, and just wanting to be with me. You made my 22nd birthday one of the best, simply because I was the happiest little 22nd year old redhead being with 2 of my favorite people for a night. It meant the world to me to not worry about anything or anyone, and just have fun. :)
You let me call you and talk and talk and cry over the phone after Mopsie died and I didn't even realize until later that you weren't feeling well. You stood up for me when something didn't go right. You pray for me when I really desperately need it, and you held me at Barberville when I was so sick of goodbyes to my favorite people that all I could do was sob into your shoulder.
You greet me with a huge hug and squeal about the things that you know matter to me. I love being with you and around you, and I love your family. So happy 19th year, T. Sweets!
I pray God's most abundant and merciful blessings upon you and those you love, for your Prince someday, if God so wills, for your family, for your joy in Him to only increase ....
for the glories of Christ to be revealed in your life, and for His hand to uphold you always!
You mean so so much to me, my sweet sweet Train Mouse.
I love you!!!! hugs and kisses,
~ Jean Marie ~
P.S. Lucy Mae can't WAIT to meet you sometime!
Photo credits: Lauren! with my camera. ;) of Emily and her brand new Canon 7D!