Black Bean Soup -
Hey, y'all ....
If I somehow had a Southern accent, like I've always dreamed I would have, then you could just imagine how that would sound "heyyy yaaaa'll" with all the drawn out sweetness that brings literal tears to my eyes. *sniff* ok. So I might be a little emotional tonight.
... but never underestimate my love for the South!!! (as you saw 2 posts ago)
So this is a recipe post with probably the least inventive title EVER, except I couldn't come up with a title that would sound better than calling it the recipe name. and now! on to the next topic in order! Aren't you positively on the edge of your seats!? You should be.
There is this newfound thing that I love cooking with. To say I love cooking with it is a vast understatement. Kind of like saying Lucy Mae might like to lick people's faces. I put this in anything and everything unless it is supposed to be sweet. Soup? put 'er in. Stew? dash-dash-dash. Mashed potatoes? shake-shaaaake!! Other things I can't think of? chock it in!!
It is positively WONDERFUL! and it is ... White Pepper. This stuff is the best ever...because I don't LIKE seeing black flecks in my eggs and what-all-else. I like seeing nothing. (you know what I mean) White pepper isn't spicy right off the bat in the way that I usually am like "too much black pepper! ACK!". No. Oh no. White pepper is like "I'm mild. Your sinuses tell me that I am here. Yes. I am. In a mild hot way." and then it heats up your throat all the way down like a Florida sun in July. And mild little un-Mexican paleface me ADORES IT.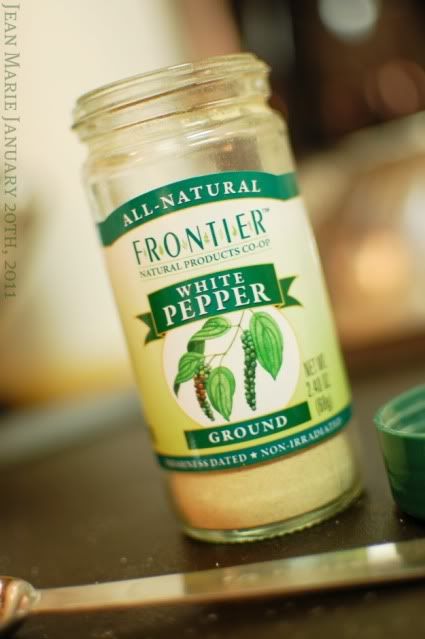 If you don't like Black Pepper, Red Pepper or anything that scares you about pepper, try White Pepper. It will rock your boots, socks and clothespin-on-your-nose OFF. I remember the first time I used it and I put like half of a teaspoon in this pot of soup, and when I told my mom, she about choked. Because it was a lot. But I could handle it, and my dad was happy, and the soup was good. :) But you might want to start out small, and build up. It IS pepper, after all. haha.
Now with a review like that, GO OUT AND BUY IT. I dare you. In a total ladylike, one cook to another sort of way, and in a completely gracious Southern manner. Buy some White pepper.
So tonight we needed a vegetable side, and I thought, hey. Why not have some soup as a side? So I made up this recipe for Black Bean Soup, and it had White Pepper in it, and I ADORED IT. The soup, I mean. It was SOOO GOOOD. Now I have people from Cali and friends who already have probably the best ever recipe for this, but ... BUT. It was so good I thought I'd share it anyways. Because it was 5 stars from my family. And because it's my recipe. ;)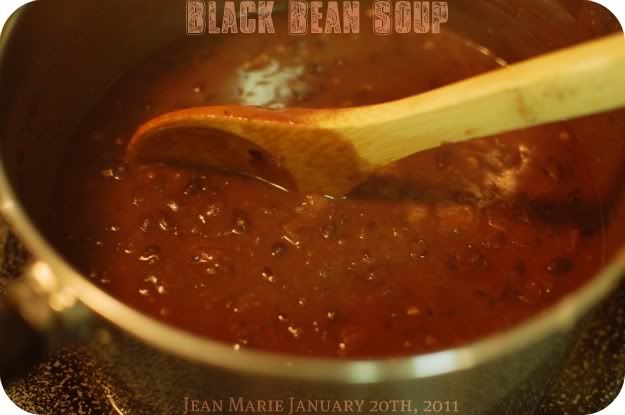 Black Bean Soup Recipe from the kitchen of Jean Marie.
Ingredients:
2 cans black beans (undrained)
1 cup mild salsa (unless you want medium or hot or kill-me-now)
*Disclaimer: Mild was all we had. which is why I used a cup of it. the wimpy stuff.*
1/8 tsp. salt, 1/2 tsp. Italian seasoning, 1/4 tsp. white pepper (the powder of champions)
1/2 cup whole milk
Directions:
1. Dump beans into saucepan and heat, smash beans up the sides of the pot with a wooden spoon while you wait for the beans to heat up. (aren't you impressed with my total backwoods cookin'?)
2. Stir in salsa. (shortest directions ever)
3. Add in seasonings and bring to a soft boil, stirring and continuing to crush the beans to make the liquid a thickness more like sauce than soup. (yes, I literally wrote that on a recipe card)
4. After it comes to a bubbling boil (I love wrecking cooking lingo), turn the heat down to low, and slowly add in the whole milk. Taste, test, and add more salsa, white pepper or milk, depending on your opinion of your day and the world in general.
5. Serve in bowls with a dollop of rich sour cream on top and Enjoy it!!!
... and no blogpost on Home and Happiness is complete without one of my faithful companion, Lucy Mae.
Our sweet little mischievous darling.
With love from my home to yours ...
All our hope in Thee, O Christ, is stayed ...
~ Jean Marie ~