CAMOO Commander -
Heeyyyyy, ya'll!! Long time, no see! For most of you, I'll see you this weekend! Whoop! :D
So this post is about Jeff G. Everyone say hi. "Hiii Jefff!!!" *waves*
Ok. now that we have
that
over with ... you already know Jeff ... well, at least most of you do, and the rest of you saw his Mafia face (his losing Mafia card game face)
here
.
Ahem.
So Jeff and I are buddies. Chums. Friends. and we have friends that are friends and friends that are friends that are friends with the friends, and we are all friends, and it's SOOO GREAT because we have this "gang", and we just all get along famously. *I feel dizzy from all the friends* I just love love love hanging out with any and all of our gang. :) We. are. epicness.
So ... Jeff. He is rarely serious whenever I have the camera pointed in his direction. Ok. Rarely as in NEVAAAH', and I wanted a serious one for today's post. So it took me about 20 minutes to find this picture, and I'm pretty sure the only reason he is serious is because he had no idea I was taking a picture AND because we were listening intently to the Stone Family Band.
Ta daaaa! This is Jeff ... and today is his birthday! Happy Birthday, Jeff!!! :D
Thus, the reason for this post .... Jeff and I share some pretty good similarities that make us pretty good chums. I shall share this long list to rattle your brains to the amazingness of what we love to do and talk about every single week.
We both LOVE:
A. God
B. 40's, 50's, 60's music
C. Brian Regan
The end.
HAHAHAa HAHAHHAAhaahAHa .... no really. For reals, friends. I mean, we enjoy talking and teasing back and forth like all good chums do. We send each other the same music over and over and over and it never gets old, because we love that music (or soundclip) so much. This results in memorization, which results in a huge amount of quoting and joking, which is why when we all get together it's like one huge - laughing hysterically - teasing endlessly - talking on and on - party!! WOOT.
So this past Saturday, a bunch of us epic friends got together and went canoeing on the Tomoka River. We had a grand, lovely, wet, sunny, beautiful time together. :D
And then everyone played and jammed and sang together, and we had a beautiful time of worship singing hymns and old songs until Jeff and I broke out into one of our favorite songs - "
Little Darlin'
" by the Diamonds at the top of our lungs. My sister and the dear Sparling girls just sat on a picnic table looking on in amusement. They didn't look surprised.
Ohh, how well they know us.
This is a new epic moment on my blog, where I quote Mr. Darling off of Andy Griffith:
"Whoooooweeeee!!! You sure KIN' RENDER!"
Jeff kin' render the gee-tar. It's fun to watch.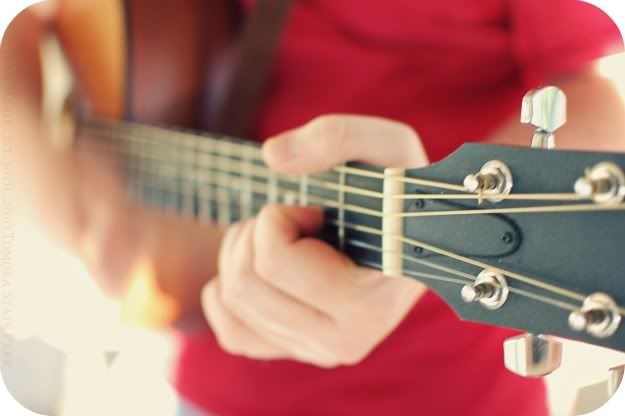 And HERE is picture proof, by the Sparling Family's consent to use their pictures ....
of how much FUN and hysterical moments happen when we get together. In case you need an explanation, on the Left with the bucket on his head is Jeff, who is the commander of our fair vessel, then me in the middle (not working, also with a bucket) and Becky in the front, paddling.
Jeff had just HUGELY soaked me, with a bucketfull of water over the head, I was gasping with laughter and glee, and Jeff has the bucket over his head to shield himself from the coming retaliation, no doubt, and was not reaaaally working on steering the canoe, which is why Becky is the only one really working on .... "WATCH out for the PALM!", Mr. Sparling yelled. Hahhahaa!!! We went right through the palm fronds. I could not breathe I was laughing so hard!! Ahh, the amusement we gave all the other canoe-rs. :D hahahaa!!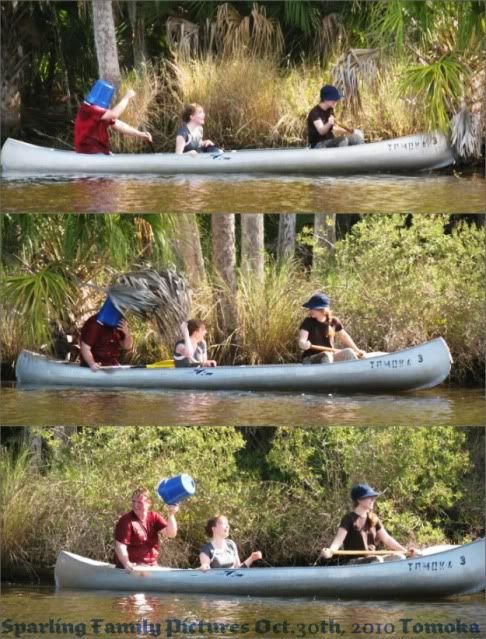 There is this ... event ... that happens when we have a Camoo (canoe) trip. It is Water Wars. For instance: We started canoeing at about 9:30am or so. From 10am on until about 8pm that night, my capri pants never dried out. Mmhmm. I was soaked. Each canoe has a bucket and that bucket is a very good war weapon if you happen to be sitting in the middle without a paddle. :)
Anyways, much MUCH fun was had by all ... the food, teasing, laughing, praying, singing, sharing, exploring, talking, quoting, splashing, fighting, attacking, ramming, shrieking .... it was a great day with lots of people I love. :)
"AAATTTTTAAAAAACCCKK!!!!!!" (notice how hard I am working)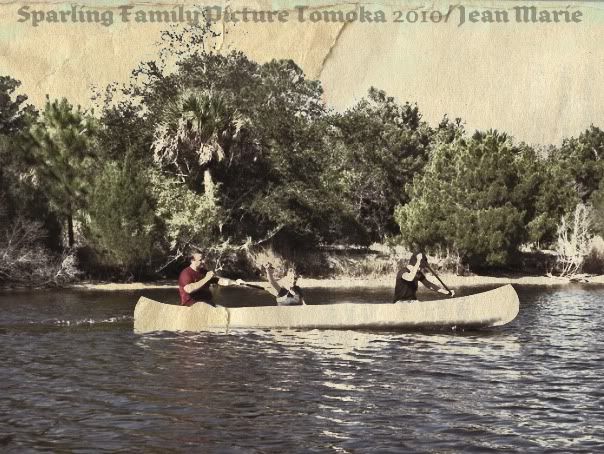 Yes, I did paddle quite a bit that day as well. :D
Happy Birthday to Jeff! Happy Birthday to JEFF, HAPPY BIRTHDAY TO JEEEFFFF! Happy Birthday to Jeff! :D Hope you have a great year, full of God's blessings, Camoo Commander!!! Mwauhahahaha ... and many more. ;)
Ohmygoodness, and I need to include this quote from a mutual friend, John Sparling .... he said to my sister about online g-mail group chatting with he, myself and Jeff: "Trying to have a serious conversation with Jeff and Jean in the same chat box is like trying to tackle a hippopotamus. You will get run over every time!" HAAHAHAHAHA! That about sums it up. Thanks, John! ;) We love you too, brother. Haaahahahahaa!!!
So there's a conglomeration post!
With love to all you readers .... many hugs and a big smile,
our Father in Heaven is so gracious to us, each and every day, let us be thankful!
~ Jean Marie ~