An Afternoon Tea -
A few weeks ago, our sweet friends the Hopes, hosted an afternoon tea and fellowship time, for the purpose of just enjoying slightly older girls (our Mama's), older girls (about my age), and two sweet "young" girls (young teens) spending time together and also for the purpose of celebrating
Lauren's
22nd birthday!! Yes. She is 22 now. Same age as I .... with a late birthday post due. :D Sorry, dear. Happy Birthday, Lauren!!
We had a wonderful lunch/tea, then took waaaaaay too many pictures, and then spent some time knitting and crocheting, with Mrs. Hope, Lauren, and EmilyCase teaching. 'Twas such a wonderful-sweet time, and I have the pictures to prove it!! :) Hope ya'll enjoy this little look:
Psssst!! This is whose jar of Lemon Curd it was!! :)
Ahhhh, beautiful Lauren. She made these name cards! It was soo pretty, because she somehow glued the flowers only a little, so it was like 3-D. We ooh'ed and ahh'ed. :)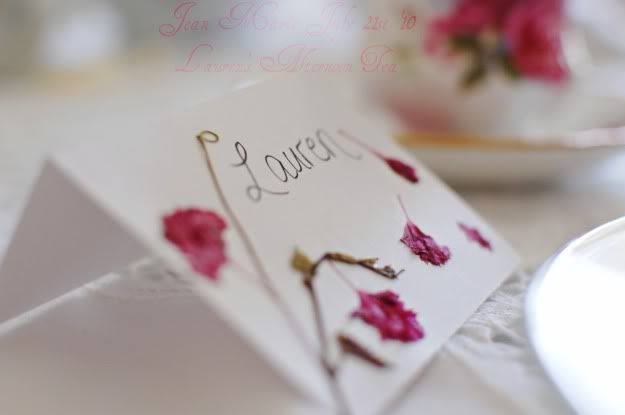 Emily's loverly card.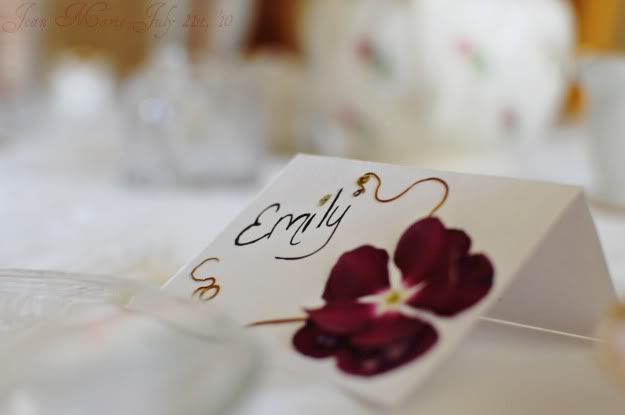 My sweet older sister allowed me to wear one of my very favorite dresses of hers. She looks like some sort of ethereal Scottish lady in it ... while I look like a tall blue drink of water. Which may not be bad .... all I know is that I love it ... so who cares? hahaha. Thanks, dolly.
Mmmm, Shannon's Ruby Tea Scones, the Menu, the fruit salad and my birthday card for Lauren ... and Lauren's lens cap in the corner. :D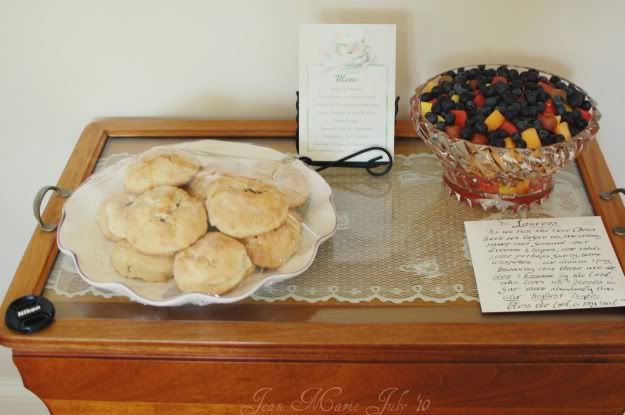 Putting my calligraphy skills to the test ... I was a bit hurried when I wrote it, and when I realized what I had written, I rushed into the next room and copied it on our home printer so I could remember what I wrote .... haha, Lauren understood. I just needed to remember. :)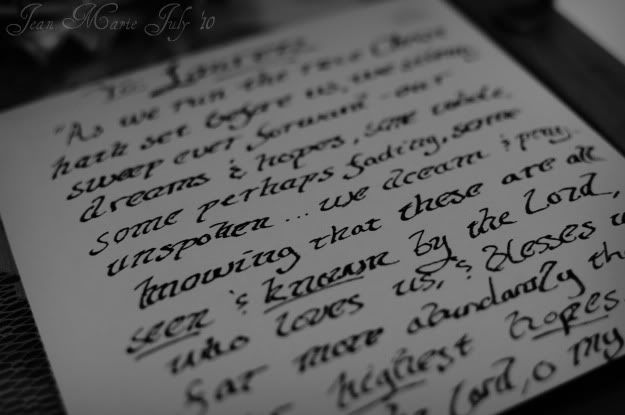 Adorable EmilyCase. She wore a straw hat during the whole day, and the rest of us were gloveless and hatless. *gasp* The indecency of it all!! hahaha. Just kidding.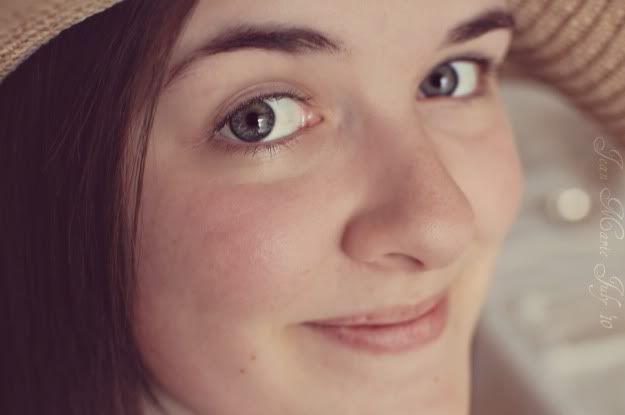 Mmmmmm ... everything was so ladylike, soft, creamy, feminine, perfect! Due to MUCH hard work on Lauren and Mrs. Hope's part ... thank you both SO MUCH, 'twas worth it for all the joy it brought to all of us, methinks. :)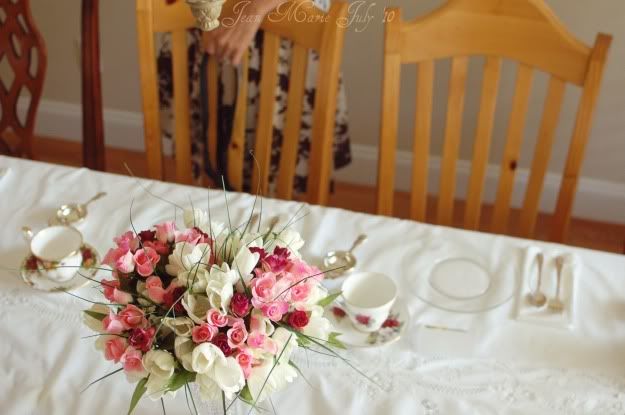 What was really brought to my mind throughout the whole sweet day, from many of our conversations upon Godliness and Biblical Femininity and Christ-centered life:
"Girls, as we follow our Proverbs 31 mothers, let us not strive for perfection,
nor for unique-less molds, but each of us a sweetened and Christ-centered woman
that listens to the call of Christ in her heart ....
if He so blesses and leads, the call of "Wife" and "Mother"."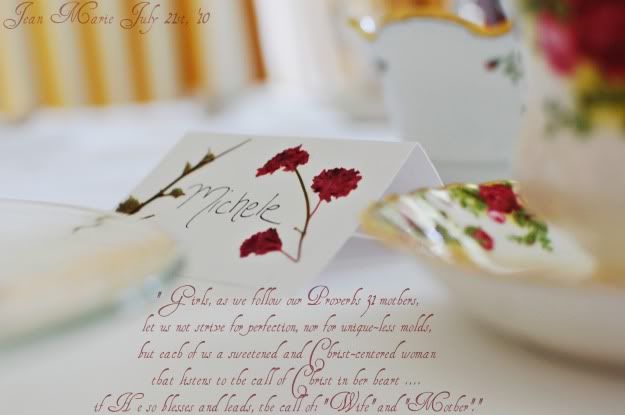 The very very delicious array of food -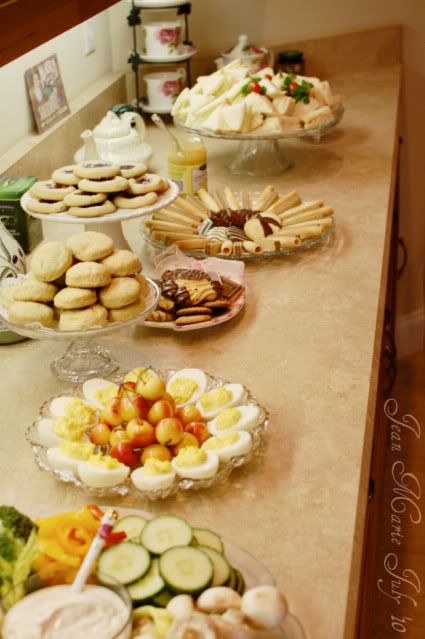 Saving some space with all the food shots by making collages - SO fun! :)
Everything was so beautifully arranged ... and yes, it tasted amazing. :)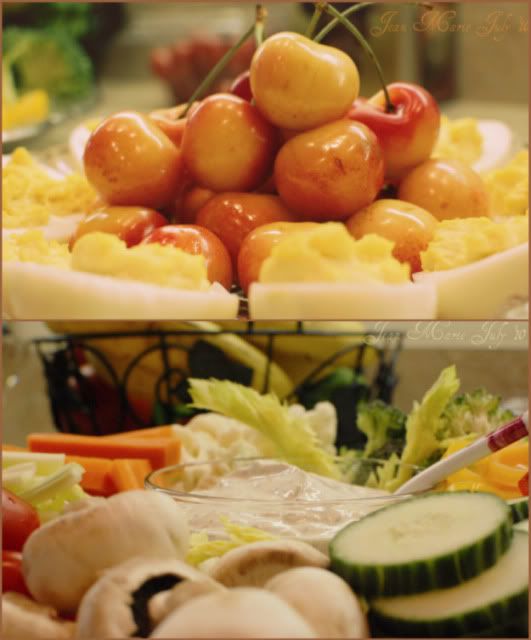 I tried talking in a British accent whilst eating a Cucumber Sandwich, but then I thought of Sadie Beth laughing incorrigibly at said accent, and decided to just eat instead.
Hot chicken salad in crispy crust .... bowls. Nevermind. I can't tell you. haha
So pretty .... and the hysterical thing is, is that all 5 of us girls were lined up with our cameras, taking pictures! :) And we outnumbered EmilyC. with her Canon!! YAY NIKON! :)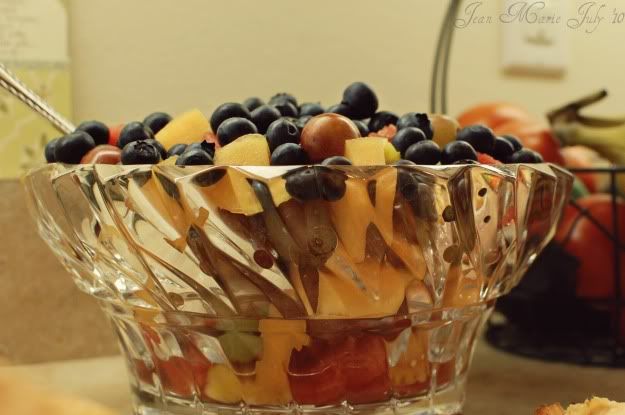 The table ... all prepared and set. In waiting.
I might be biased, but I think she's pretty adorable. I:heart:you, EmilyC.
... and yes, Molly, you are adorable too. SMILE!! :)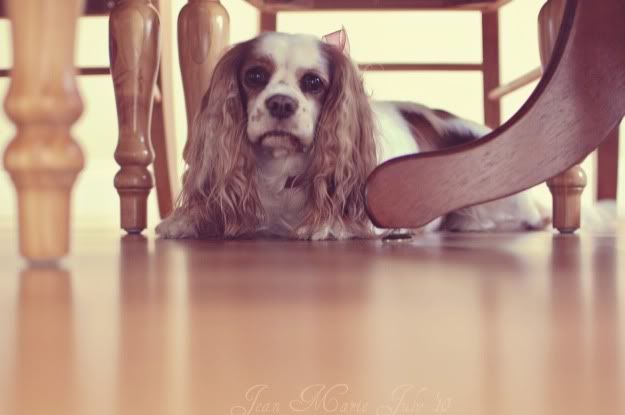 Mmmmm, this is making me hungry. :) See how yummy it all was?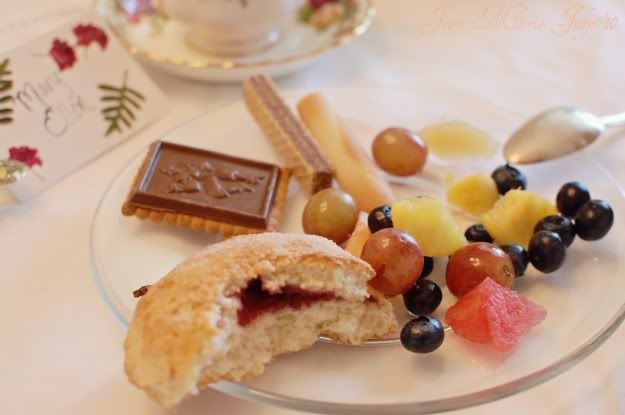 Stunning Lauren. Yeah. I might "HEART" you too. You might already know that. *smile*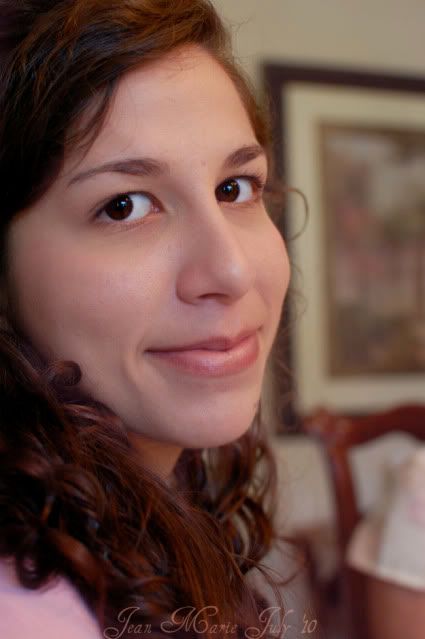 The very special china - her great-great-grandmother's!
Old Grace .... how much we need you in our busy lives today.
Lauren with her great-great-grandmother's teacup. I would like to compare pictures and see how closely Lauren might look like her ... all those years back. :) I just love it.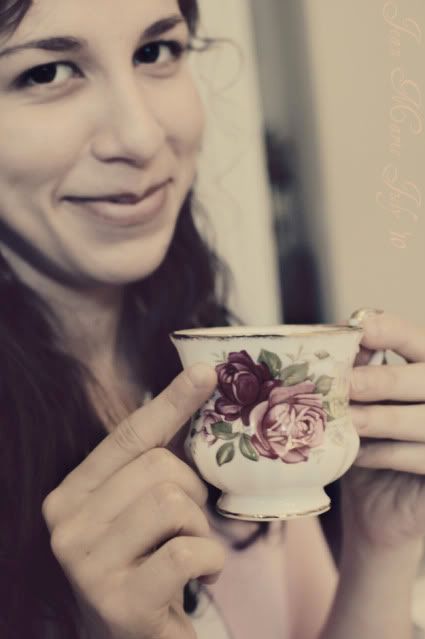 Daughter and Mother. Beautiful, gracious ladies in Jesus' name. Lauren, Mrs. Hope.
*giggle* My favorite ... ok. ONE of my favorites. How I love her laugh. :)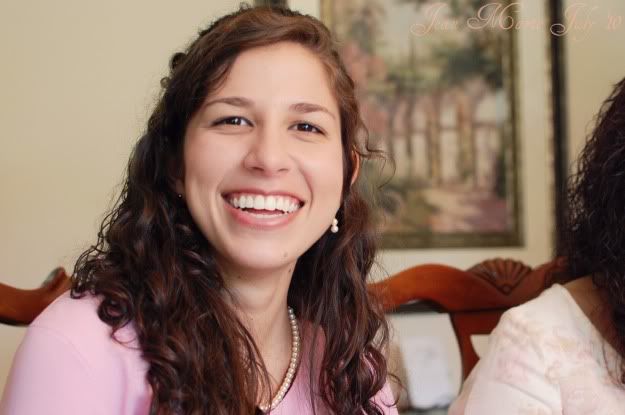 Then I had the great idea of saying about 15 times, "Hey, could we step outside to use the light for a few group pictures? Please? What do ya'll think?". Mmmhmm. And it was July. It was hot sticky July afternoon. Brilliant Jean, just brilliant. We seriously were out there 15 minutes and came inside dripping sweat. Or at least I did, and I even had my hair up! Brilliant.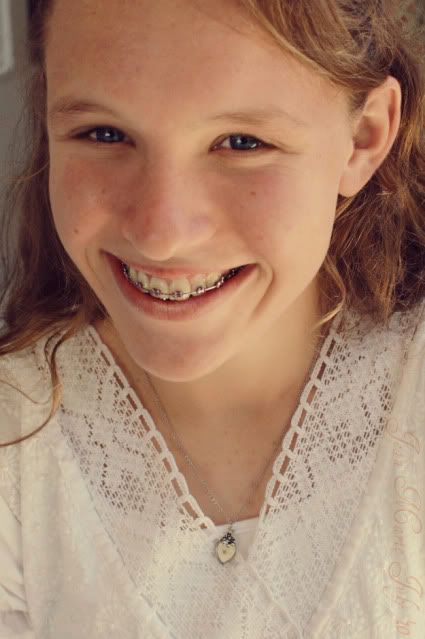 Molly: "ME TOO? OUTSIDE? ME TOO?!! OUT!!!" *I shall stare at you, with my sad and pitiful eyes and give a hopeful perk up of my ears every time you look in the window, until you let me out*
WELL. It was worth all the heat and bad shots just to get THIS ONE. I had this as my screensaver for weeks and it made me smile soooo much, and I sent it to both girls, and they had it each as their profile pictures. Wow, it was confusing! hahaha. But really. I:heart:.
*whispers* (and yes, that IS Lauren's Nikon d90) Oh! and this was totally not posed.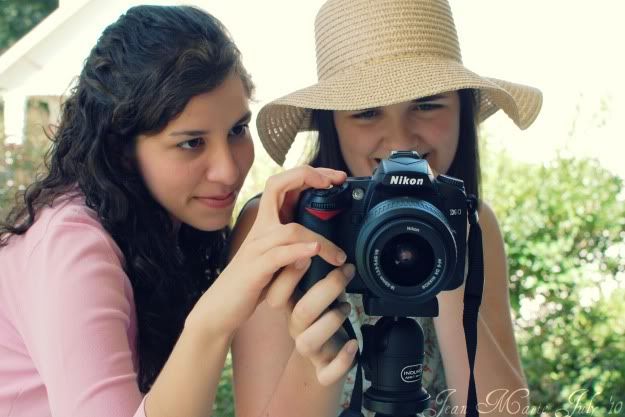 "Hey Girls!! Smiiiiiiiiiiiiiiile at .... ok. nevermind. wow. ya'll are really pretty."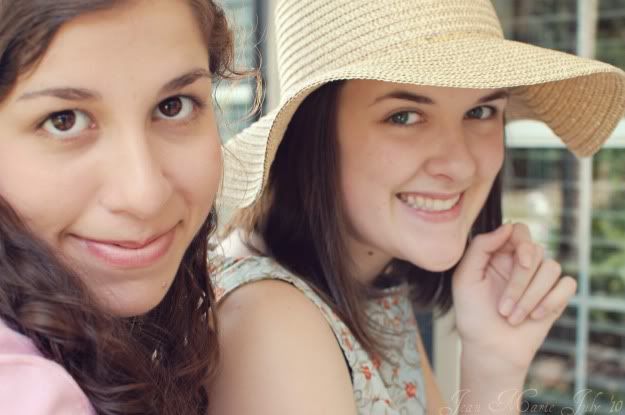 So it was the 5 of us girls, with our Mama's. Us girls: EmilyC., Lauren, Shannon, Jenna, and myself. We all have cameras. We all have blogs. Our Mama's were all re-thinking those two particular joys once they were on the receiving end of 30 minutes of pictures. hahah!
And Jenna, sweet girl....I really have NO idea how I got home without one picture of your beautiful self. I got home and I was like "What happened? Were you blinded by the sun, self? WHERE IS JENNA!!?". True story. We'll just have to get together ... AGAIN! :D
Pretty Shannon again. :)
My old-fashioned-romantic hairstyle that I have no idea how it turned out, since I can't do hair. It only took me 15 minutes and 35 bobby pins. :) EmilyCase took a swift shot for me.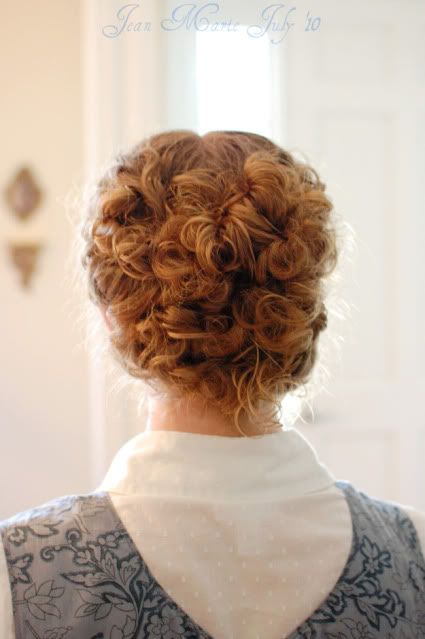 So I am sitting in a chair knitting. Lauren walks up, she's in the middle of a break from teaching whomever, and she says "Where's your camera?", and I just smile and keep knitting and say "In my purse, that's fine, go ahead." (or something to that effect), she was going into Nikon D40 withdrawls, and wanted to use mine, she was like "it's so LIGHT!" Hahahaha ... the D90 is heavy. So these next shots are Lauren's. :)
EmilyC. teaching ... "hey look! JENNA!!" hahaha.....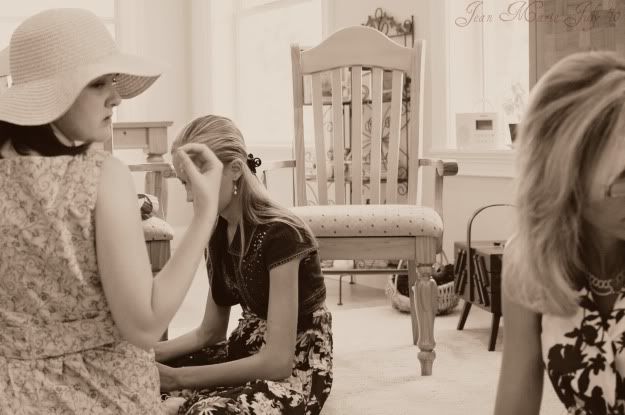 In which case Lowie makes me hold the needles precariously close to my face, so that she can focus both in, AND get my face in ... 15 shots later, we have a winner. :) I like it.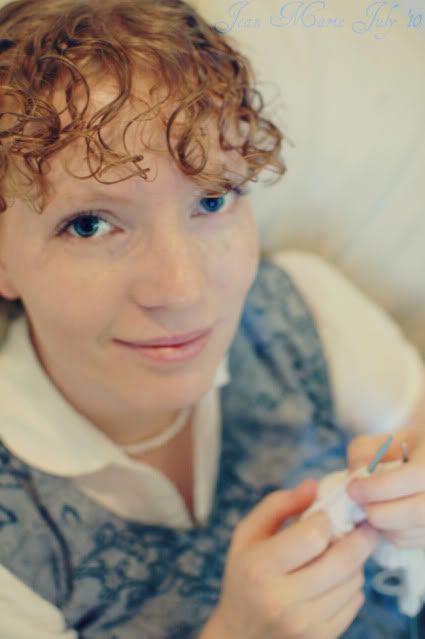 EmilyC. = busy little bee in her straw hat and Tea dress that she made for the VF Father/Daughter Retreat at Callaway Gardens, GA.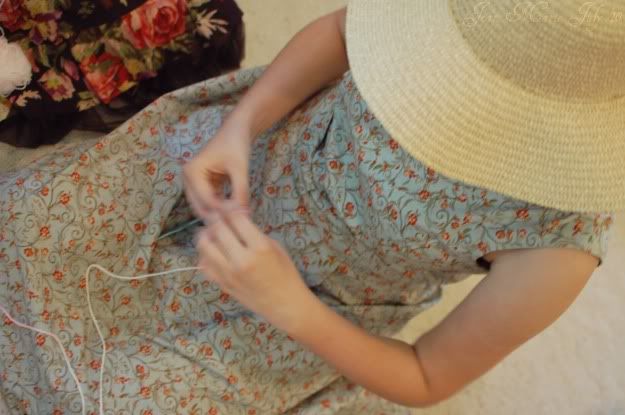 HAhahahaa!! :) So cute.
MOOOOOLLLLLLLLLYYY!!!!!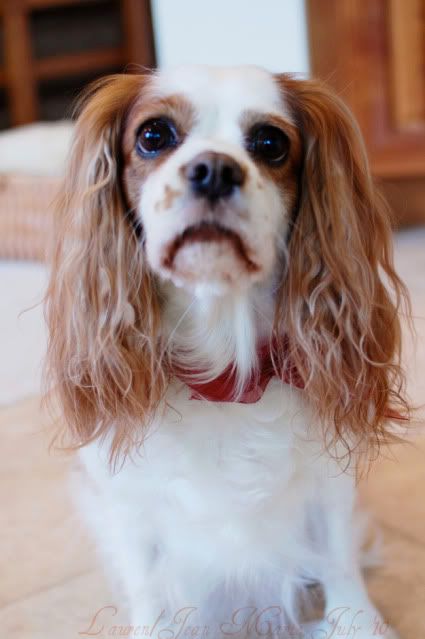 "TREAT!!" hahahaha ....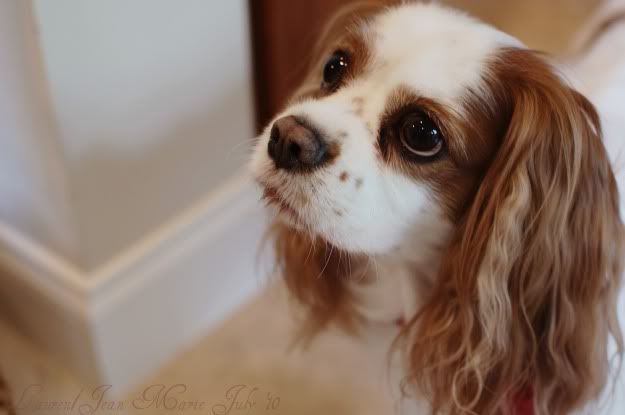 Ok. Camera's back in my hands.
Munching on some treats after we poked ourselves and knitted and crocheted and talked and laughed and pretended like we were old pro's (a few were, just not me), and poor Joseph came in from the garage. He deserved a cookie. hahaha. No really. He does. Trust me.
I just love how Lauren's eyes are brimming with laughter in mid-bite.
You are so precious to me, Lowie.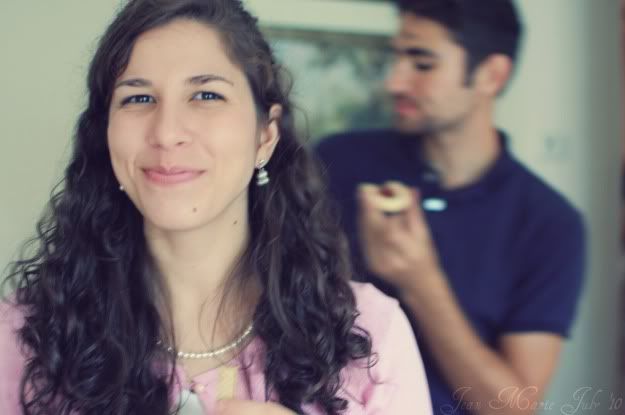 Happy 22nd birthday, dearest sweet Lauren. You've blessed me time and time again, you encourage and build me up, you remind me of the sweetness of sisterhood in Christ, and you joyfully tread the path to womanhood with grace and patience. :) It's an honor to be your good friend. I love you Lauren!!! May our 22nd years be all for His glory.
Thank you, dear Mrs. Hope and Lauren ... for the scrumptious tea, fellowship, handiwork lessons, patience while we took pictures and more pictures, for the devotional, but mostly -
for your friendships. We treasure them.
With so much love to you all, my friends and unknown readers, :)
"Bless the Lord o my soul, and all that is within me, bless His holy name"
~ Jean Marie ~
I am headed to TN next week to visit some dear dear friends,
the bride and groom in THIS post
, I've been wanting to visit since last year, and it's become a reality. :) I'm sooo excited to see them, and to spend some 1 on 1 time with a best friend for a while! See ya'll later!
Oh! Almost forgot. Are you ready for this? Because once I edited it a bit, I about swooned. If I could swoon, perhaps I would, just to feel a bit more like Anne or something. Instead I sat in front of the computer in a giggly, giddy mood. And I didn't let anyone see the picture. Until now. Because clearly ... you HAVE to see it. It might be wrong to have such pretty friends.
Ohhhh. LOVE.
Can't you see it, a cover catalog for some old "Southern Living" or Ladies Dress Pattern book? There's just so much I love about it. :) EmilyC. included. :) It makes me sigh in that sort of "mmmmm" romantic way when I dream about being an old-fashioned Southern girl. :)
Blog list of Girls, and Tea Party pictures:
Scroll around and you'll see that Jenna and Shannon posted quickly, and I'm late. :) Lauren's been super busy, so we've posted for her, and EmilyC's pics are on FB. Read up on the blogs though, ya'll. :)
If you are in your young teens, I especially encourage you to visit Jenna and Shannon's blogs, as they are writing from a younger perspective. Leave a comment, and say "Hi!". You'll be glad you did. They are sweet girls. :)