Photojournalism -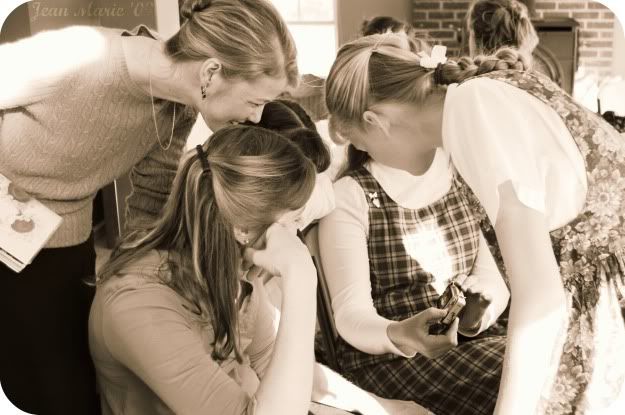 Photojournalism. The stories. The reason I love photography. Memories. Emotion. Time stopped for 1 second, filed away forever in my heart. Quiet or loud, precious or hard, sad or sweet TIME.
I love this picture. I just do. I dearly love the people in it. I love the sunbeams that made bright blazes appear upon dresses and sweaters and arms, warm on that November Missouri afternoon. I love the laughter and the gazes captivated by the camera slideshow that was going on. I love the sisters. The Bride (far left), her sister (married earlier that year), and a younger sister (far right), with a cousin in the middle, and a dear friend with the camera. The closeness is almost tangible, all squished together in sweet comfort. :)
I love that all the focus is on the camera, and the challenge is on photojournalism. ;) haha!
A beautiful and sweet moment. :) And that's why I love photojournalism. Because I can step back into that moment after months ... and see the smiles and the joy. It's held there for me.
Thank you, R.L. for allowing me to use the photo for a challenge.
I love you, sweet friend.
~ Jean Marie ~
Want to enter a photo? Or just look at photos? :D Click on the button! :)