True Blue Daddy -
Okay, so I don't really call him that. But I could. It would be cute. :D What's really called "true blue" is the blueberry pie that I made for Daddy for Father's Day ... we didn't celebrate on Sunday, so on Tuesday night, I made a blueberry pie, and some cards, and Mom and I surprised him. :D It was SO fun, mostly because I love secrets and conspiracies and pie.
This is not an endorsement for "True Blue Custard Crunch Pie" .... wait. It SO should be. Someone? Please ... endorse me. For giving you this amazing recipe. HAha. Ok, back to reality.
Because THIS ... my friends is what it looks like. *Jean laughs in glee*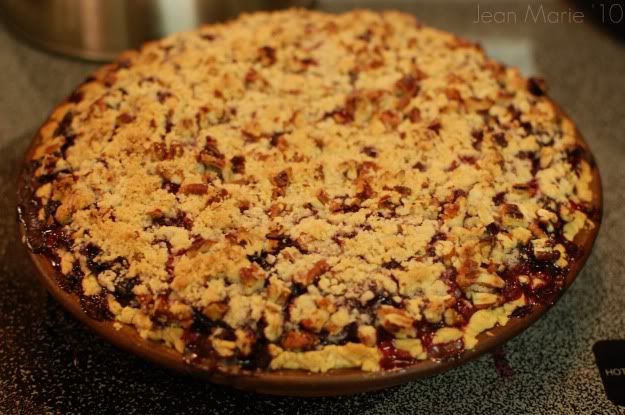 Do I even NEED to show you another picture? Were you not craving it just by seeing that picture above? Are you fidgeting in your seats because you just WANT some? Here. 2nd picture for you. Because I love you. YES, you ... and look at that blueberry juice that drizzled over the side, and down the pan and into the oven ... do you see it bubbling out? NOM.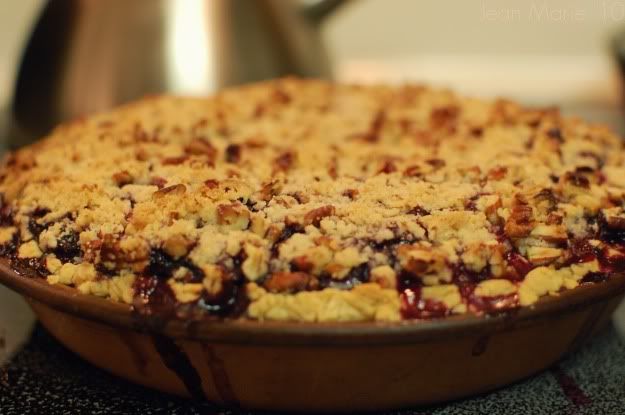 Now that I have sufficiently made you all crave this wonderful pie ... I am going to be so so so sweet and give you ... the recipe. :D It already has 2: 5 star raving reviews. One by me, and one by Paulina, because she was the one that tipped me off to the pure goodness that this pie is. It doesn't use another pie crust on top, it is streusel with pecans. Heh heh hehh...
You can chase her down and hug her later ... for now ... on to the recipe. If you want more specific instructions that are .... *better/cough* but not nearly as Jean-ish,
then click HERE
. The Jean-ish instructions are SO much more fun, at least for me, Mom is going to think I lost my marbles ...
finally
... oh well, and I
did
give you the option of ...
not
having them. HAHA.
Don't look at ME in that tone

of voice!!! *laughs at self*
*SWOON*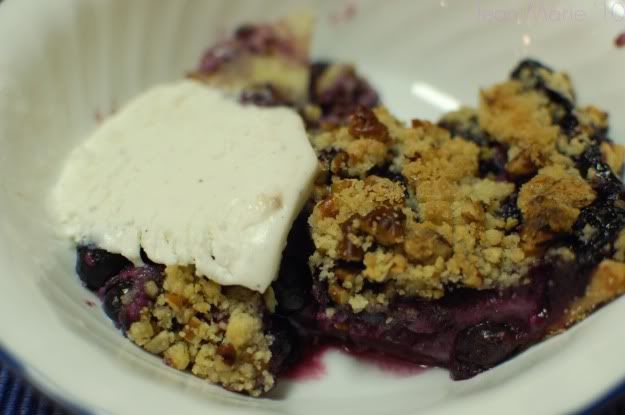 ~ Oh yeah, note: this called for fresh blueberries, however, I used frozen that once were fresh (well, DUH, Jean) *cough*, and it worked just fine, BUT you need to add an extra 10 minutes in the oven before you put the topping on, and then an extra 5 minutes onto to the post-topping oven time. Okay? If you freak out over my directions, g-mail me. *laughing* ok. ~
*No persons were harmed in the making of this pie, or this blog post*
"True Blue Custard Crunch Pie" 5 stars
Ingredients:
* 8 oz. Sour cream (winning already dude! kk sorry)
* 3/4 cup white sugar (sugaaaaa', ahh, honey honey) (no honey it's a song)
* 1 egg (Jean is breaking out into song from previous comment)
* 2 Tbs. flour (lalal lalalaaa "still singing")
* 2 tsp. vanilla extract (or more, I put more like: 2 1/2, mwauhaa)
* 1/4 tsp. salt (do NOT put more in. promise me, Suga')
* 2 1/2 cups blueberries (tries to look repentant for previous comment, gives up)
* 1 (9 inch) unbaked pie crust (non-baked, un-baked, NOT baked)
Topping:
* 3 Tbs. all purpose flour (flouuuur, ahhh, honey honey)
* 2 Tbs. white sugar (SUGA', you are my candy giiiiirrrrll)
* 3 Tbs. chilled butter (BUTTER!!! how I love butter, I'm Southern, haha)
* 4 Tbs. chopped pecans (Pecans, sweet nut of the South, I love you)
Directions:
1. Preheat oven to 400 degrees F. (Line bottom of oven with aluminum foil,
unless you want blueberry juice all over the bottom, trust me, ahah)
2. Beat together: sour cream, 3/4 c. sugar, egg, 2 Tbs. flour, vanilla, and salt until smooth.
Fold in blueberries, spoon into pie crust. (I put in about 3 cups blueberries, mwuahha)
3. Bake for 25 mins, with extra 10 mins, so = 35 mins, uncovered (in the oven. *laugh*)
4. While that is baking, you can make: the topping!! (dun dun dun dunnnnn)
Streusel topping: Mix flour and sugar, *SUGAAA*, cut butter into flour mix until crumbly. Fold in the pecans. After filling has baked 35 mins, (pull the pie out of the oven and set on stove, so you don't burn your hand and get crumbles all over creation), sprinkle streusel topping over top of pie.
5. Bake pie until topping is golden brown about an additional 15 minutes. (plus the 5),
so about 20 minutes. Hahaha. Confused yet?
6.
If I were smart and if I were you,
thus being you and smart
*wow Jean* then I would print out mine for laughs, and
THIS one for directions
. Okay? Okay. HAha.
7. This pie is GREAT warm, with vanilla ice cream, or you can eat it chilled cold the next morning for breakfast, oh my word ... just, whatever you do ... don't do this:
I beg you. Do NOT eat blueberry pie in front of your new iMac and try to take a picture of said pie with your Mac camera, and hold up pie in front of camera, and watch in horror as the whole pie piece slides off the plate and plops RIGHT ON the Mac keyboard as you scream in horror and your dog runs out of the room, and the person you are chatting with online starts laughing, and you scoop the pie up and thank GOD it was not juicy side down, and pick it up and get all the crumblies into the trash and everything wiped off and then take pictures and blog it.
Yup. True story. But don't do it. It's bad for your nerves and your iMac. Trust me.
Blueberry Custard Pie + iMac keyboard = Really Bad idea.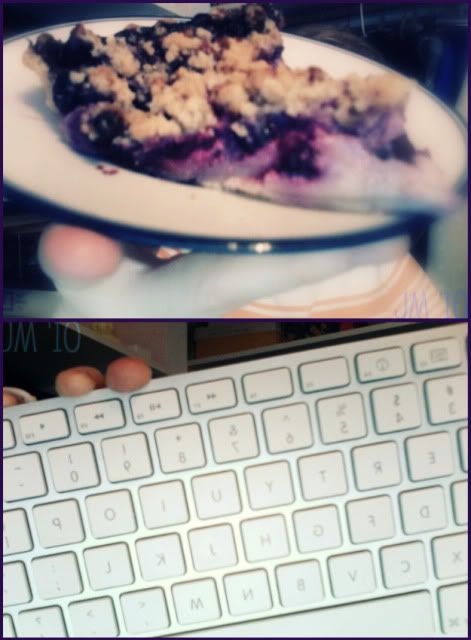 More shameless endorsing of True Blue Custard Crunch Pie. And the fact that I happen to have one of the sweetest and pretty handsome dads in the whole wide world. Yeah baby.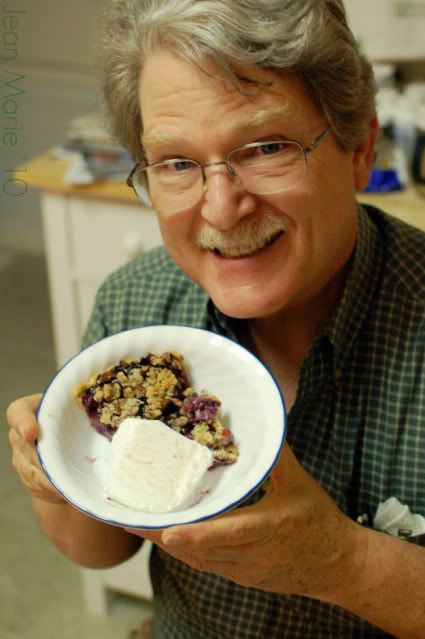 So. Daddy's Night for Father's Day. I sat down and made cards, one for me to give, and one for mom. Mom's is on the right. See? The pine tree? I know, how cute, right? And mine is on the left, see the DUCK!? Emily Case, do you SEE it? :D I realize it's not a great duck, but at that hour I made it, and considering my talent of drawing dead worms and sleeping sticks, you should be impressed. I can also draw dead sticks and sleeping worms. Talent, yo!
So I got Daddy this amazing present. It was a total surprise, and it was a fishing pole/propane grill lighter!! I snatched it up, when mom and I were shopping, laughed in glee, and promptly bought it without a second thought. I loved it. Seriously. how CUTE, right? That's how my duck on the card matched the duck wrapping paper.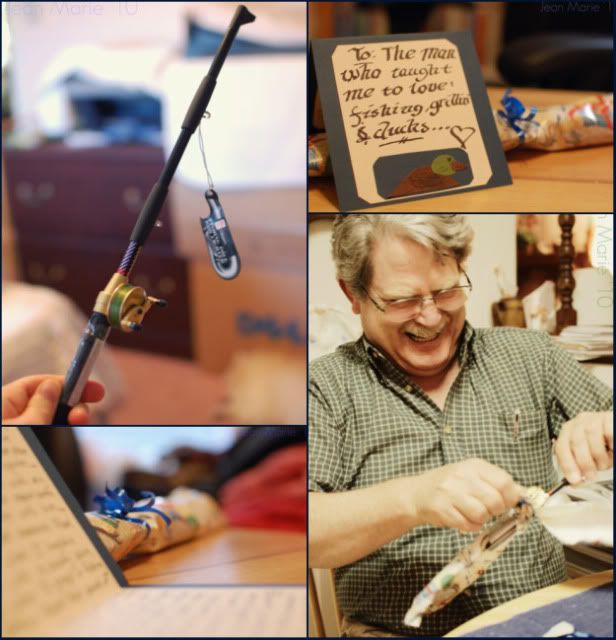 1. No clue. 2. A lighter? HAHA 3. "AHAHAHHAHA HAHAHA!! That's great!!"
The last one is my favorite, he's being his fun self, reeling in the "Big One" and laughing. :D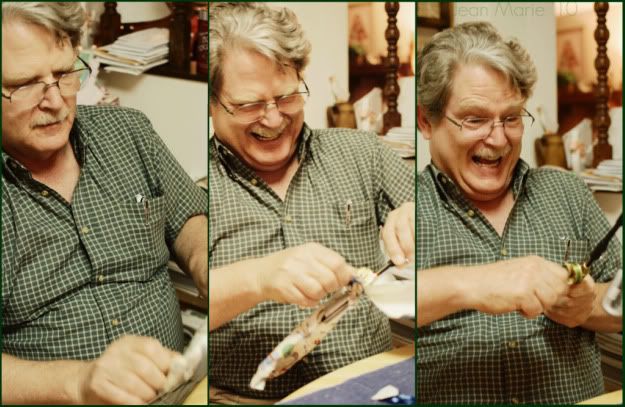 Would you look at his face. I love him. Happy Father's Day, Daddy!!! :D I meant what I said ... in my "one of the best Daddy cards ever written by me" ... I always will. :D I'm so glad you like your lighter ... and only you would figure out it was re-fillable. HAHA.
Deeper than the holler, to the moon and back and all the stars in between,
I love you.
Your daughter,
~ Jean Marie ~
Momma says at dinner: "Oh, yeah!! And if they want ... for the 4th of July, they could put a ribbon in red icing on the top, to make it patriotic! Or a cluster of strawberries on the top!".
I couldn't stop laughing. She cracks me up, and then she sees me laughing and says: "HAHA, that was funny, wasn't it?!" Oh my word. Someone save my heart. I love you, Momma!!
Thanks for reading, ya'll!!! Thinking of you all ... makes my day shine a little brighter. :)