Remember them when you pray -
1 year ago today, I had just returned to our dear friends house in Colorado. I had changed out of my Sunday clothes into comfy winter clothes, and the dogs had come in out of the snow, and I sat down to check my e-mails. It was the Sunday after our dearest friends buried their daughter & sister, B, and Mama and I were there to weep and comfort and be with them, and to say goodbye to B. We had sung Christmas carols and tears had been in our eyes, and now we were home on a Sunday afternoon.
And I opened my e-mail inbox, and there was an e-mail from Lauren. From the time when I saw the title to the time I scanned the first line, my mind screamed "NO!" over and over and over. All my breath left me. I felt so stunned and sick and shocked. I didn't even read it all. I shut it off.
"No, Lord, no."
I stumbled into the kitchen with the blood draining from my face, and my Mom immediately thought the worst, and taking me in her arms she asked what it was. I told her, my voice breaking in a million places as my heart shattered in a million pieces for my friends. She held me close, as my brain scrambled to make sense and filter through anything that would help me cope.
But all I could think was that I had my Mama and
Darby and Delaney
were missing theirs. Mrs. Sproul had gone to Heaven that morning. On a Sunday morning, with the dawning hours.
"Please Lord, no."
I spent the day in shock that I was going from one funeral before Christmas to another, as soon as I flew home. Our friends all knew, and I think we all just felt like we didn't know how to do this life anymore. I ached for all the Sprouls had lost, and how much they ached right then. All I wanted to do was hug them and try to take the pain away. Of course I knew I couldn't, but that didn't stop me from wanting it.

That evening, I found this heart already made in the snow, and it's been a very special memory ever since, that God's love for us is so deep, and that He sees and is near us in our sorrows.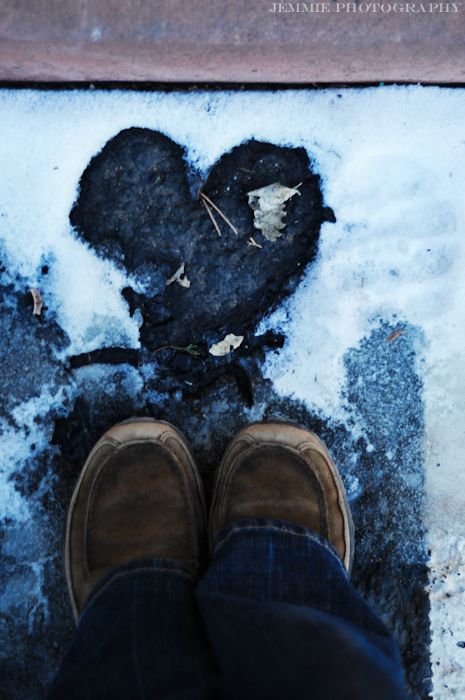 Mom and I flew home late Monday night. Tuesday I got up and took clothes packed for one funeral out and washed them and put them on to go stand in line and say goodbye again. They still held all the sorrow and all the tears and all the grief from a few days before, and that Tuesday evening, more sorrow was added in. More tears upon that blouse and sweater as I held them in my arms and my hands shook as I touched their faces and wept along with them.
This year has held a stunning amount of sorrow for me, and they have walked with me in it. They have blessed me immeasurably in it. They have comforted and been quiet, and let me remember and cry.
They have walked with me in my grief, and I have walked with them in theirs, in the loss of Mrs. Sproul and Shannon.
And I'm asking you, from wherever you are, in whatever griefs you have as well, that you walk with them this week in their grief. Please join me in praying for them today, the 18th, and this week and this Christmas. It is their 2nd Christmas without Mrs. Sproul, and their 1st without Shannon.
Dear Sprouls, I say it all the time, because it's the only thing I can say - we miss her for you all.
I love you all so, so much.
~ Jean Marie ~

"He heals the brokenhearted and binds up their wounds." ~ Psalm 147:3