Fire -
*****Thursday, March 3rd, 1:20pm Update: I realize ya'll might be getting tired of seeing this same post and reading these updates, but in case ya'll are still reading it, then I know you are still praying, thus, I keep it on the same post. :) The winds are blowing to the west right now, and were very gusty overnight, and windy and gusty today, up to 15-30mph. The fire in Hog Valley, west of I-95, is 7 miles north of us, and grew 1,000 acres overnight last night. Wow. I am sure that we (civilians and firefighters) are all so SO ready for this to be put out. :)
Today firefighters are attacking the fire from all fronts and are shooting for 100% containment. Please do keep them in your prayers....the arid air from the cold front that came through, plus the gusts of winds and pockets of hotspots and embers flying around make it a difficult fire to contain. I know the firefighters are working hard, and we have friends among them. We are SO thankful for their hard work!! Helicopters continue to fly back and forth over our house, providing air support and water drops from the lakes behind us to the fire(s).
Thank you so much for keeping us in your prayers!!! We greatly appreciate it.
With love, Jean Marie *****
***Tuesday, March 1st, 10:45pm Update: The fire has split into two sides of I-95 now, both on the east and on the west. The west fire is a mere 8 miles from us, and the southwestern blustery winds today were no doubt a big challenge for the firefighters as well as trying to put out all the little hotspots that continued to flare up all over. However, finally about an hour ago, the wind died down into a cool breeze, and we are praying it stays that way. The fire is at its best 25% contained, and a firefighter was injured today with 2nd degree burns to his face. Please keep him in your prayers, he's 22yrs. old. Please continue to pray for all our firefighters and that the Lord would allow us to bring this fire under control. Under human control. ;) For our God is in control at all times, and He plans where this fire will spread.
Quote of my status on FB: "The wind has died down, and left only wafts of jasmine floating on the air under brilliant stars and faint columns of smoke and ash in the distance. Even though the fire is only 8 miles away, we are so so thankful that the wind has died down! God is gracious and we sleep tonight resting in His care."
With love and thankfulness to our Father of mercies,
~ Jean Marie ~ ****
*** Tuesday, March 1st, 9:30am Update: Ya'll. Never guess what I woke up to this mornin' - RAIN. I woke up at 8am to the pouring sound of water, and opened up the blinds in disbelief. God is so gracious!! I laid in bed and couldn't believe God had given us rain. Not once did I pray for rain last night, in fact, it never even crossed my mind to pray for rain. We've only had 2 rainstorms in 2 months and all I was praying for was that the fire would turn back on itself. So, imagine the amazement looking out at our puddle-flooded yard.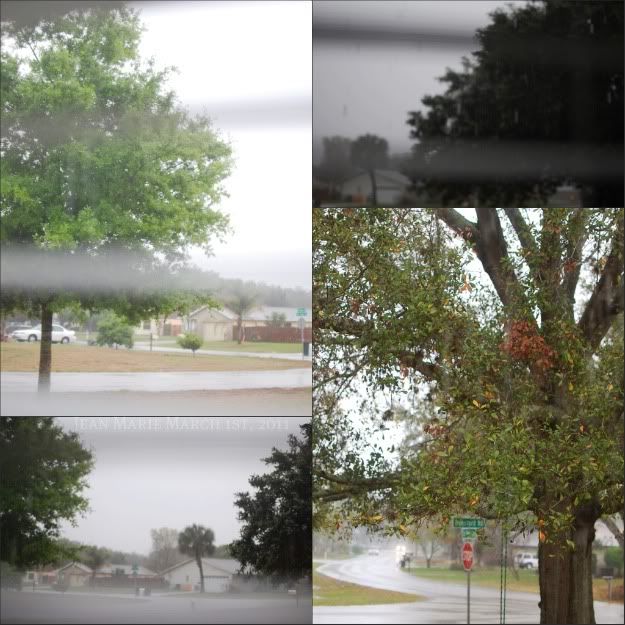 Not once did I pray for rain, and God gave us the unasked for grace of it anyways. I praise Him! He is in control, so however this fire goes, whether the little rain was great, or the potential winds coming with that rain make it worse, He will protect us. So, even though the rain is wonderful, and I'm not making any less of the gift of that, the rain is a thin line of showers that has all but passed us now. The rain moved over fairly quickly, so there wasn't much chance of drenching out a huge huge fire. ;) However, FD is hoping that this helped squelch the already burned areas and raise the humidity to keep the embers down more. As the cold front moves in, so will the winds. With this rain comes wind, and wind = BAD.
Prayer is still needed. Please continue praying for the firefighters and all personnel. They are working hard. Thank you so much for praying!!! And thank God for even the short rain that we had. Our God is in control, come what may. ****
~ Jean Marie ~
****Tuesday, March 1st, 2:30am Update: The fire has now burned 13,000 acres, and is 12 miles north of us, about a 20 minute ride. It is working its way around homes (the "around" due to the firefighters, thankfully) in a neighborhood, and fire crews are switching out. Many homes are under voluntary evac., some 1,400 homes and businesses. The firefighters are working hard, please be keeping them in your prayers, as well as those frightened by losing their homes and by the fire itself. Both I-95 and US1 were re-closed by 9-10 pm last night. New mercies come in the morning.
Our God is in control.****
Ya'll.
You should see the northern sky outside my house right now. It is unreal. And not because the sun set and it's all brilliant. It's unreal because it is glowing red from a 4,000 acre fire that is burning so hot and bright and feeding so fast and moving so rapidly that its flames light the night sky and the clouds into red puffy glowing cotton that is interspersed with the black black dark streaks, plumes and clouds of ash soaring upward as the wind continually whips them up.
The fire started at just before noon today, and has burned 4,000 acres in 9 hours. It is north of us and I-95 was completely shut down going North of our area, as well as 2 other main roads closed, which means a lot of traffic was stuck in T-ville until it reopened a little while ago.
As darkness grew and the stars appeared, I walked outside and just stared at the sky. It was (and is!) abnormally quiet outside because the highway is closed, so you can't hear any traffic, yet the silence was broken by 3 helicopters going back and forth and back and forth with their water buckets from the lakes near us back up north to the fire. The camellias and jasmine heavily scented the night air, and yet mosquitoes swarmed in full Florida fashion, even amongst the night breeze that earlier had been a windy, blustery day. And as no more sun lit the western sky, the fire painted the northern sky into dark pinks and reds that did not fade.
Later, at 7 - 8pm, I went outside yet again and just watched the fire's smoke rise and take over the northern sky ... even the pitch black of night was somehow taken over into grey movement of air that you knew wasn't inky stillness of pure sky. I tried every trick in my head for getting a still and non-flash picture of the firey clouds, and eventually got it. My camera would see the RED, and pump up all the red in the picture, until I bumped all exposure down to where it really only showed just the fire "window", and so what you see in these pictures is exactly what it looked like.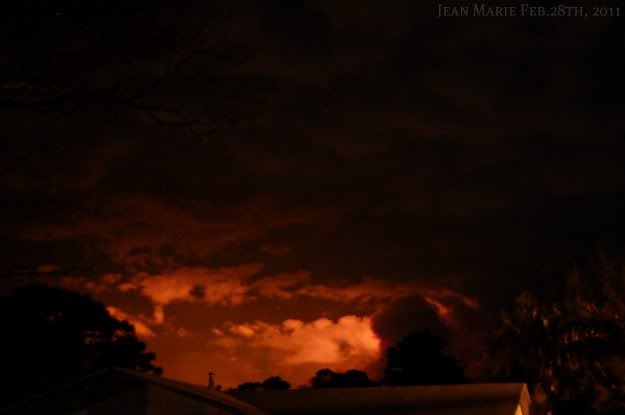 (1st pic: that big blooming cloud on the right is all fire smoke that arose in less than 5 minutes)
(2nd pic: and this was about 10 minutes later, the clouds of smoke actually blotting out the clearness of the fire-lit puffs of normal clouds)
The fire jumped I-95 between 4-5pm, and is rapidly moving east. We are not in any danger here, and because of the northeast wind, we don't even have smoke or ash falling, which is a blessing. But please be in prayer for everyone in danger, and also for all the firefighters, pilots, responders, medics, emergency personnel, and citizens who are in harm's way from this fire.
Please keep all the firefighters in your prayers, and their families.
Thank you!
~ Jean Marie ~
My dad just got home, and told us that his co-worker couldn't even go home, the fire was 2 miles from his house and his wife was home picking stuff to take and what to leave....that is so hard, we've done that ... please be in prayer for these families!!! thank you!!