Three -
What does the number
three
mean in this picture? Well, 3 cards ..... from last night's Settlers of Catan game. But the number
three
was talked about a lot last night. Like, a LOT. :)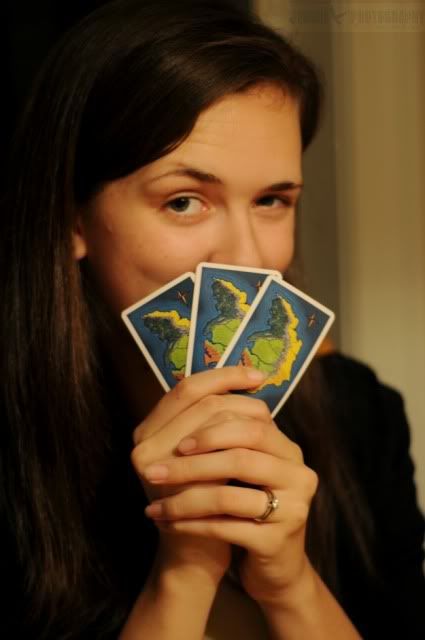 Because there is a 3rd Brower on the way!!!! :D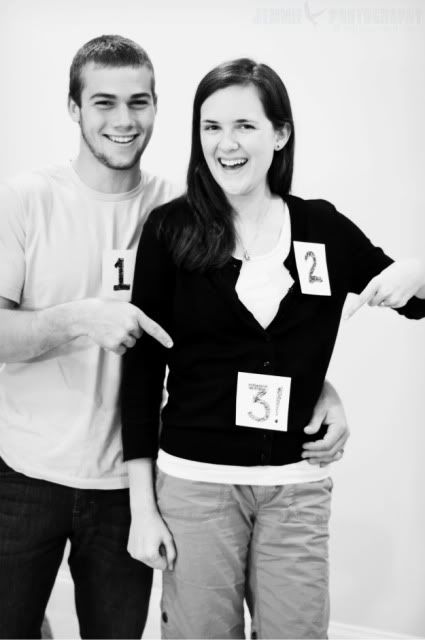 YES. Ben and Emily are expecting a little baby!!! :D :D :D :D *SHRIEKS*
Last night at the Hope's for a game night, Joseph, Lauren and I were teaching Gabe Dutch Blitz, and Ben and Emily walked into the kitchen, together (much like above), and out of the corner of my eye, with my crazy peripheral vision, I saw a black and white checkered sweater. And I was thinking "interesting sweater....", HAHA, and then I really looked at them.
My reaction:
*counting over from Ben*
Aww...that's so sweet.
1 and 2 ....
Ben,
1
, Emily,
2
, "Hahahahhahaaa".....Emily.......
3
.....*GASPS audibly*.
AAAAAHHH!!! REALLY!?!!!!! :D :D SO SO EXCITED. :D
There were cheers and hoorays and exclamations of delight, and smiles and hugs all around. :)
I like Brower surprises. This is my 4th one. See the list? Okay, make that LOVE Brower surprises.
1
.
Engagement
2. Bridesmaid announcement
3. Honeymoon location
4. Baby Brower
And so then she posted her blogpost about it a little after that
HERE
, and she checked it in between games, and it just sank in that much more that she's really pregnant!!! :D :D AAAAH.
So go on over there and leave a Congratulations comment!!!! :)
I am very very thankful to our Lord above for giving them this sweet, precious gift.
A very very excited and very very very joyful -
~ Jean Marie ~
Lauren's post about it, and pictures of Settlers of Catan night. :)