"Oops" -
We enter the National Foothills Parkway in the Great Smoky Mountains in TN, and read the sign as we drive by "Please do not pick the plants". I probably file this somewhere under the label "To be used at a later date, probably when you already broke the rule" folder.
About 10 minutes later, I'm happily taking pictures of mountains and little wildflowers, and snap a flower off, to take a picture of it against the mountains, and then I gasp: "OH NO. It said "don't pick the flowers!". O.O THIS was the instantaneous reaction to the camera -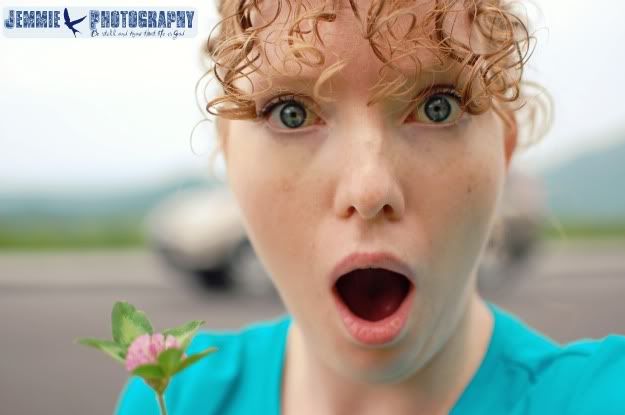 Then I laughed nervously and tried not to look guilty while cars passed by. I put the flower back in a little grassy ... spot, and walked off to take pictures of less dangerous and less protected subjects. Like the asphalt.
Great memory, Jean. Just great.
haha. Love you guys.
~ Jean Marie ~
P.S. I can hear you laughing all the way over here, Becs. -.-