The Thankful Sick List -
I'm sick.
Not fun, but totally worth every second of going to
Georgia's baby shower
. There was
no way
I was missing it....and we all had a lovely time, complete with dissolving into hysterical laughter at the end with one of Emily's best friends....over completely nothing. This happens
a lot
with Emily's friends.
Pretty much the same thing happened at Tricia's wedding shower with Tricia's sister-in-law's sister-in-law. :)
So last night I had a terrible night; feverish, with so many aches and pains that I literally was crying in my sleep, and kept jolting awake. I decided enough was enough, and got up and did some baby shower picture editing. :) Last night and today, sub-consciously in my prayers, I thanked the Lord for things. Just...random things. And then it finally hit me that I was unconsciously making
a thankful list.
So I decided to write it out and share it with you all. :) Some of them may seem strange until you look back at the year I've had, and it will make more sense to you.
While I am sick, I am thankful that ...
1.
I am not always sick. I am not continually physically ill, or have a chronic illness.
2.
I don't have cancer.
3.
I have a family that loves me, and cares for me.
4.
I have beautiful music to listen to in the night, when I can't sleep and my heart aches.
5.
Hot tea makes me feel better.
(My favorite mug from my heart-sister Laurie, it has Lamentations 3:22-23 on it)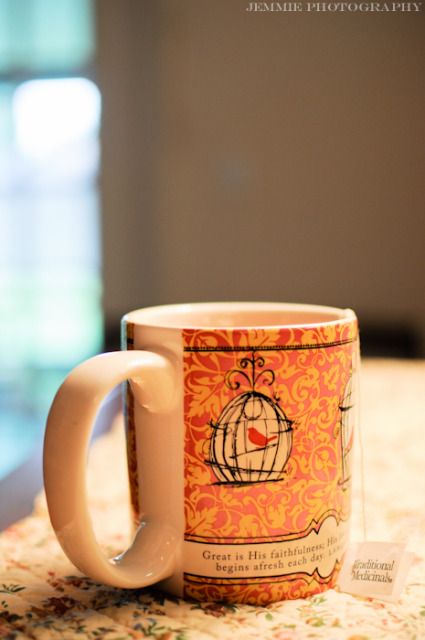 6.
God loves me so much that He shows me visually and tangibly daily of His heart of love for me.
7.
Sunsets that remind me that this is not my Home, and it is far, far better than I could dream.
8.
Being sick increases my compassion for those who are chronically ill or daily suffer in pain.
9.
Increased compassion leads to increased prayer for people I know who are suffering.
10.
There is never-ending grace flowing from the Throne of Mercy for us because of Christ.
11.
"
He will never leave us nor forsake us."
Ever. Ever ever ever.
(Deut. 31:6)
12.
Hawaii'an Dobro music on vinyl still cheers me up, no matter how sick I am.
13.
There are some people that I love very much that will never be sick; because they live in Heaven.
14.
It is more important for me to draw near to God than to be well instantly or sleep at night.
15.
He is Who He says He is
, not who we try to understand Him to be.
16.
My puppy loves me and snuggles and naps with me, and kisses my tears away.
Lucy Mae today at almost 22 months old.
17.
Laughter from friends comes unexpectedly, easy, and freely these days.
18. Home
is where the Lord is.
19.
This is not the flu, and that I don't have vertigo. SO thankful.
20.
Many very sweet friends are praying for my short span of ill health. Thank you!!!
21.
"Jesus Christ is the same yesterday, today, and forever."
(Hebrews 13:8)
Because this is true, our hearts can be calm in the knowledge that ....
because Christ
has been
faithful, He
will continue to be
faithful and
will always be
faithful.
because Christ
has been
with us, He
will continue to be
with us, and
will always be
with us.
because Christ
has been good
, He
will continue to be
good, and
will always be
good.
because Christ has redeemed us, He
will never abandon
us
, He
will never forsake us
, He
will never leave us.
because Christ has overcome the grave, we will live with Him forever in our Eternal Home.
Because He is the same yesterday, today and forever ....
He loved us when Avery was well, He loved us when Avery was sick, and He loves us as Avery lives with Him. Because Christ is forever, and we are His, we will live forever.
Avery already
is
forever
.
Being sick just brings it all up to the front. No hiding behind what could be.
He is Who He says He is.
And I will praise Who He is until I die. Who He is changes everything.
Much much love to you all....
Lamentations 3:22-24
~ Jean Marie ~