8-23-12 Ten Years -
"One more day. One more time. One more sunset, maybe I'd be satisfied.
But then again, I know what it would do - leave me wishing still for one more day with you."
~ Diamond Rio ~
Today it has been 10 years since my Grandmother entered her Heavenly Home.
That's hard to believe, really!! It seems not that long ago ... and yet ... the memories fade. I think that's one of the hardest things about losing people you love - your memories aren't as sharp, as vivid. You can't smell them as well, or imagine their arms around you as easily. You can't feel their hands in yours for prayer, and you forget the little things they did that seemed so trivial then. You can't see the shine in their eyes as well, and you can't remember how hard they laughed when it's been 10 years without them.
10 years ago, I kissed her forehead and said goodbye. Less than an hour later, she went to be with Jesus. It was one of the hardest moments in my life, and although I was determined to be strong, I still remember hearing the news, and feeling a part of my heart break, fall quiet. It hasn't filled up, and I don't think it ever will until I see her again in Heaven. That part of me is waiting in Heaven, and honestly, I just can't wait to feel her hold me again. It was one of the best feelings in the world. That same feeling goes for my Grandfather, who died 10 months later.
I miss her more than I realize, and I long to see her now more than I did 10 years ago.
I think the simplest way to explain it is this way -
Missing her seems normal now, but not easy.
And because even now, 10 years later, it breaks my heart to think of those last few days, and saying goodbye, and remembering it all, it is too much to try to write about that. It really is. Maybe one day it will come pouring out of me, but for now - it is too much. It is forever burned into my memory the sadness, the tears, the ache. Not that there was not joy in the letting go, and knowing she is well, but that wasn't the day she died, that was other days. So I chose the sweetness of finding old photos and scanning them into the computer, and remembering how much she loved us. That was something I could write.
November 1990 - I was 2.5, Kimberly was 4.
November 1990 at the Atlanta Zoo ~ I just love this one.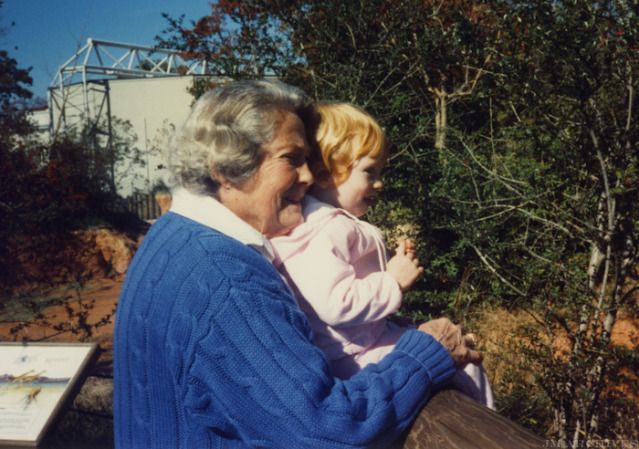 February 1991 - Daddy's birthday. I was 4 months from being 3. :)
With Mommy - December 29, 1993 Stone Mountain, GA at the gristmill
With Daddy. I remember it was super cold that day ...
May 1994 - I was 1 month short of 6, and Kimberly was 7.5 Our house in Florida.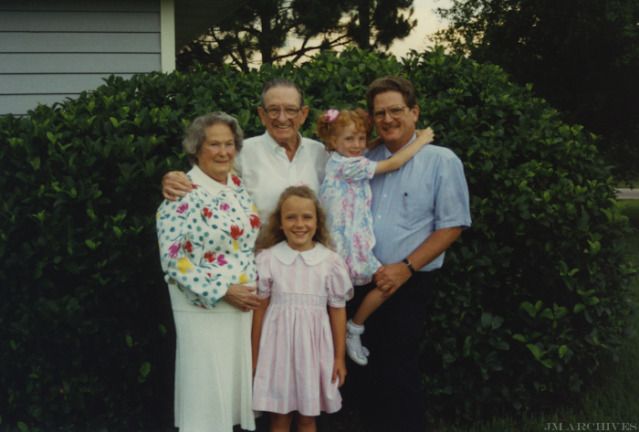 Looking at these old pictures made me "ooh" and "awww" and, quite honestly, made me think we were so adorable. Hahaha. ;) We were happy and joyful, and the world spun in beautiful days of azalea springs, and lovely long cicada summer nights, and then whirled into the most spectacular and crisp Autumns and Thanksgiving days in Atlanta with the extended family, and then into Florida's candlelight services or Ohio Christmases, where sledding and snowballing awaited us.
It was a beautiful, wonderful childhood, and I know how blessed I am for it.
How I love and treasure those memories.
We saw Grandma and Grandpa about twice or three times a year, and their visits here meant an extra car in the driveway, extra snuggles and book readings at night, it meant fun outings and adventures. It meant Fresca soda in the garage fridge and hidden peppermints in the glove compartment of Grandpa's car. It meant cards signed in Grandma's hand, and it meant showing her our dollies. It meant extra special time at church when my friends would come over to see them, and it meant extra special doggie treats for Princess that we never bought. hahah. It meant sitting in the front yard, knowing they were coming any minute, and running to that car to get the best hugs ever and yell their arrival.
They were active and involved in our lives, and were as perfect as a granddaughter thought they could be. :)
November 1994. Thanksgiving at their house on Club Drive. Grandpa and Grandma. I love the hug she is giving Grandpa, leaning onto his shoulder, a quiet joy in her eyes, the unexpected snapshot.
Grandma with her roses
. I've only known a few people who can grow roses like she can, and that's on one hand. :) Her roses were abundant, overflowing, heavy with sweetness and scent. She was an amazing gardener, and a gracious Southern woman. The kind I dream about being.
1994 at the house on Wedgewood Chase.
May 1998 -
Being in Georgia in May meant fishing at the lake....where we would cast out our lines in utter joy, and catch fish, and proudly show them off to Grandma who would say "
Well, that's a fine one!"
, even if it was less than a foot long. :) She would sit and read in the shade while Grandpa usually had to figure out what my enthusiastic line was snagged on, and Kimberly was unloading her line into Daddy's hands and the catch line. These are the memories that made me love fishing like I do. I still remember Daddy slicing and gutting up that one catch of his, out of a batch we caught and we ate it for dinner. I could not have felt more "Provider of the Meal" than that night. hahaha.
Still, memories of her like this picture here - calm, patient, completely enjoying the time with us .... I don't remember us ever being in any rush, or hurry to "catch fish" or "call it a day". It was special time together.
May 30th, 1998 - Kim was 11.5, and I was almost 10.
October 1998. Looking so beautiful and dressed up for church like she always did.
It is too much. Too much to write!! If I wrote a book, it would not be enough for my memories, for my love, for my longing to see them again .... I miss them when Autumn starts, I miss them when I smell gardenias and camellias, I miss them when I hear their 40's music that I know they loved dancing to, I miss them when my friends have pictures recently with their grandparents, and I miss being with them for Thanksgiving and Christmas and all the holidays in between. It is lonely without them.
It is hard to think it has been 10 years. Even harder? That in 4 years, I will have missed them in as much time as I knew them. Hard that memories slip, and dreams about them seem real, when they aren't. Hard that my Daddy misses them, and my Momma misses them, and that most of my friends now didn't know them. Except Paulina. They
adored
Paulina. :)
But it makes me sad, you know? They would have loved Emily and Lauren and Becs .... I think they would have loved looking at my pictures, or coming down and seeing "just one more launch" with us. I would have loved to have more "adult talks" with them than I did, talk about how they loved the Lord, talk about the "old days" more. Hear how they fell in love in their own words.
I would love to introduce them to people now. People I love and care about, and talk to them about anything. My day, my life, my dreams .... anything. Just to hear their voices again.
Missing them is a part of me. It is there in much of my life, because they are not here. Missing them is sweet and it is sad. It is joyful and laughter filled, and it hurts and brings tears. Missing them puts my heart in that verse
"He has put eternity in their hearts"
.
Such a
big
part of my heart is in Heaven.
November 28, 1997. The walk.
I want to end this post with this picture. I really cannot look at it without tearing up. I just tried again. haha. ;) It is my Grandfather (left) and my Grandma (right) going on a walk together as evening was nearing. They often took walks together, going around their neighborhood.
Because Jesus lives, they also have lived since the day they left this world. Because of Christ, I will see them again soon in Heaven, and we will dwell forever in our new Home. But this is how I picture them for now. Walking around Heaven, marveling at the beautiful colors and the lovely air. Hand in hand, without canes or hurting joints or coughing. Truly, Christ-likeness is full wellness to us.
It is a beautiful picture. It brings me joy.
Last year, I blogged just this short picture, and I almost just re-posted that, because it sums it up so well -
9 years
. I want to end with a few of those lines, because it is straight from my heart, and I want to thank you for reading. If you have lost a grandparent or someone you love and miss, then know my condolences as you live life without their touch. Thank you for reading, always, you touch my heart.
As Paulina said
"Anniversaries are hard.".
They are. This one has been. But He is here, too.
He is here, and He is never leaving. He will be here through all the years, all the questions and tears.
One day it won't seem like such a long time to wait to see them again.
One day we will SEE
He
was worth it ALL.
"Remembering all you are to me overwhelms my heart.
I miss you. Everything about you, and being with you. I miss all of you.
Love you, love you, love you."
~ Jean Marie ~
"He has made everything beautiful in its time. Also He has put eternity in their hearts, except that no one can find out the work that God does from beginning to end." ~ Ecclesiastes 3:11