2 months of Questions -
Photos taken the day Avery went to Heaven. Left was at early dawn, right was at sunset in the evening.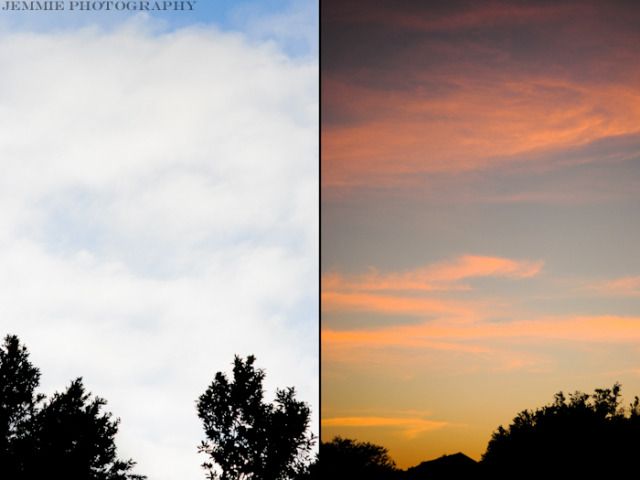 2 months ago today, Avery went to Heaven. 2 months of grief over the huge loss of him.
2 months of these questions. 2 months of the Lord proving His mercies and faithfulness -
every single hour of every single day. Every single breath, taken in the hope of Jesus.
Every single tear, caught and saved in His jars. Every ache known, every hard moment and every wound seen.
Every question followed with a simple "I trust You." - I cannot do anything but trust Him.
2 months will soon be more than 2 months, soon it will be 2 years, and then 20, and then on...
until the day that I join Avery in Heaven, and I will SEE the glory of the Lord.
I am counting down the days.
He has set eternity in my heart, and I long to be with Him more than anything I could ever want beside.
I love and miss you so much, Avery.
~ Jemmie ~
"Questions" by Steven Curtis Chapman
"Who are You, God?
'Cause You are turning out to be so much different than I imagined.
And where are you, God?
'Cause I am finding life to be so much harder than I had planned.
You know that I'm afraid to ask these questions,
but You know they are there.
And if You know my heart the way that I believe You do;
You know that I believe in You.
But still I have these questions....
Like how could You, God?
How could You be so good and strong, and make a world that can be so painful?
And where were you, God?
I know You had to be right there, I know You never turned Your head.
You know that I'm confused by all this mystery.
You know I get afraid.
But if You know my heart as completely as I trust You do;
oh, You know that I am trusting You!
So is it true?
That for every tear I cry, You cry a thousand more, as You weep with those who weep.
And are You,
just holding Yourself back from crushing all the pain and evil in this world,
for reasons we just can't understand for now.
But isn't there a day of redemption coming ... ohhhh. Ohhhh.
Redemption is coming!!!
Ohhhh. Ohhhh.
Quickly Lord, come quickly,
Lord, quickly.
Ohhhh. Ohhhh.
So who am I, God?
That You would raise me from the dust,
and breathe Your life and Your love into me.
You know that I believe."