So, so close -
About this time last year I was on a
plane home from Boston, MA
. I was sitting in the middle between a best friend of mine and my mom.
Our short vacation
to attend a wedding was over, and we were relaxing knowing that we were on our way home, and there was no more rushing to do. Just a few hours of peace and quiet together, and then we'd be home again.
We'd made the trip together, and spent three days together, but this was the first time on a plane we got to sit all three together, side by side. The plane lifted into the air, and as I had been doing the whole trip, I lifted my camera, and took a few pictures of my best friend, who, I believe, was unaware. This was the first time that she was able to have a window seat, and she was wholly taking it in, drinking in every detail about the gorgeous liftoff.
I took the pictures and my heart hurt. The connection of seeing her look out the window, expectantly, fully watchful, quiet, waiting for more .... collided with the realization of waiting for Jesus. Quiet. Expectant. Waiting for reality to turn back on itself and the nightmare to be over. Waiting for Jesus to make it all right, the expectation of joy restored.
I hope you don't mind, L. ... you are this blog post. :) I love you. ~ JM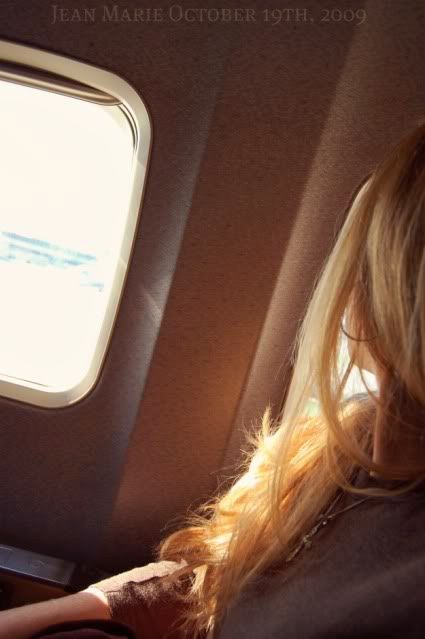 The sun just streamed in through our plane windows, lighting up her hair and hands and everything ... and I just had to capture it. I felt like time was flying and flying by, and I had no hold on it, except what I could capture in my camera. I'm so glad I did.
I cannot look at this picture without thinking of the commitment and love L. has for J., her husband. They are devoted to each other, and their children, and it is beautiful.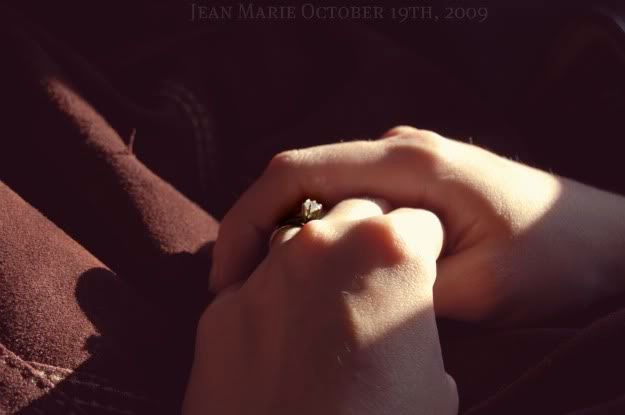 After a few minutes, I knew I couldn't get close enough to take pictures, so I handed the camera to L., and told her to have at it. She could see, and I couldn't, and she'd take just as good (or better) pictures than me anyways. :) So she did. She sat there, clicking away, twisting around for extra glances. There was so much beautiful water. Sometimes, she'd breathe: "Ooh. Look", and Mom or I would lean over her and gaze down, and there would be an "oh my goodness" moment, because it was so unlike the coastal water and bays that we are so accustomed to.
A lighthouse in the cold waters and rocks.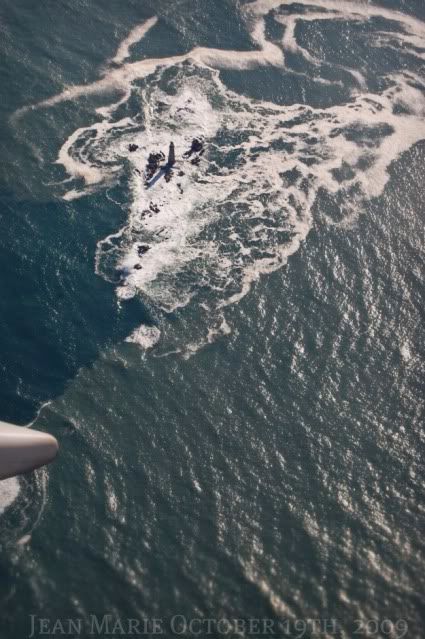 With Third Day (off of L.'s ipod) songs streaming constantly through the back of my mind, I felt again how it was so surreal being on that plane, when our world had shattered a few weeks before. It was something we couldn't wrap our minds around, or even try. I look at these pictures and hear Third Day. L. and I listened to her songs going to Boston, coming home, and a few chances in between .... I hear the songs and I'm there again. How perfectly the lyrics fit our broken hearts. We ached for comfort, and found some there.
"Yesterday you found your heart was broken,
and tomorrow doesn't leave much room for hope.
Today you'll find that My arms are wide open,
and My heart, My heart is full of love, oh yeah ...
Come on let Me love you now, Come on let Me love you,
and hold you through the storms, I will keep you safe and warm.
Come on let Me love you now, Come on let Me love you,
and kiss away your tears, I will always be here ... Come on let Me love you."
We had seen the sun ahead, and seen its rays light up in silver on the water, making incredible reflections ...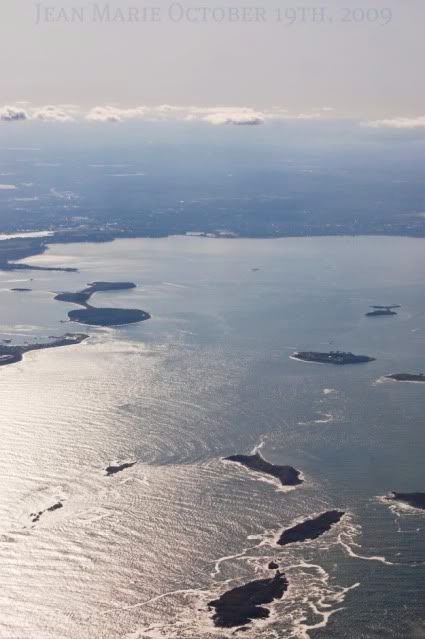 but we couldn't see full west until awhile later, when the sky had darkened. The plane banked to the South, and we could see straight West.
The three of us gasped as one, and I whispered how "It looks like Heaven is pouring out", and L. agreed in a whisper back. Silence fell as we stared in awe. It was so so beautiful, and Heaven seemed so, so close. And my heart broke again. "Father", my heart cried, "we seem so close. Heaven seems so close. Just let us be there. On the other side. With you.". Heaven seemed so unbearably near, as if we could grasp the feathered clouds and SEE our way in, past the beams of yellow gold upon the cities below, as if Heaven was THERE, and we were so, so close to seeing and understanding and being where we ached and longed to be.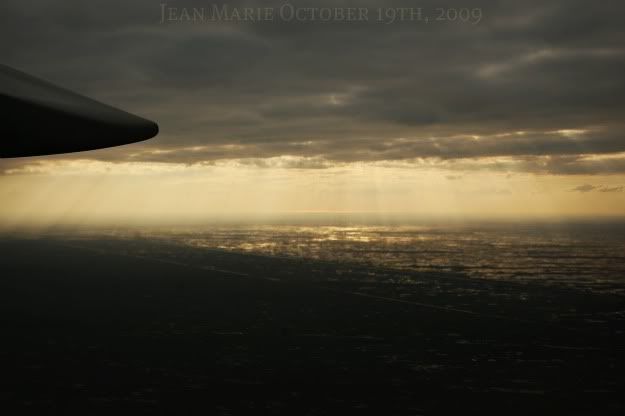 It was so, so beautiful. God gave us such a lovely gift on the way home, a time of sweet rest and beauty as we gazed upon what He works with His hands in His creation, and how very close He felt to my heart. His grace was evident .... and in His arms He bore us home to FL that night.
In His arms He has gently borne us; He has borne our griefs, and carried our sorrows.
He has kept us safe, and stored every one of our tears in a bottle, He has held us and loved us, He has sustained us and carried us, He has been faithful and true.
.... and that's what I always want to remember about October 19th, 2009.
Mama and L. - I love you both always and forever, and I cherish the memories of those days.
~ Jean Marie ~
"What is His purpose herein, he knoweth best who hath taken your soul in tutoring. Your faith may be boldy charitable of Christ, that however matters go, the worst shall be a tired traveller, and a joyful and sweet welcome home: the back of your winter night is broken. Look to the east - the day sky is breaking; think not that Christ loseth time or lingereth unsuitably."
"The Loveliness of Christ" ~ Samuel Rutherford