Stories and Catching Up -
Well, hello there!
Just a few updates and stories for you -
Colorado.
It was special and sweet and restful. It was just as I thought - the best place for me to be. I found a refuge and a haven at the Pattersons, with the Pattersons. I came away so blessed and refreshed. And with about 200 photos of just birds. I napped in the sun and fell asleep to the sound of the pines swishing in the wind. Nothing like it. We even got some work done on the curtains! Believe it or not, I am just now uploading the pictures from the trip - a whole 4 days after I arrived home. ;)
I spent lots of time with Mrs. Patterson, knowing I could share my heart freely, that she understands so much about grief, and is willing to just hear me talk, much like my own Mom! I am so thankful. Thank you, Patterson family, for having me!!!
Love you all so much.
The Rocky Mountains.
Oh, and I learned from Ian, Mrs. P's 10 year old grandson - how to pitch a baseball correctly. He was so patient with me, considering how completely awful I started out....I practiced for an hour and a half, and then we went and got some ice because my wrist and shoulder were killing me. hahaha. The next morning I got up and complained for about an hour before I realized this was what Mrs. P. feels every day. Way to shut down the complaining. I'm super glad to have learned how to pitch though! Now I just need about 10 more years of practice. hahaha.
One morning I was making toast, and I remembered that if you tilt the toaster on its side, it is more gentle on softer breads, so I put banana bread in there. But it was early in the morning and I didn't quite think it through. A few minutes later - KAPWIIIIIINNNNG. Banana bread shoots out of the toaster, across the counter. I just stared at it and thought "Well I guess I didn't think THAT through." Hahaha.
On a more serious note about Colorado -
Prayer Request -
please keep Colorado Springs
(and surrounding areas)
in your prayers.
They are battling 4 very bad fires, many homes have been lost, and it is a dangerous situation for the firefighters. Pray for comfort and rest and for the fires to turn away from homes, and turn back on itself. They need rain! These fires have sprung up in the last 2 days. When I left on Saturday, there weren't any fires at all.
Life has been so busy here, you'd think the General was coming.
The General - Well of course I WISH the General was coming. But he's not. I'll tell you who is, though. My Aunt (who came when I graduated from high school), my cousin Cheryl, her husband, Ivan, and their son Nathan. So that is 4 of them, and 4 of us. There will be LOTS of laughter. :) We've been begging them to come down for ages, Ivan and Cheryl came a little bit a year or so ago, and we went for a trail walk and they were eaten alive by skeeters. I hope they brought bug spray this time.... because Florida hasn't changed much since they've been gone. hahahaha.
I feel like I should point out all these photos are from Colorado, so you don't think these lovely plants are what I've been planting and gardening. hahaha. All Photos taken in: CO, over my trip.
So family is coming. Company family. Company. Whatever the case may be - the point is ....
Cleaning. Gardening. Sprucing up the place. That's all fine and dandy. When it's not in the blazes of a tropical summer, and you have the energy of a small (I had the strongest urge to say gherkin, but I won't) .... a small .... *brain freezes* ... just pick something .... a small dolly made of tissue in a sauna.
be quiet. It's 12:19am, and I still have to shower because I'm covered in skeeter bites.
So I've been gardening like there's no tomorrow. My fingertips have gone from sore to numb and back to sore again. My middle finger on my right hand I smashed on my luggage on Sat night, and so I've been gardening and getting dirt in that cut all week. Yay. And I've been lugging mulch and slicing my arms up on aloe plants and rose bushes and weeding until I had anger problems with the Fall. (speaking of Genesis, not of Autumn. I love Autumn) And trimming with the electric trimmer (until I sliced the cord, Oh Lord, give me patience) and then had to do the entire East side with the clippers. And tomorrow I'm getting up when the sun don't shine to finish trimming so our house doesn't look like something off of Robinson Crusoe (although I'm sure his house looked perfectly charming).
I feel like I could write a whole article on how physically demanding it is to garden in FL in the summertime. Think - oven/sauna that saps you of energy in approximately 15 minutes. I'm 100% sure that no videographer or producer wanting to shoot a gardening commercial ever said - "Hey. Let's shoot in FL. It will look so lovely and cool there, with the lush grass and perfect weather." I can see it now - "And over here are some LOVELY roses. Oh, how nicely it fits into the ground! And look at how easily these weeds come up! Viola! Here I turn my spade and then 5 minutes later I'm done because gardening is so easy!"................ NO. I love FL, but sometimes I hate the weather.
Even if you try to get out there in the morning, as soon as the sun is up, it is 90 degrees and 100% humidity, which means you could swing a bucket around your head and end up with half a bucket of water, and in the evening, half a bucket of water and half a bucket of skeeters. hahahaha!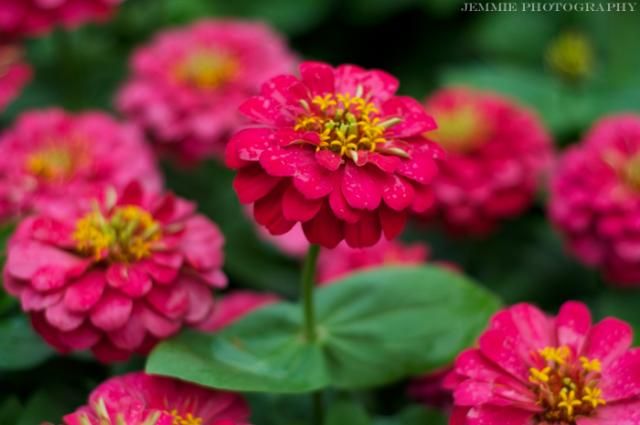 Today (Wednesday) Daddy and I went to the Convention Center for InfoComm2013, which is basically when your brain overloads on cool toys and inventions and you are hit from every side with lights and tv's and displays and screens and music and sounds. It's like an engineer's dreamland.
And my land for making friends with every single person, whether or not they speak English. Because let's face it, my Japanese, Chinese, German, Spanish, and 20 other languages could really use some work. I'm glad my credit card has a hold for how much I can spend, because I really wanted this insanely neat Canon Photo Printer. haha. The show is so huge that they only do it twice a year, once in Orlando, and once in Vegas. I walk in, and I am immediately made aware that I am surrounded by 10,000 engineers and geeks and that HTML regularly makes me hyperventilate and when people ask me what I do, I say Blogger/Photographer. NICE.
Funny story as we are leaving and walking back to the parking garage....I'm walking behind Dad and Mr. Putnam, and we stop on the median sidewalk while crossing the street.
Dude on bicycle taxi pulls up heading the other way and dramatically exclaims - "I REMEMBER YOU!!!!!". I just smile and keep walking and then he continues, "From the FUTURE I guess!!!!". I burst out laughing and say "NICE." and keep going. HAHAHAHA. I couldn't stop laughing for awhile. Oh, and I saw an orange Lamborghini!! My mouth definitely dropped open. Sheesh.
The Anniversary
- I can honestly say I felt y'all's prayers for me. That is an amazing feeling.
So thank you so much.
It was just as I hoped - I was busy, so I didn't have time to think about it a lot. Plus, because I was away from all the photos and music and flashbacks, I was able to really not over-think it. We had a mini half-birthday party for Desiree, and I can't tell you how perfect it was to celebrate LIFE the day before Avery went to Heaven. It seemed so fitting. I stuffed myself full of cake and steak. ;)
I spent most of my mornings in CO listening to good music, reading, journaling and praying. There were tears, yes, and I missed Avery more than I can say. I missed John and Audra and being with them. They were, of course, heavy on my heart, and I spent my nights asking God for mercy and comfort for them as they grieved the loss of their precious son. I will always be sad that Avery is not here with us. But the Gospel has cast this glow on my life, and grief and loss is under that as well. It has seemed so more real and close in my grief. Jesus died so we shall not die that death ... Jesus rose so He shall raise us ... Jesus lived so we shall live forever.
I am overwhelmed by that and rightly so. Because of Christ - it all changes in the most glorious way.
I have so many photos to share, I'm sure they will go into several slideshows, because I have over 600. :) I'm looking forward to working on that later this month. This summer is going by so fast! I hope your summers are going well, and that you are growing closer to the Lord and know how deeply He loves you.
Tomorrow morning will come way too quickly, so I need to close here, with a song that I've grown to love.
Sovereign Grace Music
has so many great songs about the Gospel and Heaven.
"My Redeemer's Love"
Written and composed by Mark Altrogge, Jordan Kauflin & Joel Sczebel. 2012 SGPraise
"My Redeemer's love is deeper than the depths of sin and hell.
He who was enthroned in glory came to bring us to Himself.
My Redeemer's love is wider than the breach my sins had made.
He reached down into my darkness; He alone has pow'r to save.
Deeper than the rolling seas; Higher than the mountain peaks; Your love is all I need!
My Redeemer's love is stronger than my fiercest enemies.
He will hold me in the tempest, through the flood He carries me.
My Redeemer's love will lead me through the deepest valley here.
He will shepherd me and guide me; He will ever keep me near.
Deeper than the rolling seas; Higher than the mountain peaks; Your love is all I need!
My Redeemer's love grows sweeter as eternity draws near.
I'll enjoy His love forever, at His throne for endless years.
My Redeemer's love will fill me on the day I see His face!
I will love Him back forever, and forever sing His praise!
Deeper than the rolling seas; higher than the mountain peaks; Your love is all I need!
Stronger than the rushing wind; shattering the power of sin, Your love is all I need!"
With much love and hugs from me to you,
~ Jean Marie ~