Merry Eve! -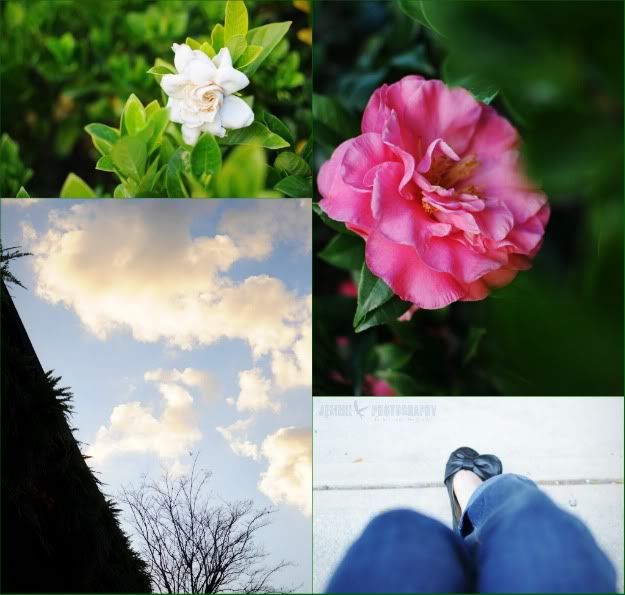 I took these pictures today while Christmas shopping with my dear family .... it may not look like Christmas to you. We might not have snow, or ice, or even cold!, and we don't this year. It's a breezy and warm 75 degrees. We might not have fires in the fireplaces and we might not have warm clothes on, or be bundled up into gloves, scarves and coats. We might sing about snow, but know it's not going to fall ....
but our hearts still sing of Christmas just as long and deep as anyone in this America land. :)
The sky picture was when the light was shimmering through the trees, turning our day into eve - the Eve of Christmas Eve. The night before the night that changed the world forever. Perhaps not the literal day, but the day we celebrate the coming of the One Who would always abide with us.
The gardenias and camellias were blooming. I took one longing whiff, and my heart skipped a beat. I could feel my grandma's hand in mine as we walked down their driveway. I could feel the leaves crunching, and I could remember lightning bugs on the front lawn, and watching the sun set over the pond, I could hear her say my name, and feel Grandpa's cheek against mine for a goodnight kiss. Then my breath left me, and the scent was gone. Sweet fragrance.
Gardenias and Camellias remind me of Atlanta, and my Grandparents who wait ... in Heaven. They wait with some of the most beautiful people I have known. I ache to hold them again in my arms. Surely the most sweet of flowers will bloom in the New Earth, and their fragrance will burst in the air to the song of the Redeemed living with their Redeemer. In beautiful, loving harmony of peace.
For these things my heart sings the song of rejoicing. That my family is alive and well. That when we die, we have gained more than what we could have gained here. That we shall always, always, always be with the Lord. We have peace and rest here, and we shall only have more and more of this. This, this, this - glory and joy. Twenty times three thousand and more - for Emmanuel, God with us, Holy Spirit, God indwelling, High King of Heaven - our victory won!
JOY - for you are redeemed by the deep love of the One who is named JESUS.
Born to save His people from their sins, and to bring us into His kingdom, to abide with Him.
Amen and Amen, and Merry Eve of Christmas Eve .....
With joy,
~ Jean Marie ~